December is usually a wasteland for new releases from mainstream publishers and this year is no different. There are lots of indie releases, most of which are Christmassy and a couple of which I've featured here. I'm not a big holiday romance person (sorry?) so this list is short.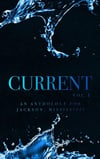 Though Kobo tells me it released on Nov. 30, I'd like to draw your attention to the Current anthology, a collection of new stories to benefit community groups in Jackson, Mississippi. This first volume features stories by talented A.H. Cunningham, Meka James, Dria Andersen, Karmen Lee, Jayce Ellis and Nicole Falls. I've read and enjoyed books from four of these authors, so I'll be picking this up once my book buying pause lifts in January!
I also want to note that a couple of the books in the list at the bottom are Harper Collins titles. The unionized US employees of Harper Collins have been on strike since November 10 and have asked readers to support the strike and the authors by continuing to talk about the strike and buy books, but not to generate the kind of review coverage and social media posts that HC could use to replace the work of publicity employees. I've added an asterisk next to HC titles.
This post contains affiliate links.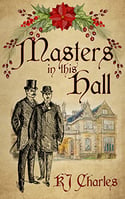 Masters in this Hall, by K.J. Charles - December 5

John Garland was in love: now he's in disgrace. He's jobless, alone, and determined to avenge himself on the thief who ruined his life. All he wants for Christmas is Barnaby Littimer in gaol.
Barnaby has secured a job running the extravagant traditional Christmas at a rich man's country house. John intends to thwart whatever he's up to.
But amid the festivity, the halls are decked with unexpected dangers. And John will need to decide if he can trust Barnaby one more time...
***
Why I Want to Read It - Novellas are tricky. It's hard to balance plot and romance in shorter forms and do so with a satisfying HEA. Charles has proven up to the task in the past, however, and I've heard great things from a couple of readers who picked it up on release day.

Buy a copy: Amazon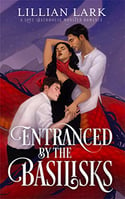 Entranced by the Basilisks, by Lillian Lark - December 30

A human who opened the wrong magical book, her stern boss, and his "friend" who says he can help…
I've been cursed. Not metaphorically. Not, "Oh no! I spilled my coffee!" or "I broke a heel!"
No.
I've been cursed by a book and now I'm a danger to everyone I care about.
After finding out that the things that go bump in the night are real a few weeks ago, this is doing nothing for my peace of mind.
Pair it all with the fact that the boss I can hardly speak to seems to be the only one with any answers and the tension between him and the seductive expert he's brought in…
The outlook for this group project is alarming… but my body is acting like it knows things my mind won't yet accept.

Entranced by the Basilisks is a standalone monster romance in the same world as Stalked by the Kraken, but best read after Deceived by the Gargoyles. This book has two love interests who are also in a relationship with each other. There will be no choosing between the love interests.
Content Warning: This book includes descriptions of anxiety, snakes, deceptions and manipulations perpetrated by the love interest, and highly inaccurate snake anatomy.
***
Why I Want to Read It - Lillian Lark does polyam dynamics well and though the lake monster book was very much not for me, I really enjoyed Deceived by the Gargoyles. I suspect Lark can convince me to put aside my fear of non-turtle reptiles for a night.

Buy a copy: Amazon
Also out this month (beware, not all are romance!):
All titles in red are links to Amazon. Check out the full list here.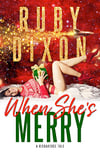 November 30 - Current: An Anthology for Jackson, Mississippi, by Meka James, A.H. Cunningham, Dria Andersen, Karmen Lee, Jayce Ellis and Nicole Falls
December 5 - When She's Merry, by Ruby Dixon
December 6 - A Thousand Heartbeats, by Kiera Cass*
December 6 - Well Traveled, by Jen DeLuca
December 6 - A Dash of Salt and Pepper, by Kosoko Jackson
December 13 - Tempted By Her, by Chelsea M. Cameron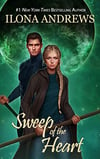 December 13 - A Million to One, by Adiba Jaigirdar*
December 13 - Sweep of the Heart, by Ilona Andrews
December 20 - Queen of Myth and Monsters, by Scarlett St. Clair
December 26 - The Lone Wolf's Rejected Mate, by Cate C. Wells
December 27 - The Heretic Royal, by G.A. Aiken
December 27 - Never Cross a Highlander, by Lisa Rayne
Reminder: all of these books are collected in a list over at Amazon for your convenience.
What December books are you looking forward to reading?
***
If you appreciate our content and wish to support the site, please consider using the affiliate links in this post and below for your shopping needs. As always, you are welcome to leave us a tip on Ko-Fi!
Support Love in Panels