Today we're joined by E.J. Phillips, author of When We Were Ghosts, out October 20, 2020. It's perfect for the spooky season! Read on to find out why Phillips decided to write about two girls falling in love as they chase a ghost... and her own experience with ghosties.
***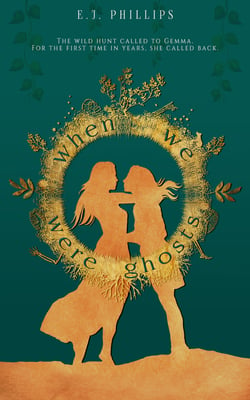 When I was a kid, I used to see a figure dressed in a black waist-coat and top hat. He hovered in the distance, disappearing when I'd look too closely, and I wasn't afraid of him. On the contrary, I named him Titrus. My friend B saw her own ghost—Mia—a girl with brown, plaited hair who lived in her mirror.
I can never be sure if Titrus was real or not, even simply to me, because there's a very good chance I made him up to fit in. I wanted this ghost to exist so I had something to share with my friend. Finding factual evidence of this ghostly man's existence—whether as a ghost, optical illusion, or otherwise—could have ruined that. So, I convinced myself he was real. And while I remember seeing him on certain streets, to this day I have no idea if I intentionally exaggerated shadows or if I really did see a waist-coated figure following me.
Those days of ghost hunting are some of my fondest childhood memories. We drew pictures of our ghosts; we named them; we spooked ourselves by going on twilight bike rides through the streets, hunting them down. There's something special about those moments as children, about the memories I had with B as we made a game out of something that scared us. I write a lot about ghosts these days, usually anchored in the golden hour memories of childhood, and it's never seemed odd to me that something so creepy—and a little bit sad, because ghosts are always sad—could also be something so fond.
When We Were Ghosts isn't only a story with ghosts in it (and fae, and reapers); it's a story about that facepalm moment of realising, too late, the important parts of childhood that we miss as we're living it. It's about getting a second chance to discover those things before they're lost. My facepalm moment here is that with everything I know of B as an adult, I realise now that we were both a bit sad during those years, and it had nothing to do with ghosts. But thanks to the game we made and shared, it isn't the sadness I remember. A blend of grief and friendship can be a powerful source of connection, and whatever we were feeling, we were feeling it together.
In When We Were Ghosts, two different girls chase a very real ghost, resisting the inevitable pull between them at first before realising that what they needed was in each other all along. I've been a little worried about releasing it this year because it's full of grief, and this is a year when we all have enough sadness and fear in our own lives—who wants to read about more? But I did binge the hell out of The Haunting of Bly Manor this week (open invitation to slide into my DMs if you loved this show, too), and that potent mix of grief and love turned out to be exactly what I needed. So maybe that similar recipe in When We Were Ghosts will be what someone else needs, too, despite the sadness that will always linger in a story about death. Or perhaps because of it, because sadness is something we share, and through sharing transform.
(Because that was kind of a clickbait ghost story, have a real one: my SO's family lives in a house still riddled with bullet holes from the biker gang that previously lived there, and a tall man with scraggly hair has rushed at one of them in the kitchen only to disappear. I will not walk up their staircase at night.)
(I definitely saw a fairy when I was six, though. Its foot and a half high shadow ran past the other side of my curtain, and I shit you not, I did not make that up. The fact that Fairy Tale: A True Story had just come out is absolutely irrelevant.)
***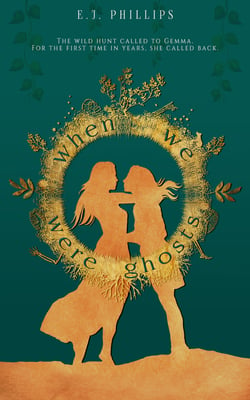 About the Book:
Gemma's a loner, but she's got her twin brother Alex, so who really cares, right? When you're a twin, you're never alone.
Then, one day, she doesn't have Alex anymore. Instead, she has a ghost named Eve and her brother's dickhead friends for company—and one desperate plan.
They're going to get Alex back.
It just means catching the Wild Hunt, convincing the fae to give them an Undying heart, and chasing down the elusive spirit of her dead brother first. Simple.
Falling in love with a ghost wasn't in the plan. But sometimes you have to veer off track before you find what you're searching for.
A haunting novel about grief, loss, and finding your way home.
Want to pick up a copy? When We Were Ghosts is available from Amazon for purchase and in Kindle Unlimited. For a limited time at $0.99, October 20-22, 2020! (Affiliate link.)
About the Author:
E.J. Phillips (also known as Ellen Jane) is an Australian indie author of wlw romance. She loves writing about LGBTQ women who experience complex lives, emotions, needs, and desires. Her books are written for people who crave love stories where friendship is just as important as romance, and who want to experience cosy warmth with a hint of mystery, magic, and emotion.
You can find her writing under two pen names: Ellen Jane and E.J. Phillips. If you like light, cosy wlw romance suffused with magic and mystery, Ellen Jane is the pen name for you. If you prefer something a little heavier, and you like your wlw romance tinged with magic and tender angst, E.J. Phillips is the one you want.
Website: www.ellenjanephillips.com
Instagram: https://www.instagram.com/ellenjanewrites/
Tumblr: https://ellenjanewrites.tumblr.com/
Twitter: https://twitter.com/ellenjanewrites