Happy February! It's that time of year, so the virtual panels are everywhere and it's a glorious thing. Avoid the thinkpieces, embrace the presentations!
I want to specifically call attention to the virtual panel Milwaukee Public Library is holding on February 22:
"Celebrate the release of Black Love Matters - an incisive, intersectional essay anthology that celebrates and examines romance and romantic media through the lens of Black readers, writers, and cultural commentators - with special guests editor and librarian Jessica Pryde, best-selling author Beverly Jenkins, and host of Romance Ever After Allie Parker. Exploring the multifaceted ways love is seen-and the ways it isn't-this diverse array of Black voices collectively shines a light on the power of crafting happy endings for Black lovers. "
This is going to be so great and if you're able to attend, definitely sign up!
*
This post contains affiliate links.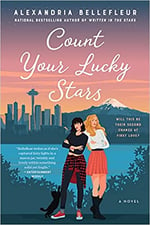 Count Your Lucky Stars, by Alexandria Bellefleur - February 1

Following Written in the Stars and Hang the Moon, Lambda Literary Award winner and national bestselling author Alexandria Bellefleur pens another steamy queer rom-com about former best friends who might be each other's second chance at love…
Margot Cooper doesn't do relationships. She tried and it blew up in her face, so she'll stick with casual hookups, thank you very much. But now her entire crew has found "the one" and she's beginning tofeel like a fifth wheel. And then fate (the heartless bitch) intervenes. While touring a wedding venue with her engaged friends, Margot comes face-to-face with Olivia Grant—her childhood friend, her first love, her first… well, everything. It's been ten years, but the moment they lock eyes, Margot's cold, dead heart thumps in her chest.
Olivia must be hallucinating. In the decade since she last saw Margot, her life hasn't gone exactly as planned. At almost thirty, she's been married... and divorced. However, a wedding planner job in Seattle means a fresh start and a chance to follow her dreams. Never in a million years did she expect her important new client's Best Woman would be the one that got away.
When a series of unfortunate events leaves Olivia without a place to stay, Margot offers up her spare room because she's a Very Good Person. Obviously. It has nothing to do with the fact that Olivia is as beautiful as ever and the sparks between them still make Margot tingle. As they spend time in close quarters, Margot starts to question her no-strings stance. Olivia is everything she's ever wanted, but Margot let her in once and it ended in disaster. Will history repeat itself or should she count her lucky stars that she gets a second chance with her first love?

***
Why I Want to Read It - I've already read this and it was so good. Definitely the strongest of the three books and Margot is everything. I even made a bra to go with it!

Buy a copy: Amazon ◊ Barnes & Noble ◊ Bookshop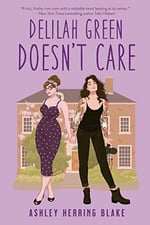 Delilah Green Doesn't Care, by Ashley Herring Blake - February 22

A clever and steamy queer romantic comedy about taking chances and accepting love—with all its complications—by debut author Ashley Herring Blake.
Delilah Green swore she would never go back to Bright Falls—nothing is there for her but memories of a lonely childhood where she was little more than a burden to her cold and distant stepfamily. Her life is in New York, with her photography career finally gaining steam and her bed never empty. Sure, it's a different woman every night, but that's just fine with her.
When Delilah's estranged stepsister, Astrid, pressures her into photographing her wedding with a guilt trip and a five-figure check, Delilah finds herself back in the godforsaken town that she used to call home. She plans to breeze in and out, but then she sees Claire Sutherland, one of Astrid's stuck-up besties, and decides that maybe there's some fun (and a little retribution) to be had in Bright Falls, after all.
Having raised her eleven-year-old daughter mostly on her own while dealing with her unreliable ex and running a bookstore, Claire Sutherland depends upon a life without surprises. And Delilah Green is an unwelcome surprise…at first. Though they've known each other for years, they don't really know each other—so Claire is unsettled when Delilah figures out exactly what buttons to push. When they're forced together during a gauntlet of wedding preparations—including a plot to save Astrid from her horrible fiancé—Claire isn't sure she has the strength to resist Delilah's charms. Even worse, she's starting to think she doesn't want to...
***
Why I Want to Read It - I've been waiting for this book ever since it was announced. I have a love of the FMC player archetype (not going to examine that too closely) and to be honest, the cover hooked me.

Buy a copy: Amazon ◊ Barnes & Noble ◊ Bookshop
Also out this month (beware, not all are romance!):
(All titles in red are links to Amazon)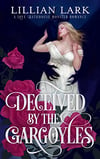 January 31 - Deceived by the Gargoyles, by Lillian Lark
February 1 - A Letter to Three Witches, by Elizabeth Bass
February 1 - The Immortal, by Gena Showalter
February 1 - Redwood and Wildfire, by Andrea Hairston
February 1 - Court (Crave #4), by Tracy Wolff
February 1 - Hit by the Cupid Stick, by Abigail Owen
February 1 - Fire Becomes Her, by Rosiee Thor
February 1 - Ramón and Julieta, by Alana Quintana Albertson
February 1 - I Must Betray You, by Ruta Sepetys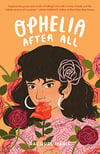 February 1 - This Woven Kingdom, by Tahereh Mafi
February 1 - Hunt the Stars, by Jessie Mihalik
February 1 - A Lullaby for Witches, by Hester Fox
February 4 - Invisible Quarantined Alien, by Robin Lovett
February 8 - Yerba Buena, by Nina LaCour
February 8 - Ophelia After All, by Racquel Marie
February 8 - The Greatest Thing (Graphic Novel), by Sarah Winifred Searle
February 8 - Mirror Girls, by Kelly McWilliams
February 8 - No Filter and Other Lies, by Crystal Maldonado
February 8 - Not the Witch You Wed, by April Asher

February 8 - Across a Field of Starlight (Graphic Novel), by Blue Delliquanti
February 8 - Sunny G's Series of Rash Decisions, by Navdeep Singh Dillon
February 8 - Homicide and Halo-Halo, by Mia P. Manansala
February 14 - Oak King Holly King, by Sebastian Nothwell
February 15 - Fated Blades, by Ilona Andrews
February 15 - Open Play, by JN Welsh
February 15 - From the Top, by Jaqueline Snowe
February 15 - Wish Out of Water, by Holley Trent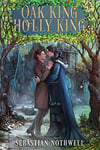 February 15 - Messy Roots: A Graphic Memoir of a Wuhanese-American, by Laura Gao

February 15 - House of Sky and Breath, by Sarah J. Maas

February 15 - A River Enchanted, by Rebecca Ross

February 15 - Witchy, Vol. 2, by Ariel Slamet Ries

February 15 - Bright Ruined Things, by Samantha Cohoe

February 22 - Sink or Swim, by Annabeth Albert

February 22 - The Rake Gets Ravished, by Sophie Jordan

February 22 - Ever After Exes, by Susannah Erwin

February 22 - Only a Monster, by Vanessa Len

February 22 - The Rebel's Return, by Nadine Gonzalez

February 22 - The Lady Tempts an Heir, by Harper St. George

February 22 - I'm So (Not) Over You, by Kosoko Jackson

February 22 - The Good Girl's Guide to Rakes, by Eva Leigh

Want the whole list at once? Check out this collection in our Amazon Storefront.

What books are you looking forward to this month?

***

If you appreciate our content and wish to support the site, please consider using the affiliate links in this post and below for your shopping needs. Even if you don't buy the book in question, we receive a small % of your purchase from the vendor. As always, you are welcome to leave us a tip on Ko-Fi!
Support Love in Panels