Ana has been binging Juno Rushdan's debut romantic suspense series, the Final Hour books, so we're excited to offer you a chance to win all three! Below you'll find descriptions of each of the three books, one of which isn't out until May 26th, and rules for the giveaway. Good luck!
***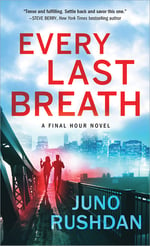 Every Last Breath
48 hours, 2 covert operatives, 1 chance to get it right
Maddox Kinkade is an expert at managing the impossible. Tasked with neutralizing a lethal bioweapon, she turns to the one person capable of helping her stop the threat of pandemic in time: the love of her life, back from the dead and mad as hell at her supposed betrayal. Recruiting Cole to save millions of lives may be harder than resisting the attraction still burning between them, but Maddox will do whatever it takes...even if it destroys her.
When Maddox crashes back into Cole Matthews' life, he wants to fight back. He wants to hate her. But the crisis is too strong to ignore, and soon the two former lovers find themselves working side-by-side in a breakneck race to stop a world-class killer with a secret that could end everything.
The clock is ticking.
A race-against-time romantic thriller, perfect for fans of JD Robb and Mary Burton!
Amazon ◊ Apple Books ◊ Barnes & Noble ◊ Bookshop (Indie Bookstores) ◊ Kobo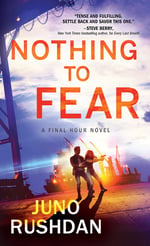 Nothing to Fear
The clock is ticking
Fearsome Gray Box operative Gideon Stone is devoted to his work and his team. He's never given reason to doubt his loyalty...until he's tasked with investigating Willow Harper, a beguiling cryptologist suspected of selling deadly bio-agents on the black market.
He knows she's innocent. He knows she's being framed. And he knows that without him, Willow will be dead before sunrise.
Thrust into the crossfire of an insidious international conspiracy, Gideon will do anything to keep Willow safe...even if that means waging war against his own. With time running out, an unlikely bond pushes limits—and forges loyalties. Every move they make counts. And the real traitor is always watching...
Amazon ◊ Apple Books ◊ Barnes & Noble ◊ Bookshop (Indie Bookstores) ◊ Kobo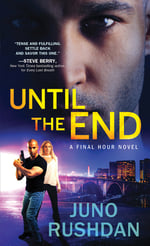 Until the End
He's strong. Fierce. Relentless.
And he may be her only chance of surviving the night.
Gray Box operative Castle Kinkade always gets the job done, no matter how tough the assignment. But when he agrees to protect white-hat hacker Kit Westcott, Castle's loyalty is tested like never before. Trapped in the closest of quarters, protective instincts flaring, he can feel the ice surrounding his heart melt...and he knows he'd do anything to keep Kit safe.
Even defy the rules that shaped his life.
Castle is the last person Kit should confide in, let alone be attracted to, but he's the only ally she has left. Under threat of imminent attack—and a chilling conspiracy that hits too close to home—Castle and Kit are forced to put their hearts and lives on the line...and stop at nothing to face the greatest danger the world has ever known.
Amazon ◊ Apple Books ◊ Barnes & Noble ◊ Bookshop (Indie Bookstores) ◊ Kobo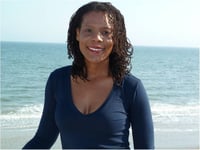 About the Author
Juno Rushdan draws from real-life inspiration as a former U.S. Air Force Intelligence Officer to craft sizzling romantic thrillers. However, you won't find any classified leaks here. Her stories are pure fiction about kick-ass heroes and strong heroines fighting for their lives as well as their happily-ever-after.
Although Juno is a native New Yorker, wanderlust has taken her across the globe. Fortunately, she is blessed with a husband who shares her passion for travel, movies, and fantastic food. She's visited more than twenty different countries and has lived in England and Germany. Her favorite destination for relaxation is the Amalfi Coast, Italy for its stunning seascape, cliffside lemon groves, terraced vineyards, amazing pasta, and to-die-for vino.
When she's not writing, Juno loves spending time with her family. Exercise is not her favorite thing to do, but she squeezes some in since chocolate and red wine aren't calorie-free.
She currently resides in Virginia with her supportive hubby, two dynamic children, and spoiled rescue dogs. Check her out on Instagram, Facebook or follow her on Twitter or BookBub. She loves to connect with readers!
***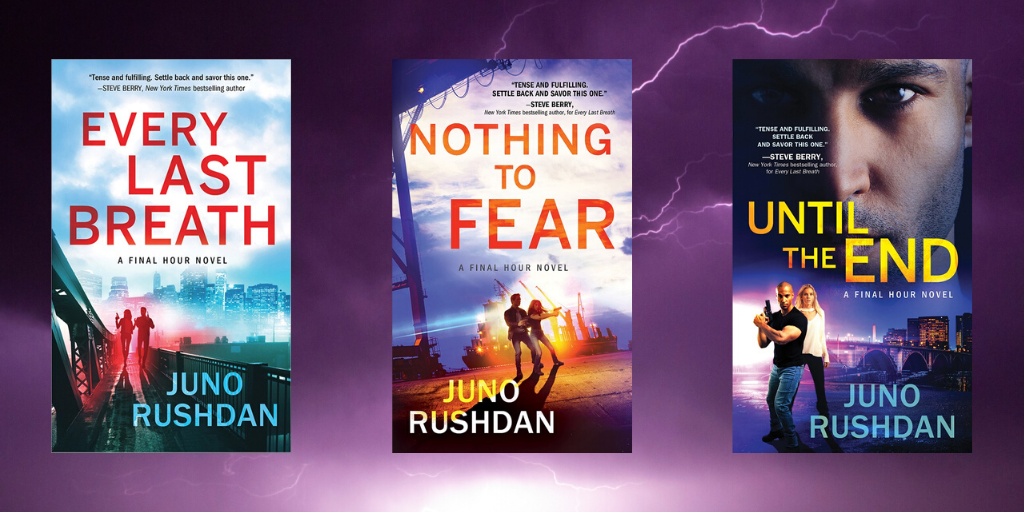 Giveaway Rules:
- These are three physical books. Open to US and Canada only. Books will ship from Sourcebooks, LiP will send your mailing address to them.
- Must be 18 or older to enter. Void where prohibited.
- We are not being compensated for this giveaway, but Ana has received a digital review copy of the third book in this series.
- Giveaway is open from April 2-April 6. Winner will be notified by email.
Ready to enter?
Use the widget below or click here.