Reasons I love reading romance set in France:

1) revolution and beheadings, frequently spies

2) the extravagances of Versailles and The Sun King--everyone is terrible!

3) fashion and food, regardless of time period

4) in modern France, the magic of Paris, sans dog feces all over the streets

And since we give nearly all of our historical romance discussion time to books set in England, I'd like to talk about books set across the Channel for a change. With some contemporaries thrown in for funzies. This list will mostly focus on books I've actually read, but I'll be clear when I haven't.

This post contains affiliate links.

Historical Romance

Historical romance has become nearly synonymous with Regency Romance, which is pretty sad. But, if you look beyond the shelves at Barnes & Noble, there are historicals set all around the world and through history. (I should write about them! *makes notes*) Regardless, this is the subgenre in which I first realized I wanted to read more books set in historical France. Lots of histroms are set in London but feature characters who spend part of their time in Paris. I always wanted them to stay there.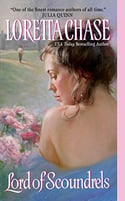 For example, in Loretta Chase's Lord of Scoundrels, Jessica travels to Paris to rescue her wastrel brother from the dastardly Lord Dain. Chase seems to enjoy writing Paris, as her Dressmakers series features a trio of (scandalous, French, dressmaker) sisters who own a shop in London. In the first, Silk is for Seduction, Marcelline travels to Paris to woo the Duke... with her dressmaking skills.
Meanwhile, Joanna Bourne built a series spanning decades and borders. As you could probably guess, her Spymasters series is packed with spies. English spies, French spies, revolutionaries, "good guys," "bad guys," and everything in between. The novels are set around the French Revolution, so there's a lot of fleeing and treason and so on. If you listen to audiobooks, Kirsten Potter's narration for these books is wonderful. [I advise you to seek out content warnings for this series.]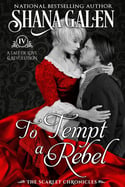 Shana Galen, known for her Regency romances, has a whole series set in revolutionary France centered around her version of the Scarlet Pimpernel--not an individual but a group of people working together to help aristocrats escape the Reign of Terror. Galen tries to walk the line between pretending rich people are innocent and calling for their heads on pikes, which manifests as a lot of enemies-to-lovers, political disagreements and fleeing a burning manor house in the middle of the night. Like Chase, Galen also seems to like the setting--her Sons of the Revolution series takes place a few years after the revolution and is in and out of France. (I have not read the latter series.)
More: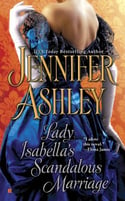 Lady Isabella's Scandalous Marriage, by Jennifer Ashley - 1880s Scotland/France - He goes to woo back his wife, who has been living in Paris for three years.
Lila DiPasqua has a series of erotic historical fairy tale retellings set in France. I've not read them, but it sounds like I should.
The Secret History of the Pink Carnation, by Lauren Willig - I haven't read it, but my impression is that it's a Love-it-or-Hate-it series. This one focuses on an American student studying the Scarlet Pimpernel/Pink Carnation/etc. The Goodreads reviews are full of people being angry that it wasn't what the cover led them to believe. "I HATE it when fun books turn out to be dirty when you're already half way through."
And, of course... These Old Shades, by Georgette Heyer. I have been advised that it's not the book for me, but it's a classic, for what that's worth.
Contemporary Romance
And now we can go to the City of Light and have electric lights!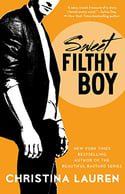 The Wild Seasons series came out back when Christina Lauren published steamy contemporaries. Three friends meet another set of three friends in Vegas and get married. The women are all American, but the men are from France, Canada, and Australia. And while my favorite of the series is Dirty Rowdy Thing, Mia and Ansel from Sweet Filthy Boy spend a lot of time exploring Paris and it was interesting to contrast the vibrant city with Mia's isolation while there.
I read Lauren Blakely's Wanderlust 100% because Richard Armitage does the audiobook narration of the male POV. It's about an American perfume scientist just moved to Paris and a British interpreter just about to leave. He's hired to show her around the city as she's learning the language. I don't remember the book except that Armitage says lots of food words and sex words in your ears. (There is a second book I haven't read. Shane East does the male POV and he's also got a sex voice.)
Apparently, everything by Laura Florand is set in France, but I haven't read anything of hers. (Amazon tells me I bought one in 2018?!) Maybe worth checking out if you want more contemporaries set in Paris.
Young Adult Romance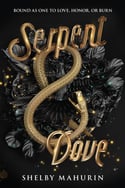 Someone tell me why my YA is is longer than my contemporary list...
I reviewed Serpent & Dove by Shelby Mahurin a while back. It's AU historical France with witches and witch-hunting religious zealots. Enemies-to-lovers, first in series. Lots of buzz but I think the comparison to Sarah J. Maas's A Court of Thorns and Roses is probably apt if you're looking for something that makes you race through the pages even while you're wondering why you ship the two MCs.
Anna and the French Kiss is one of those books that's been recommended to me about 100 times and which I have still never read. Anna is sent to boarding school in Paris where she meets "the perfect boy."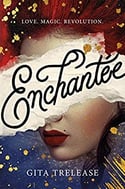 Last February, I really enjoyed Enchantée and look forward to the sequel. It's about an orphaned printer's daughter using dangerous magic to make enough money for her younger sister and her to survive. Revolution, Louis XVI being terrible, palace intrigue (and murder/revolt) and hot air balloons! And romance.
The Jewel Thief is "A lush, slow-burn romance set in 17th century France, and based on the history of the Hope Diamond..." The daughter of King Louis XIV's crown jeweler is charged with stealing a priceless diamond and imprisoned. Her love interest is the court-appointed scribe taking her confession. Out in May 2020, so I haven't read it... yet.
In the Shadow of the Sun is another upcoming YA historical romance set in 17th century France. AU with magic! I'm a little wary of the whole "her arranged-marriage fiancé turns out to be gay" plot BUT it's set in 1661, when Phillipe I, Duke of Orleans was married to Princess Henrietta from England. (Heroine of this book is named Henriette.) It's a really messy story, like everything in that court, but basically, the real Duke was neither cis nor straight, though it's unclear what terms he would use today. The real Henrietta was pretty awful, though Phillipe was as well. (Everyone is terrible and you have no idea how much I had to cut from this paragraph because I wanted to write a book about it.) This has me wondering if this book is a total AU or if this Henrietta will also try to get her husband's lover imprisoned. I'm really hoping/assuming this is not going there. Also, if you've never read about Philippe I, you should. And then tell all the "historical accuracy" devotees in Romancelandia to suck it. Ahem, February 2020.
***
This concludes my very white, very straight list of romances set in France! If we travel to places around the world that the French colonized, the books are substantially more likely to be populated and written by people of color. See: New Orleans. But as for France itself? IDK, why is this all I found? (I know why, it's systemic.)
Send me your recommendations!