We had so many ideas for gifting this year that we split them into three posts!
Here's what to expect:
Cute Stuff - This is what you're currently reading! A collection of random stuff we like.
Sexy Stuff - Links to recommended adult toys and for you and/or your partner(s).
Stuff for the Writer/Reader - Bookish things, because duh.
These posts contain affiliate links, but we've not been paid to endorse anything.

Tech Stuff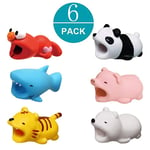 These cable bites are adorable and help protect your charging cables from fraying. They also come with the added bonus of making it clear who the cable belongs to. You know, in case you have to fight with your roommates and are tired of using electrical tape.
This particular link has a bunch of different animal options, including one with glow-in-the-dark critters for easy late-night detection!
Prices are around $12 for 6 bites.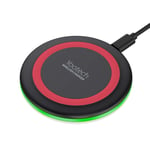 Upgraded to a phone with wireless charging?
Suzanne and her husband picked up a couple of these wireless charging stations and can confirm that they work well. There are even multiple color options for those of you who want to color coordinate all of the things.
Best of all? They're only $15, so you're not spending much more than a new charging cable.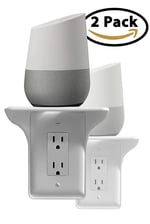 These outlet cover addons come with a "perch" for your tech to rest on while it's charging. No more losing your phone in the fruit bowl, amirite? (Just me? *sigh*) Just unattach your existing outlet cover (you'll need a screwdriver) and pop it back on with one of these behind it, and ta da!
Currently priced at $11.99 for 2.
Socks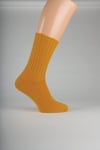 Amy says:
I love a good pair of socks. I picked up a pair of Capricorn mohair socks in a lovely mustard yellow when I was in Scotland and I love them so much! Chicago gets super chilly in the winter, and now I know that my feet won't turn blue while I'm reading. Worldwide shipping is a little pricey, but if you're in the UK, have at 'em!
Price: £9.95 a pair
Suzanne says:
My favorite socks are from
Darn Tough
, in part because I'm from Vermont and in part because they're great socks with a
lifetime guarantee
. These are my go-to socks for hiking, but also for keeping my feet warm and dry all year round. They're expensive, so they're "Solstice Socks" in our household.
Price: $16-20 a pair (sales abound)
And, because we're us, we'll have some more socks in our "gifts for writers and readers" post.
Personal Care Recs
Including small things for Stockings, Secret Santa, Hannukah.
Revlon's Super Lustrous Lip Gloss in Rosy Future.
This was a Twitter rec as a cheap alternative to Fenty's Gloss Bomb, but I've used an entire tube so far. It's an affordable universal neutral lip and I adore it.
I liked it enough that I have it in two other colors, but this is the one I reach for most often.
It runs from $5-7 and is at Target, pharmacies, etc.
Sheet Masks!
You'll want to personalize this a bit depending on the age, skin issues, etc. of your intended recipient, but I've found the Garnier masks to be a great value for me. (I have issues with hormonal breakouts but winter is so dry here, so I use the green tea ones.) There's even an option to buy a pack with different kinds so you can try them out.
Around $14 for 6, but you can buy sheet masks pretty much everywhere.
Listen. I know some people want a "grown-up" kitchen, but I am not one of them. As far as I'm concerned, if my chip clips can be furry woodland creatures, why shouldn't they be?
Yes, I did put these in the "personal care" category. Chips are personal care. Join me on the dork side.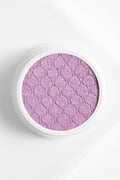 Pretty much anything from ColourPop
Margrethe swears by their shadows, and for good reason. She recently bought me one of their Super Shock shadows in Soul-cialize and I've been using it nearly daily. Their shadows go on really well with a fingertip and this one is just shimmery enough to make me feel pretty without feeling like I'm going to a New Year's Eve party.
Super Shock Shadows
are $5, but palettes are around $12 and everything on the site is reasonably priced. Plus, sales every week!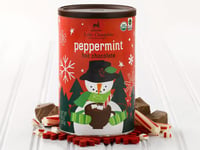 Lake Champlain Chocolates
Lake Champlain Chocolates is my go-to when I want to buy someone something indulgent. They've got a few options for small gifts, with plenty of gifts for those of you with a larger budget.
I've been drinking their hot cocoa exclusively for about 10 years now.
Also available in other flavor blends, including an organic and fair trade blend.
This blanket recommendation comes from Margrethe, who says
Ourea
blankets are affordable but good quality. Weighted blankets are meant to help with anxiety and a host of other symptoms, but can provide comfort without abundant heat (unlike piling on 8 blankets). Available in a few different sizes and many colors.
Price: $70-140, depending on size/weight. (Watch for sales!)
Andrea's Etsy Finds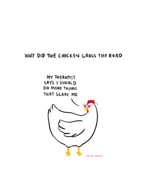 I think this
therapy chicken print
is amazing and I desperately want it as a t-shirt. Everyone I know who has a therapist would relate and love it and we kinda wanna start a club and just hang out together knowing the struggle is real and we are overcoming it everyday even though it feels forced. I'm actually gonna get this print as a gift for my counselor, who will hopefully put it up in her office.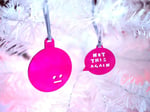 For the reluctant festive
... give them the gift of being seen and heard and the space to be honest about it.
We all know the colleague who openly hates this time of year. Some of us
are
that colleague. I mean, I die of joy over Christmas aesthetic, but ask me to actually BE cheerful about enduring the holidays and I would literally die. I'm trying to think of something positive that I actually enjoy and I cannot. Don't make me smile at your stories of joyful family dinners. Just let me enjoy this shiny bauble and the big Mood it's got going on. Thank you. I already feel better. I wish I could order this now and get it in time for the obligatory office Christmas tree desk situation that is about to overtake my world.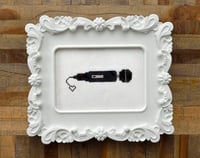 It would DELIGHT me to receive this as a gift! It's a cross-stitch pattern for a vibrator design, and the seller's description is super cute: "Make your very own "girl's best friend" at home with my Hitachi cross stitch pattern. While I can't guarantee you'll get that kind of satisfaction from it, I have had some of the best responses to this particular piece that's sitting in my own home." and YES now I want one just for the reactions. Incredible! It's a cool first-Christmas-in-your-new-apartment gift. It's a fun project for someone who's going off to college and needs decor but also to learn a new skill. The holidays are the best time for doing craft projects lazily and wanting to show everyone who comes over what you just made. I'd gift this to my just-graduated-high-school-going-off-to-university-in-January friends, because 10/10 if I got a roommate who was doing this cross-stitch or had this up in her room I'm already guaranteed friends for life!
And you can buy the real thing, now cordless, right here.
Society6
If you're looking for something whimsical, artsy, or a bit more unique, Society6 is packed with prints, mugs, coasters, you name it. For those unfamiliar with the site, it's a site that enables independent artists to sell their work. The artists create the art, then Society6 puts it on whatever you want and ships it to you.
Here's a list of things on Society6 for under $25.
Do you know someone who needs a notebook with two otters holding hands? Probably.
Andrea says:
These gift cards are perfect for a Christmas care package to someone going off to college or [old people voice] growing up so fast: A Better Curriculum Stationery Cards by roaringsoftly
This is available as an art print but I love the idea of giving this card sitting on top of a wrapped pile of things it inspired: A public transport card with tons of credit loaded. A pack of pretty postcards and prettier postage stamps. A list of excuses you've used to get out of things over the years. Self-care things like tea and bath bombs and the book / album / movie that helped you through your first heartbreak. Donut-flavoured unicorn lube, which is a real thing that exists, thanks very much to Bawdy Bookworms for sharing that and so much other enlightening knowledge in your Pleasure Pairings. Bawdy Bookworms are a gift unto us all!!!
(We're sharing a bunch of their stuff in our Sexy Stuff list, stay tuned!)
That's it for now, but we'll have Parts 2 & 3 up soon!