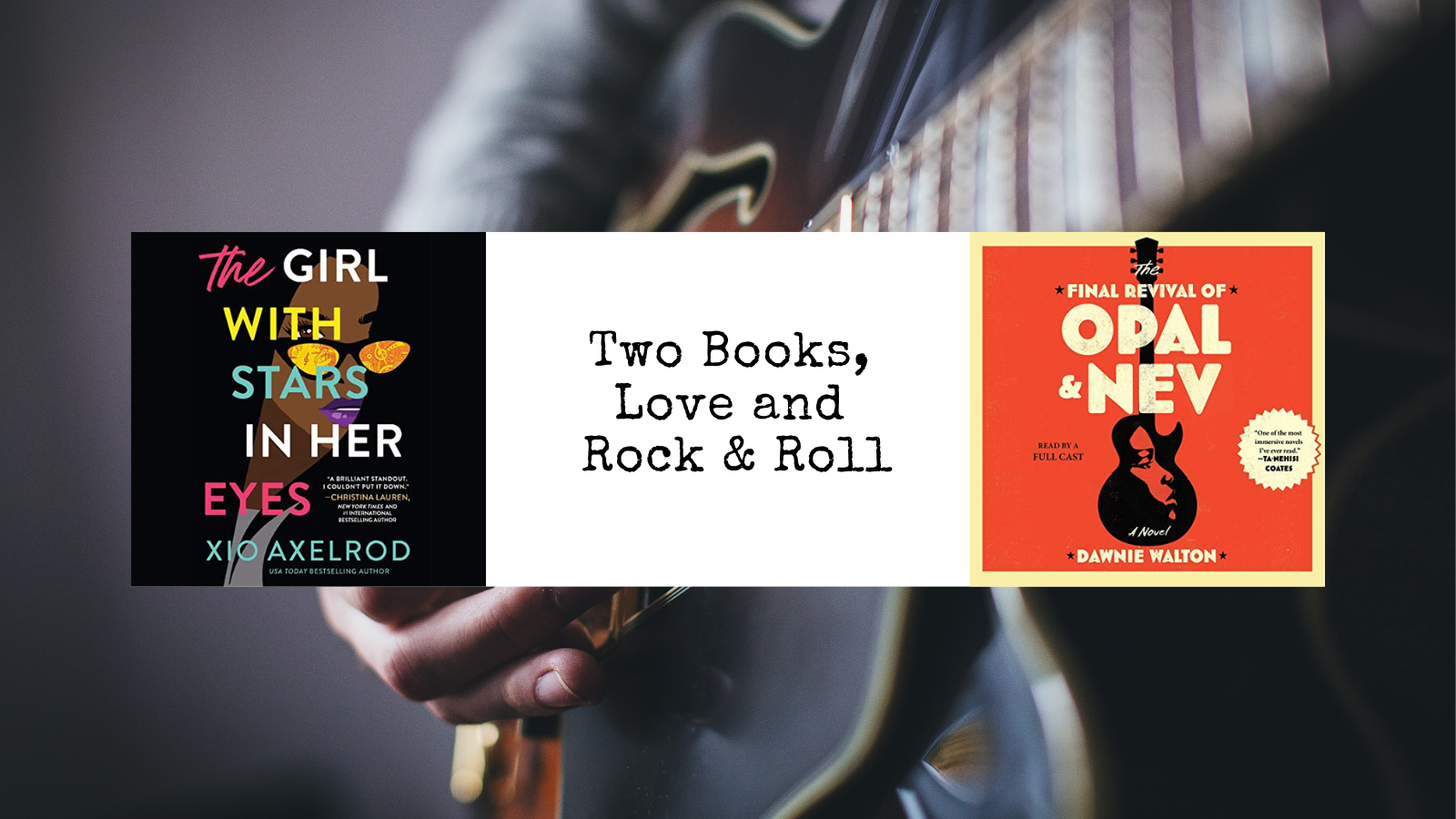 There are certain themes or tropes that only work for me in certain moods, such as the rock star protagonist or music scene setting. I got into that mood in April, however, and two music-themed books kept me company on my new commute. They don't have much in common beyond the music scene, but I did find it interesting that both use Daisy Jones & The Six as a reference point in their marketing. Does it fit? I think so, but more for one book than the other. I hope they both find just as big a readership.
One more note: I don't think you'll like either of these books if you read them when you aren't in the mood to imagine playing music, concerts or the like. But if you're looking forward to the day when you can experience some live music again? Get those headphones. Right book for the right time and all that.
On to the books!
This post contains affiliate links.
***
The Girl With Stars in Her Eyes, by Xio Axelrod, read by Alexander Cendese and Tamika Simone
Xio Axelrod is a musician and singer and you can tell--in a good way--when reading The Girl With Stars in Her Eyes. The main character, Toni, is a singer, guitarist, session musician and aspiring producer, but she's been trying to stay out of the spotlight since her mother abandoned her to chase that dream. In a twist of fate, she's reunited with her former best friend and crush, Seb, when the lead singer of the band he's managing, The Lillys, brings her in to temporarily replace a hot mess band member. TGWSIHE is told in dual POV, with Seb and Toni each working through their conflicted relationships with fame and family as they find their way back to each other. It's a little odd that it's in dual POV, however, as so much of the story is about Toni's journey. The romance is definitely there, but I think I would have been disappointed if I hadn't known in advance that it was going to lean a bit more toward commercial fiction than genre romance. PS: If you're looking for high heat, this isn't going to be your jam. I think the first kiss is somewhere around 70% but there are a couple of on-page sex scenes.
For readers who want a story about a Black musician finding success and love with lots of behind-the-scenes music stuff, this will be a winner.
Daisy Jones & The Six? Sure. Lots of band drama! But this has an HFN/HEA, it's modern and the band is multiracial. So if you weren't into Daisy Jones I encourage you to give this a shot.
Audio Notes: This was a solid audiobook. I recognized the prolific male narrator's voice from several other romance audiobooks and he's not my favorite (sorry to Alexander Cendese, but I'm sure you have many many fans), but Tamika Simone was a good fit for this book. I especially appreciated the way she embraced all the times when Toni is playing or thinking about how to make a song just a bit better. Too much technical speak and jargon can really weigh down a story, but Axelrod and Simone found a balance.
Pick up a copy at Amazon or wherever you buy your books. Or support your library. <3
I read a review copy of this audiobook courtesy of the publisher (Dreamscape) via NetGalley.
CW for child neglect, child abuse, drug and alcohol abuse, misogyny, misogynoir
The Final Revival of Opal & Nev, by Dawnie Walton, read by a full cast
This book was so much fun to read. It kept me company as I spent hours digging up and resetting a brick garden border and I'm so glad I had this complicated book full of messy people read to me by a talented cast of voice actors. Opal and Nev were a rock duo in the 1970's, with Black American Opal the star of the show in outrageous costumes and a larger-than-life performance style and White British Nev the subdued songwriter and musician seemingly along for the ride. Their music was political and edgy and pissed off a lot of people. It also made a lot of others, outcasts and misfits, feel seen and loved for who they were. Like Daisy Jones & The Six, this book is written in interview style, but with more personal input and narrative for the main character. An editor at a music publication, Sunny is writing a book about the defunct band as they prepare to reunite for one last time. Her relationship to the band, particularly Opal, has been complicated for her entire life. Her father was their drummer just as they were starting out and he was murdered by racists at a showcase concert put on by the band's fledgling record label. He was also having an extended affair with Opal, even with a wife and baby at home. All these years later, in the mess that is summer 2016, the racial politics of the United States are not much different from the 70's when Opal and Nev were loud and angry. Except Nev went solo decades ago, all but abandoning Opal and all the things he supposedly stood for.
One of my friends is going to have to read this book so I can talk to them about it because I have so many feelings, but until then, I'm just going to suggest (in my most book-pusher-y way) that you read this. If you want a book about a Black journalist connecting through music with her father and the woman her father was cheating with that also engages with the ongoing battles against structural racism and misogyny--particularly misogynoir--this is the book for you.
This is more socially aware and engaging than Daisy Jones, but the interview style, messy emotional entanglements and the gradual dropping of new, game-changing information are definitely similar. This also felt like a second Taylor Jenkins Reid novel, The Seven Husbands of Evelyn Hugo. That's another interview-style book in which the interviewer has her own life happening outside of the interview process and has a personal connection to her subject. I hated the way that book ended though and that wasn't the case here. (Though I do want to stab Nev with one of Jimmy's drumsticks.)
Audio notes: I'm sure this book is good in print, but oh my gosh the audio was excellent. Anyone who asked me if they'd like DJ&TS got a standard "yes, but read it on audio" response from me and that's what you're going to get this time as well.
Pick it up at Amazon or wherever you buy your books.
I received a copy of this audiobook from Simon & Schuster audio for review.
CW for murder, racial slurs, racism, misogyny, misogynoir, mentions of homophobia, bullying, sexual harassment/assault, drug use/abuse
***
Looking back at these two books, I can understand why Daisy Jones & The Six is mentioned, but it's really important to note that they both stand on their own. You don't have to have read a book of thinly-veiled Fleetwood Mac fic (I say this with love) in order to love either of them.
One is for the romantic, one is for the warrior. Both are for the intersectional feminist rocker. Or anyone who wants to read a story about good music and complicated people.