The third volume of the popular charity anthology, Heart2Heart is out today!
16 all-new stories, written by some of the biggest names in gay romance, supporting three amazing charities, for a limited time.
This is a massive anthology of contemporary gay romance, with 200k words and 818 pages (each story is approximately 12k words). This collection will be available for only 90 days before it's gone forever. Get your copy October 1- December 30, 2019 only.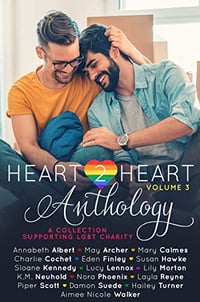 Heart2Heart, Volume 3
Once upon a time, a group of authors wondered… What if the Heart2Heart app -- the dating app with a glitch that matched up the oddest, most perfect couples, and sponsored the charity date raffles that helped dozens of people find love -- offered a classifieds section, too?

Need a handyman who knows how to wear a tool belt? Have a closet of drag costumes that needs a new home? How about finally tracking down that guy who made the perfect drink, or who's just the right height to reach the top shelf?
Join some of your favorite authors of gay romance as they bring you sixteen brand-new stories inspired by reader suggestions!
Read it in Kindle Unlimited or buy for $4.99 so you can keep it after December 30!
Pick up your copy: https://amzn.to/2mjRnWn
Once again, all proceeds from this collection will go to the authors' favorite LGBTQ charities, to ensure that love in all its forms will be celebrated and protected every single day of the year!
With this third volume they are proud to be donating a portion of our proceeds to each of the following charities:
🏳️‍🌈 LGBT Youth Line: a Queer, Trans, Two-Spirit* youth-led organization that affirms and supports the experiences of youth (29 and under) across Ontario. We do this by:
Providing anonymous peer support and referrals;
Training youth to provide support to other youth; and
Providing resources so youth can make informed decisions.
🏳️‍🌈 Kind Space: committed to providing accessible resources, events, social, and educational programming to celebrate and support people of all sexual orientations, gender identities and expressions.
🏳️‍🌈 The Canadian Centre for Gender & Sexual Diversity: aspiring to support and transform Canadian and indigenous communities from coast to coast to coast in a shared vision of a discrimination-free gender and sexually diverse world.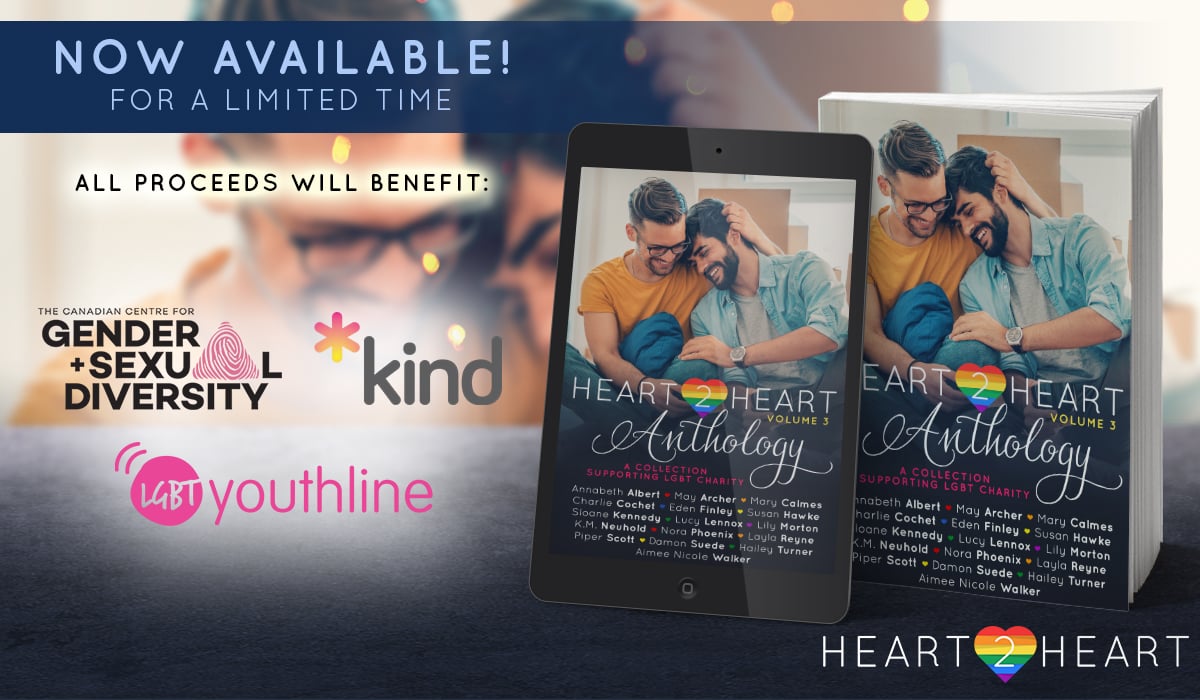 The first 2 volumes of Heart2Heart made a combined total of more than $50k USD. The net proceeds were donated to six incredible charities, including One-n-Ten, Ali Forney Center, Trevor Project, Rainbow Railroad, Trans LifeLine, and the Bisexual Resource Center. These volumes are no longer available, but thankfully the passion for the project hasn't faded. Every step of the process has been donated:
Cover design, logo, and promotional graphics by AngstyG
Beta reading, editing, proofreading by the team at LesCourt Author Services, as well as Allison Roy
Promotional posting by LesCourt Author Services and the ANTPR group
And of course, the authors' time and efforts
In Kindle Unlimited or buy for $4.99: https://amzn.to/2mjRnWn
Participating authors are: Annabeth Albert, May Archer, Mary Calmes, Charlie Cochet, Eden Finley, Susan Hawke, Sloane Kennedy, Lucy Lennox, Lily Morton, K.M. Neuhold, Nora Phoenix, Layla Reyne, Piper Scott (writing as Emma Alcott), Damon Suede, Hailey Turner, Aimee Nicole Walker.