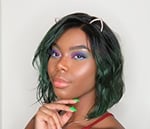 Talia Hibbert is a contemporary romance author from the UK and her books have magically taken over my Twitter feed in the last few months. She lives up to the hype and happens to be hilarious as well. Read on for a super-official interview with her!
You're becoming known for contemporary romance that balances soapy premises with deep POV and "gorgeous writing." Dylan said THE PRINCESS TRAP made her want to devour your entire backlist and Corey Alexander said your diabetes rep in UNDONE BY THE EX-CON was top-notch.
Here's the question everyone's asking - where did you come from?! For serious though, have you been writing a while or is this a new thing that you happen to be really great at?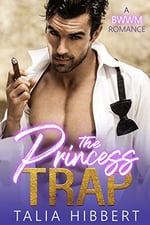 First of all, thank you so much! I am blushing very hard right now.
As for where I came from… I'm never sure how to answer this! As a kid, I'd tell people I wanted to be an author, and they'd laugh in my face. I was constantly told that writing wasn't a 'real' job, and I'd never be able to do it. I still dreamt of being an author, but it got to the point where I was afraid to say the words out loud.
In the summer of 2017, my great-grandmother passed away and left me a legacy. That gave me a sharp kick up the backside because I knew exactly what she'd want me to do with it; she'd want me to take a risk. So I did. I started my own e-publishing house and named it after her. So far, the only person on the books is me. We're doing okay.
Thanks to my partner (aka my biggest hype-man), and my mother's never-ending support, I wrote and published my first novella in October. Before I decided to self-publish, I'd never finished a project. But once I was writing with the intention of sharing my work, it all came pouring out!
I know I write quickly; I've published five—soon to be six—books since October 2017. The truth is, I literally can't stop. My brain has been hijacked by characters. There's like twenty-nine people in here with me, and every time I shove a couple into a book, more arrive to take their place. Please send help.
You're about to release a romance that started with a single Captain America GIF. What can you tell us about the book?
Oh my God, this bloody GIF! Okay, the GIF inspired a tweet, and the tweet turned into A Girl Like Her!
Imagine this version of Cap, yeah, and he's on your sofa drinking tea right, & you give him the third-best mug so he doesn't think you're desperate (you are) & then you offer him another cuppa & he's like "oh thanks"—stay with me—so he gives the mug to you, & your hands

TOUCH https://t.co/sIaE4Uif8h

— Valentine's Talia (@TaliaHibbert) February 5, 2018
This book is the first in my new Ravenswood trilogy, which is set in the small town of—surprise!—Ravenswood. It's not a real place, but anyone who's lived in an English small town will recognise it. Tragically.

The heroine is a comic book geek and the hero is The Softest Boy. That's his official title, in my mind. Also, he's a blacksmith, and he makes a mean lasagne. I am kind of in love with them both.

You can buy A GIRL LIKE HER over at Amazon. It releases on March 14, but you can pre-order now!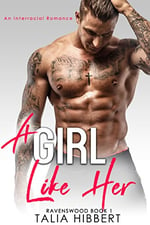 The book also has #ownvoices autistic rep. How was writing this book different from the rest?
A Girl Like Her was such an interesting experience! It made me realise how much I kind of… censor myself, usually? What I mean is, when I'm writing neurotypical characters, I'm conscious of making them seem 'authentically normal'.
Sometimes I ask my non-autistic friends about the thought processes and interactions in my books, because I need reassurance. I've always been told that I'm a weirdo, that I don't understand people, that I'm incomprehensible myself—so I can feel insecure about that.
Writing from Ruth's point of view was very freeing. I felt confident that her character made sense, because I completely understood where she was coming from and how she processed the world around her. However, I also had to write the way other people perceived Ruth, and how that differed from who she actually was. That part was more difficult, but I enjoyed the challenge.
What's next?
Ooooh, there's a question. I started 2018 with a strict release schedule, and then I kind of pooped all over it. I can tell you that, in the next year, I'll be releasing the rest of the Ravenswood books (there'll be three in total). I'll also be releasing a free novella for my newsletter subscribers, and two books in my Just for Him series: book 2.5, an F/F companion novella, and book 3, Sweet on the Greek.
What have you read (and loved) lately?
In the last couple of weeks I have devoured two of K. J. Charles's series: Society of Gentlemen and Sins of the Cities. They are beautifully written, queer, diverse historical romances. My favourite is An Unsuitable Heir, which has a non-binary main character and a disabled hero, both working-class. Kind of. (You can find all of KJ Charles' books here on Amazon.)
I also read and adored Alyssa Cole's A Princess in Theory; it was everything I'd hoped it would be and more! I can't wait for the next in the series.
Oh, and I veered from romance into YA with Holly Black's The Cruel Prince. That was amazing. I mean, I finished the book and I was, y'know, amazed. Damn, I wish I could write like that.
***
We here at Love in Panels think you should totally check out Talia's work. If you are into Captain America being your neighbor and also a Chris-Evans-level sweetie? Go buy A GIRL LIKE HER.
Her other books include THE PRINCESS TRAP, UNDONE BY THE EX-CON, MERRY INKMAS, and BAD FOR THE BOSS. You can read more about Talia over at taliahibbert.com or follow her on Twitter @taliahibbert!