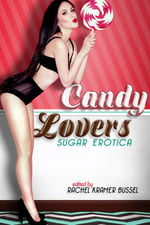 I first encountered Rachel Kramer Bussel on Twitter, talking about a live reading she was doing of pieces of an erotica anthology she'd edited. Reading erotica out loud, for an audience, is intimidating as heck to me, but she's managed, over the course of many years, to carve out a sex-positive, rather feminist place for herself in the erotica publishing community.
Among many other books, Rachel edited the Best Women's Erotica Vol. 3 anthology that I reviewed for Heroes & Heartbreakers (I'll repost it eventually), and has just re-released the Candy Lovers: Sugar Erotica anthology which I'll review soon.
In the meantime, here's a little about her work and the business of publishing erotica!
***
You've been writing and editing erotica for over a decade. What's changed? Is there anything you see as a trend going forward?
To my mind the biggest thing that's changed is that more people are writing erotica. Sometimes that's based on their own experiences, or their imagination. But I think the fact that it's easier to access, and there's less stigma around reading and writing it, has encouraged a new wave of authors.
As for specific trends within erotica, I can't say for sure. Generally, submissive women in BDSM oriented stories are what I tend to see the most of, which makes me try to seek out other types of stories to present as wide a variety as I can to readers. I both want to give readers what's popular, but also expand their minds toward other types of erotic storytelling.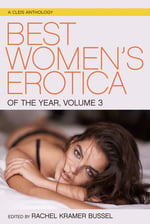 What's your favorite thing about putting together erotica collections? What's your least favorite thing?
My favorite thing about editing erotica collections is working with authors from around the world, especially relatively new or first-time authors. In many of my anthologies, including most of the Best Women's Erotica of the Year books I've edited, I'm publishing a writer's first published story. That's a heady responsibility, which pushes me to do the best job I can. I enjoy following these authors on social media and seeing them continue to thrive, and also giving readers a new voice they can enjoy and continue to see progress in their writing career.
My least favorite thing is sending rejection letters. That hasn't gotten easier in the 14 years I've been editing anthologies and always makes me consider quitting. But I remind myself that a rejection today could be an acceptance tomorrow. I've often gone on to publish work by writers whose pieces I've previously rejected.
What do you wish people knew about erotica?
I wish people knew that erotica is so varied. There's writing that caters to every sexual fetish or interest. Some of it is more focused on the sex acts and less on the story, and some prominently features both. Some is humorous, some is romantic, from the points of view of all genders and sexual orientations. I think often people dismiss erotica as a genre if the first thing or two they read isn't their cup of tea, which is unfair.
What's next?
I'm preparing for the launch of Best Women's Erotica of the Year, Volume 4 in November and booking live readings. I'm also planning to do more giveaways on our Instagram account (bestwomenserotica) and just always looking for ways to reach new readers. Then in January, I have Erotic Teasers coming out from Cleis Press. Right now I'm in the process of editing the next batch of anthologies, Volume 5 of Best Women's Erotica and a new series, Best Bondage Erotica of the Year, Volume 1, so this summer I'll be wrapping up those books. And if Candy Lovers does well, I'll look into putting out more self-published books. I have other out of print titles from publishers that have since closed that I'd like to revive the way I did with Candy Lovers, which features stories that were in my 2008 small press anthology Sex & Candy plus nine new stories, because I want those stories to live on.
What have you read (and loved) lately?
I really liked Young Jane Young by Gabrielle Zevin. I got started writing erotica with a short story inspired by Monica Lewinsky entitled "Monica and Me" way back in 1999, so it was wonderful to read a feminist novel that stood up to slut-shaming of the main character, Aviva Grossman, who changes her name to Jane Young after her affair with a Congressman is exposed.
***

Rachel Kramer Bussel is a New Jersey-based author, editor, blogger and event organizer. She writes widely about sex, dating, books, pop culture, feminism and body image, and has written for numerous publications, including BUST, The Daily Beast, DAME, Elle.com, Fortune.com, The Frisky, Gothamist, The Hairpin, Harper's Bazaar, Inked, Jezebel, Marie Claire, Mediabistro, The Nervous Breakdown, New York Post, New York Observer, New York Press, The New York Times, O, The Oprah Magazine, Playgirl, The Root, Salon, San Francisco Chronicle, Slate, Time Out New York, The Village Voice and xoJane. She has edited 60+ anthologies, including The Big Book of Orgasms, Come Again: Sex Toy Erotica, and edits the Best Women's Erotica of the Year series. She has contributed to over 100 anthologies, including Susie Bright's Best American Erotica 2004 and 2006 and X: The Erotic Treasury, as well as The Sexual State of the Union and Yes Means Yes. Rachel conducts reading and erotic writing workshops worldwide, and has presented, spoken and taught at conferences including Dark Odyssey, Erotic Authors Association, Sex 2.0, and SXSW. For five years, she hosted In The Flesh Erotic Reading Series in New York City, which featured 300 readers. Rachel holds a bachelor's degree in political science and women's studies from the University of California at Berkeley.
Find her on her website, or with any of these super fun buttons that I absolutely didn't lift directly from her website.