Happy New Year!
This is the first TBR list of the new and way-less-awesome Love in Panels. Just me. Hopefully there are still some books in here to top off your TBR!
*
This post contains affiliate links.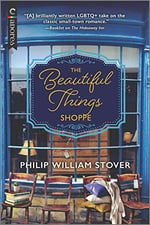 The Beautiful Things Shoppe, by Philip William Stover - January 26

Their collections may clash but their hearts are a perfect match.
Moving to eclectic New Hope, Pennsylvania, and running The Beautiful Things Shoppe is a dream come true for elegant and reserved fine arts dealer Prescott J. Henderson. He never agreed to share the space with Danny Roman, an easygoing extrovert who collects retro toys and colorful knickknacks.
And yet here they are, trapped together in the quaint shop as they scramble to open in time for New Hope's charming Winter Festival.
Danny has spent years leading with his heart instead of his head. The Beautiful Things Shoppe is his chance to ground himself and build something permanent and joyful. The last thing he needs is an uptight snob who doesn't appreciate his whimsy occupying half his shop.
It's only when two of New Hope's historic landmarks—each as different as Danny and Prescott—are threatened that a tentative alliance forms. And with it, the first blush of romance. Suddenly, running The Beautiful Things Shoppe together doesn't seem so bad…until Danny's secret threatens to ruin it all.

***
Why I Want to Read It - The first in this series was a pleasant surprise for me in 2020 (as opposed to all the other surprises). Stover used a return-to-hometown romance to explore toxic masculinity in the gay community and ideas of forgiveness and reinvention. Anyway, I'm looking forward to this one because I fell in love with the small, quirky town and I'm eager to spend more time with these characters.

Buy a copy: Amazon ◊ Bookshop ◊ Kobo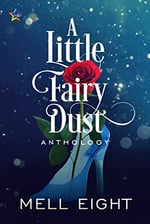 A Little Fairy Dust, by Mell Eight - January 4

Nine tales of magic, love, and a little fairy dust: A military posting at the Rapunzel Tower to avoid war in The Tower; a Brownie that just wants to do something right in Cleanly Wrong; a dream of love unfulfilled in A Heart's Dream; saving the victims of an evil witch in The Red Apple Witch; a boy who just wants to go to the ball in Cinder-Elle; a cursed kingdom and search for lost love in The Curse; a thief and his fairy godparent with different ideas about love in Happily Ever After; a lightning strike, a lost egg, an ancient battle, and love at first spark in Thunderbird; and a prince trapped, knowing his true love will never save him in The Beast.
Why I Want to Read It - This anthology is from one author, so I'm hoping I click with their voice because I love queer fairytale retellings. NineStar has published a bunch of multi-author anthologies but they're not for sale anymore, which is really sad because I'd love to recommend them to you!

Buy a copy: Ninestar Press, other retailers soon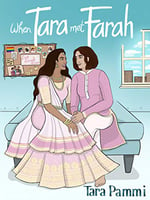 When Tara Met Farah, by Tara Pammi - January 26

Sunshine Girl needs math lessons…
Nineteen-year-old Tara Muvvala didn't mean to lead a double life. But her bone-deep aversion to math + a soul-deep desire to please her mother = her failing math grade + exploding food vlog 'this masala life'. Enter her mother's research intern and resident math genius Farah Ahmed. Tara makes a deal with Farah - help her pass the math course and she'll welcome Farah into the local Bollywood Drama & Dance Society.
Grumpy girl gets life lessons…
After losing her mom to a heart attack, dumping her small-minded boyfriend (she's bisexual, not confused) and reluctantly moving to the US to be near her dad - all in the span of eighteen months, twenty-three-year-old Farah has hit the full quota on LIFE. Two things keep her going - her internship with a brilliant statistics professor and the possibility of meeting her dancing idol through the Bollywood Drama & Dance Society.
That is, if her new hot-mess housemate will let her.
Soon Tara and Farah are bonding over chicken biryani, dancing to Bollywood Beats at midnight and kissing... against all the odds. And maybe beginning to realize that while life's even more complicated than math, love is the one variable that changes everything!
Will they realize that together they have the recipe for a Happily Ever After?
***
Why I Want to Read It - F/f grumpy/sunshine! New-to-me author and heyyyy bisexual rep, let's do this!

Buy a copy: Amazon ◊ Barnes & Noble ◊ Kobo
Also out this month:
As always, some of these are titles I'm personally looking forward to reading and some are books I think some of you lovely folks might be interested in.
All titles in red are links to Amazon.
***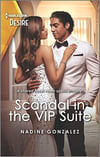 January 1 - Scandal in the VIP Suite, by Nadine Gonzalez
January 1 - Running Away With the Bride, by Sophia Singh Sasson
January 1 - Intimate Negotiations, by Nicki Night
January 1 - The Marriage Code, by Brooke Burroughs
January 5 - Be Dazzled, by Ryan La Sala
January 5 - Lore, by Alexandra Bracken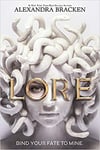 January 5 - Persephone Station, by Stina Licht
January 5 - Happily Ever Afters, by Elise Bryant
January 5 - Roman and Jewel, by Dana L. Davis
January 5 - Lava Red, Feather Blue, by Molly Ringle
January 5 - The Wife Upstairs, by Rachel Hawkins
January 5 - The Ballad of Hattie Taylor, by Susan Andersen
January 11 - Tempt the Dragon, by A. C. Arthur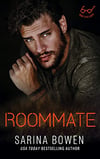 January 12 - Concrete Rose, by Angie Thomas
January 12 - Roommate, by Sarina Bowen
January 12 - The Worst Duke in the World, by Lisa Berne
January 12 - Across the Green Grass Fields, by Seanan McGuire
January 12 - You Have a Match, by Emma Lord
January 12 - The Ruthless Lady's Guide to Wizardry, by C.M. Waggoner
January 12 - Into the Heartless Wood, by Joanna Ruth Meyer
January 12 - Blood Heir, by Ilona Andrews
January 12 - The Forever Girl, by Jill Shalvis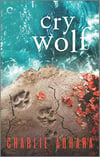 January 18 - Cry Wolf, by Charlie Adhara
January 19 - Shipped, by Angie Hockman
January 19 - Happy Singles Day, by Ann Marie Walker
January 19 - Enjoy the View, by Sarah Morgenthaler
January 19 - Cast in Firelight, by Dana Swift
January 21 - The Mask of Mirrors, by M.A. Carrick
January 22 - Love Code, by Ann Aguirre
January 25 - The Golden Gryphon and the Bear Prince, by Jeffe Kennedy

January 26 - Patience & Esther, by Sarah Winifred Searle
January 26 - Flirting With Forever, by Cara Bastone
January 26 - Big Bad Wolf, by Suleikha Snyder
January 26 - Then There Was You, by Mona Shroff
January 26 - The Ex Talk, by Rachel Lynn Solomon
January 26 - A Vow So Bold and Deadly, by Brigid Kemmerer
January 26 - Wings of Ebony, by J. Elle
January 31 - A Dowry of Blood, by S.T. Gibson
Want to support us and indie bookstores at the same time? All print books on this list have been collected in a list over at Bookshop, too!
Reminder!
LGBTQ Reads keeps a list of new releases that includes queer fiction of every genre.
WoC in Romance publishes new release lists roughly weekly.
Girl Have You Read does the same.
What books are you looking forward to this month?
***
If you appreciate our content and wish to support the site, please consider using the affiliate links in this post and below for your shopping needs. Even if you don't buy the book in question, we receive a small % of your purchase from the vendor. As always, you are welcome to leave us a tip on Ko-Fi!
Support Love in Panels