It's 2022 and we're still in a pandemic. I'm tired and grumpy and I'm sure you are, too. But hey, we've got books!
Before we get to the list, I want to let you know I'm making a couple of changes to these posts. For one, I won't be compiling monthly lists over at Bookshop anymore. Folks aren't using them and it seems a misuse of my time. Second, I started making lists over at Amazon. Let me know what you'd like in the future!
I'm wishing you a year full of moments of joy and wonder, and the ability to hold onto those moments amidst the chaos.
*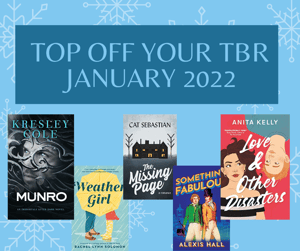 This post contains affiliate links.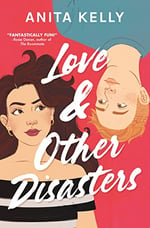 Love & Other Disasters, by Anita Kelly - January 18

The first openly nonbinary contestant on America's favorite cooking show falls for their clumsy competitor in this delicious romantic comedy debut that USA Today hailed as "an essential read."
Recently divorced and on the verge of bankruptcy, Dahlia Woodson is ready to reinvent herself on the popular reality competition show Chef's Special. Too bad the first memorable move she makes is falling flat on her face, sending fish tacos flying—not quite the fresh start she was hoping for. Still, she's focused on winning, until she meets someone she might want a future with more than she needs the prize money.
After announcing their pronouns on national television, London Parker has enough on their mind without worrying about the klutzy competitor stationed in front of them. They're there to prove the trolls—including a fellow contestant and their dad—wrong, and falling in love was never part of the plan.
As London and Dahlia get closer, reality starts to fall away. Goodbye, guilt about divorce, anxiety about uncertain futures, and stress from transphobia. Hello, hilarious shenanigans on set, wedding crashing, and spontaneous dips into the Pacific. But as the finale draws near, Dahlia and London's steamy relationship starts to feel the heat both in and outside the kitchen—and they must figure out if they have the right ingredients for a happily ever after.
***
Why I Want to Read It - I've already read this one and reviewed it over at Shelf Awareness (review goes up at pub date), but it's my January pick because I really liked it! Top Chef meets queer disasters plus characters finding their way individually and together. Great writing, much gay.

Buy a copy: Amazon ◊ Barnes & Noble ◊ Bookshop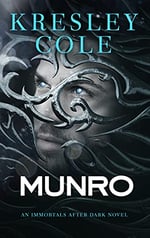 Munro, by Kresley Cole - January 25

TORMENTED IN UNIMAGINABLE WAYS
Coming off torture at the hands of his warlock captors, Munro MacRieve never expected to find his mate, or to lose her just as abruptly. Driven to desperation, the ruthless warrior uses his enemies' own powers to reunite with her—in the distant past.
STOLEN FROM HER TIME
When a crazed werewolf crashes her wedding, Kereny "Ren" Codrina does what any cunning huntress would do: she captures him. Yet she finds herself softening toward the wounded beast—until he turns the tables and forces her into an incomprehensible future.
CAN A HUMAN AND AN IMMORTAL UNITE IN ORDER TO SURVIVE?
As danger mounts, Munro will do anything to make her undying, even sell his soul to an evil sorceress. But first he must convince his fiery mate that she belongs with him. If seduction means her survival, Munro will use every weapon in his arsenal to possess her—forever.
***
Why I Want to Read It - Other bloggers have read this. It's REAL. After all this time and all the promised release dates, it's finally happening!!

Buy a copy: Amazon
Also out this month (beware, not all are romance!):
All titles in red are links to Amazon. Check out the full list here.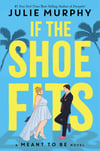 January 1 - Digging Up Love, by Chandra Blumberg
January 4 - When You Get the Chance, by Emma Lord
January 4 - Where the Drowned Girls Go, by Seanan McGuire
January 4 - Love at First Spite, by Anna E. Collins
January 4 - Serendipity: Ten Romantic Tropes, Transformed - YA Anthology
January 4 - One True Loves, by Elise Bryant
January 4 - Bridge of Love, by Nana Malone
January 11 - To Kiss a King, by Jess Michaels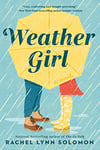 January 11 - Weather Girl, by Rachel Lynn Solomon

January 11 - The Siren of Sussex, by Mimi Matthews

January 18 - Electric Idol, by Katee Robert

January 18 - Goddess of Summer Love, by Kelley Armstrong

January 18 - The Best Men, by Sarina Bowen and Lauren Blakely

January 18 - How to Love Your Neighbor, by Sophie Sullivan

January 18 - Cream and Punishment, by Susannah Nix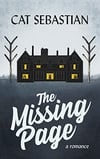 January 18 - The Missing Page, by Cat Sebastian
January 25 - Barbarian Alien (IPB #2), by Ruby Dixon (trade paperback reissue)
January 25 - Never Tell, by Selena Montgomery/Stacey Abrams
January 25 - D'Vaughn and Kris Plan a Wedding, by Chencia C. Higgins
January 25 - Getting His Game Back, by Gia De Cadanet
January 25 - A Letter to Three Witches, by Elizabeth Bass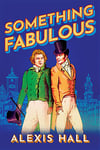 January 25 - The Roughest Draft, by Emily Wibberly and Austin Siegemund-Broka
January 25 - Something Fabulous, by Alexis Hall
Reminder: all of these books are collected in a list over at Amazon for your convenience.
What books are you looking forward to this month?
***
If you appreciate our content and wish to support the site, please consider using the affiliate links in this post and below for your shopping needs. Even if you don't buy the book in question, we receive a small % of your purchase from the vendor. As always, you are welcome to leave us a tip on Ko-Fi!
Support Love in Panels