June books! June is a little lighter, which means we're hoping to catch up on May's very long list. But lighter doesn't mean we don't have another list of books to stack on that metaphorical TBR pile! We do.


This post includes affiliate links.

***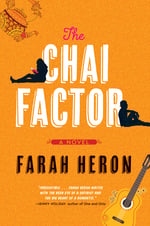 The Chai Factor, by Farah Heron - June 11

Amira Khan has no plans to break her no-dating rule.
Thirty-year-old engineer Amira Khan has set one rule for herself: no dating until her grad-school thesis is done. Nothing can distract her from completing a paper that is so good her boss will give her the promotion she deserves when she returns to work in the city. Amira leaves campus early, planning to work in the quiet basement apartment of her family's house. But she arrives home to find that her grandmother has rented the basement to . . . a barbershop quartet. Seriously? The living situation is awkward: Amira needs silence; the quartet needs to rehearse for a competition; and Duncan, the small-town baritone with the flannel shirts, is driving her up the wall.
As Amira and Duncan clash, she is surprised to feel a simmering attraction for him. How can she be interested in someone who doesn't get her, or her family's culture? This is not a complication she needs when her future is at stake. But when intolerance rears its ugly head and people who are close to Amira get hurt, she learns that there is more to Duncan than meets the eye. Now she must decide what she is willing to fight for. In the end, it may be that this small-town singer is the only person who sees her at all.
Suzanne - This debut has been on my list since I heard about it months ago. Barbershop quartet? Reluctant attraction? Humor and reality? I'm so excited that I'm even attempting to read the PDF review copy I was sent. (Reading 300 page PDFs is the devil's own.)

Buy a copy: Amazon, Apple Books, Barnes & Noble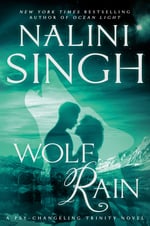 Wolf Rain, by Nalini Singh - June 4

The fate of millions of lives hangs in the balance in this new Psy-Changeling Trinity novel from New York Times bestselling author Nalini Singh...
Kidnapped as a young girl, her psychic powers harnessed by a madman, Memory lives a caged and isolated existence...until she comes face-to-face with a wolf. Labelled an empath by her bad-tempered rescuer, Memory knows that her 'gift' is nothing so bright. It is a terrible darkness that means she will always be hunted.
But Memory is free now and she intends to live. A certain growly wolf can just deal with it.
Alexei prefers to keep his packmates at bay, the bleak history of his family a constant reminder that mating, love, hope is not for him. But Memory, this defiant and fearless woman who stands toe-to-toe with him awakens the most primal part of his nature--and soon, he must make a choice: risk everything or lose Memory to a murderous darkness that wants to annihilate her from existence...
Ana - I loved Wolf Rain and it is my favorite romance coming out in June. But I already read it. Others really should pick it up! (Read Ana's review.)
Buy a copy: Amazon, Apple Books, Barnes & Noble, Kobo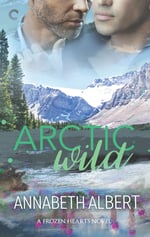 Arctic Wild, by Annabeth Albert - June 4

When a plane crashes in the Alaskan wilderness, the best place to land is in the arms of a younger man…
Hotshot attorney Reuben Graham has finally agreed to take a vacation, when his plane suddenly plunges into the Alaskan wilderness.
Just his luck.
But his frustrations have only begun as he finds himself stranded with the injured, and superhot, pilot, a man who's endearingly sociable—and much too young for Reuben to be wanting him this badly.
As the sole provider for his sisters and ailing father, Tobias Kooly is devastated to learn his injuries will prevent him from working or even making it back home. So when Reuben insists on giving him a place to recover, not even Toby's pride can make him refuse. He's never been tempted by a silver fox before, but something about Reuben is impossible to resist.
Recuperating in Reuben's care is the last thing Toby expected, yet the closer they become, the more incredibly right it feels, prompting workaholic Reuben to question the life he's been living. But when the pressure Toby's under starts closing in, both men will have to decide if there's room in their hearts for a love they never saw coming.
Andrea - This story is so cozy and wonderful! They become a family! BOTH men are out as biiiiisexuualll! Wooh! There is lots of edging! And the way disability is depicted in here is...*chefs kiss* I can't wait for it to be out in the world!
Buy a copy: Amazon, Apple Books, Barnes & Noble, Kobo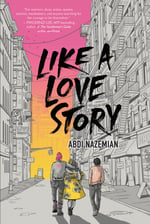 Like a Love Story, by Abdi Nazemian - June 4

It's 1989 in New York City, and for three teens, the world is changing.
Reza is an Iranian boy who has just moved to the city with his mother to live with his stepfather and stepbrother. He's terrified that someone will guess the truth he can barely acknowledge about himself. Reza knows he's gay, but all he knows of gay life are the media's images of men dying of AIDS.
Judy is an aspiring fashion designer who worships her uncle Stephen, a gay man with AIDS who devotes his time to activism as a member of ACT UP. Judy has never imagined finding romance...until she falls for Reza and they start dating.
Art is Judy's best friend, their school's only out and proud teen. He'll never be who his conservative parents want him to be, so he rebels by documenting the AIDS crisis through his photographs.
As Reza and Art grow closer, Reza struggles to find a way out of his deception that won't break Judy's heart—and destroy the most meaningful friendship he's ever known.
This is a bighearted, sprawling epic about friendship and love and the revolutionary act of living life to the fullest in the face of impossible odds.
Andrea - I really really really really hope this has nuanced, delightful, authentic queer storytelling that's low on easily-avoidable drama, because it feels important, and I'm already sure it's gonna be a few kinds of heartbreaking.
Buy a Copy: Amazon, Apple Books, Barnes & Noble, Kobo
Hither, Page, by Cat Sebastian - June 18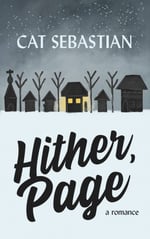 A jaded spy and a shell shocked country doctor team up to solve a murder in postwar England.
James Sommers returned from the war with his nerves in tatters. All he wants is to retreat to the quiet village of his childhood and enjoy the boring, predictable life of a country doctor. The last thing in the world he needs is a handsome stranger who seems to be mixed up with the first violent death the village has seen in years. It certainly doesn't help that this stranger is the first person James has wanted to touch since before the war.
The war may be over for the rest of the world, but Leo Page is still busy doing the dirty work for one of the more disreputable branches of the intelligence service. When his boss orders him to cover up a murder, Leo isn't expecting to be sent to a sleepy village. After a week of helping old ladies wind balls of yarn and flirting with a handsome doctor, Leo is in danger of forgetting what he really is and why he's there. He's in danger of feeling things he has no business feeling. A person who burns his identity after every job can't set down roots.
As he starts to untangle the mess of secrets and lies that lurk behind the lace curtains of even the most peaceful-seeming of villages, Leo realizes that the truths he's about to uncover will affect his future and those of the man he's growing to care about.
Andrea - !!! He's in danger of feeling things he has no business feeling!!!!
Ana - Cat Sebastian books are always a treat and I can't wait for this new series. I am a sucker for mystery solving Brits!
Buy a copy: Amazon, Apple Books, Barnes & Noble, Kobo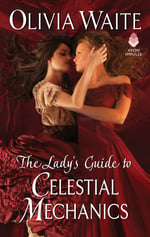 The Lady's Guide to Celestial Mechanics, by Olivia Waite - June 25

As Lucy Muchelney watches her ex-lover's sham of a wedding, she wishes herself anywhere else. It isn't until she finds a letter from the Countess of Moth, looking for someone to translate a groundbreaking French astronomy text, that she knows where to go. Showing up at the Countess' London home, she hoped to find a challenge, not a woman who takes her breath away.
Catherine St Day looks forward to a quiet widowhood once her late husband's scientific legacy is fulfilled. She expected to hand off the translation and wash her hands of the project—instead, she is intrigued by the young woman who turns up at her door, begging to be allowed to do the work, and she agrees to let Lucy stay. But as Catherine finds herself longing for Lucy, everything she believes about herself and her life is tested.
While Lucy spends her days interpreting the complicated French text, she spends her nights falling in love with the alluring Catherine. But sabotage and old wounds threaten to sever the threads that bind them. Can Lucy and Catherine find the strength to stay together or are they doomed to be star-crossed lovers?
Ana - I am waiting for RomBkLove to be over so I can jump and read my review copy and give it the attention these lady astronomers deserve.
Suzanne - F/f historical with geekiness! I am excited.
Buy a copy: Amazon, Apple Books, Barnes & Noble, Kobo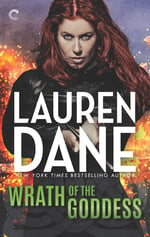 Wrath of the Goddess, by Lauren Dane - June 10

Rowan Summerwaite is back—and more than a little pissed off—in Wrath of the Goddess, the fifth installment in New York Times bestselling author Lauren Dane's Goddess with a Blade series.
You can't keep a vengeful woman down for long.
Rowan Summerwaite, elite hunter and human vessel to the goddess Brigid, has returned home to Las Vegas—and she's mad as hell. It seems someone thought they could eliminate Rowan and everyone she holds dear.
That someone was dead wrong.
With tensions between paranormal factions at an all-time high, Rowan and her crew, along with her sexy Vampire Scion husband, Clive Stewart, have their work cut out for them. The Vampire Nation has at least one traitor in their midst, leaving them extremely vulnerable…but if it's a war they want, Rowan's prepared to bring the pain like never before.
Rowan knows her duty is to those she's sworn to protect, but it seems the harder she fights, the more barriers she hits…and the more friends she loses.
With even her closest alliances in question, Rowan will have to accept that sometimes the path toward the greater good means making heartrending sacrifices along the way…
Ana - I really love Dane's UF and PNR books and I've been waiting for the next installment in this series for quite some time, so long that I probably have to re-read the series to figure out what happened in the last book!
Buy a copy: Amazon, Apple Books, Barnes & Noble, Kobo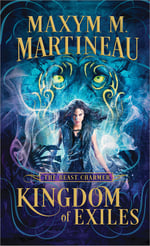 Kingdom of Exiles, by Maxym Martineau - June 25

Assassin's Creed meets Fantastic Beasts and Where to Find Them in this gripping, epic fantasy romance trilogy.
My heart wasn't part of the deal when I bargained for my life,
But assassins so rarely keep their word.
Exiled Charmer Leena Edenfrell is running out of time. Empty pockets forced her to sell her beloved magical beasts-an offense punishable by death-and now there's a price on her head. With the realm's most talented murderer-for-hire nipping at her heels, Leena makes Noc an offer he can't refuse: powerful mythical creatures in exchange for her life.
Plagued by a curse that kills everyone he loves, Noc agrees to Leena's terms in hopes of finding a cure. Never mind that the dark magic binding the assassin's oath will eventually force him to choose between Leena's continued survival...and his own.
In a game of trust and half-lies, only one thing can be certain: traps capture more than beasts and ensnared hearts are impossible to untangle.
Amy - The tagline describes it as "Assassin's Creed meets Fantastic Beasts" - I know I shouldn't trust taglines but they pegged my interests completely.
Buy a copy: Amazon, Apple Books, Barnes & Noble
What are you looking forward to in June?