June is often a pretty light month for new books, but I'm thinking it's not this year? Or maybe there are just a bunch I happen to be excited about this time around. There's not much better than sitting in the shade with a good book and listening to birds, so I'm going to hurry up and finish this post so I can go do that!
Wishing you all the good things and the strength to fight against the bad ones. Pride is a tough month this year, so please remember to advocate for your queer and trans siblings.
This post contains affiliate links.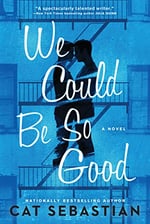 We Could Be So Good, by Cat Sebastian - June 6
Nick Russo has worked his way from a rough Brooklyn neighborhood to a reporting job at one of the city's biggest newspapers. But the late 1950s are a hostile time for gay men, and Nick knows that he can't let anyone into his life. He just never counted on meeting someone as impossible to say no to as Andy.
Andy Fleming's newspaper-tycoon father wants him to take over the family business. Andy, though, has no intention of running the paper. He's barely able to run his life—he's never paid a bill on time, routinely gets lost on the way to work, and would rather gouge out his own eyes than deal with office politics. Andy agrees to work for a year in the newsroom, knowing he'll make an ass of himself and hate every second of it.
Except, Nick Russo keeps rescuing Andy: showing him the ropes, tracking down his keys, freeing his tie when it gets stuck in the ancient filing cabinets. Their unlikely friendship soon sharpens into feelings they can't deny. But what feels possible in secret—this fragile, tender thing between them—seems doomed in the light of day. Now Nick and Andy have to decide if, for the first time, they're willing to fight.
***
Why I Want to Read It - It's Cat Sebastian and it's mid-century. Plus I feel nostalgic for a time when reporting was an actual thing and not just a 24-hour cable tv outrage machine masquerading as news.

Buy a copy: Amazon ◊ Kobo ◊ Libro.fm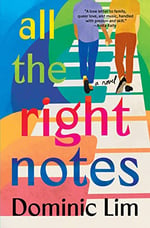 All the Right Notes, by Dominic Lim - June 6
In this hilarious and joyous rom com, sparks fly when a piano genius and a Hollywood heartthrob are thrown together for a charity performance of solos, heartfelt duets, and a big, showstopping finale.
Quito Cruz might be a genius piano player and composer in New York City now but it doesn't mean that he's any closer to his Broadway dream. Although Quito knows what the problem is. Or rather who. Because ever since that night in college—with pretty-boy jock Emmett Aoki—his inspiration has been completely MIA . . .
Now Quito's dad wants him to put on a charity performance in his hometown. And there's one hella big string attached: convince Emmett—now one of Hollywood's hottest celebrities—to perform.
It's all shaping up to be the biggest musical fiasco of Quito's life. Especially when Emmett agrees to attend, and Quito realizes that undeniable vibe between them is stronger than ever. Because there's nothing simple about falling for a movie star . . . even when he's pitch-perfect.
***
Why I Want to Read It - Other than the middle school play a couple of weeks ago, I haven't been to a live theatre production since before COVID and I'm really missing it. Plus I'm always excited to try a new queer author and the cover makes me really happy.

Buy a copy: Amazon ◊ Kobo ◊ Libro.fm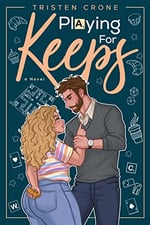 Playing for Keeps, by Tristen Crone - June 27

Farren puts on a good front, feigning confidence despite literally not fitting into society's narrow ideas of beauty and success. Inside, she's stuck, afraid to put herself and her ideas out there, especially the board game design she's kept a secret. She keeps things light and temporary—both at work as a substitute teacher and in her relationships.
Overworked Sebastian abhors anything that gets in the way of his goals, including procuring the perfect pastry. The two meet when Sebastian accuses her of stealing his pastry in an amusing and awkward café incident. When Farren gets in the way of his coffee order with her huge personality she turns out to be even more than he bargained for.
Instead of shrinking beneath his usually intimidating stare, Farren issues a challenge back: take a second away from his phone calendar with its down-to-the-minute scheduling and play her for it—live a little. If Sebastian wins the board game battle he gets to keep his precious croissant, if she wins he has to join their game night next week.
Just who will be the victor in this game of love?
***
Why I Want to Read It - Board games!

Books I've Read Early:
Disclosure: I received copies of these books from the publisher for review.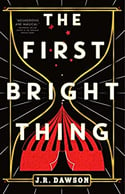 The First Bright Thing, by J.R. Dawson - This is historical fiction with a sapphic, Jewish MC in a world where some people have magic powers. She runs a traveling carnival and has been evading her abusive husband for years. My full review of this wrenching novel should run at Shelf Awareness shortly.
Love, Theoretically, by Ali Hazelwood - Hazelwood doesn't stray far from her tried and true size difference + enemies to lovers but the grump isn't actually at all an enemy + STEM workplace formula. Seriously, she's got a niche and she's just gonna stay there.
Shadows of the Lost, by Maxym M. Martineau - This was such a disappointment. I was hoping after the mess Sourcebooks made with the first trilogy (mid-series re-issue as YA) that they would treat this as a real reboot. But no, the author expects readers to have read the entire first trilogy and jumps right in with the expectation that you know who everyone is and the recent events in which Gaige died. If you read the originals, you will probably like this angsty m/m new adult fantasy romance a lot more than I did!
Releasing this month:
All titles in red are links to Amazon. Check out the full list here.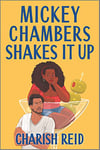 June 1 - Good as Gold, by Sarina Bowen
June 6 - Mickey Chambers Shakes It Up, by Charish Reid
June 6 - Crazy Bao You, by Lyn Liao
June 6 - All the Right Notes, by Dominic Lim
June 6 - Unfortunately Yours, by Tessa Bailey
June 6 - We Could Be So Good, by Cat Sebastian
June 6 - Single Dads Club, by Therese Beharrie
June 6 - Darkhearts, by James L. Sutter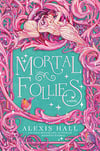 June 6 - Mortal Follies, by Alexis Hall
June 6 - Secret of the Moon Conch, by David Bowles and Guadalupe García McCall
June 6 - The Secret Summer Promise, by Keah Brown
June 6 - The Dos and Donuts of Love, by Adiba Jaigirdar
June 6 - The Grimoire of Grave Fates, an anthology of connected Dark Academia YA stories
June 6 - Pride Not Prejudice - Charity Anthology
June 6 - Shadows of the Lost (Night Guild, #1), by Maxym M. Martineau
June 13 - Kismat Connection, by Ananya Devarajan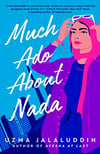 June 13 - Much Ado About Nada, by Uzma Jalaluddin
June 13 - A Crown of Ivy and Glass, by Claire Legrand
June 13 - The First Bright Thing, by J.R. Dawson
June 13 - Love, Theoretically, by Ali Hazelwood
June 13 - Something Close to Magic, by Emma Mills
June 13 - Going Bicoastal, by Dahlia Adler
June 13 - Magic Claims (Kate Daniels, Wilmington Years #2), by Ilona Andrews
June 13 - The Evergreen Heir (Five Crowns of Okrith #4), by A.K. Mulford
June 20 - Sanctuary with Kings (Tempting Monsters #3), by Kathryn Moon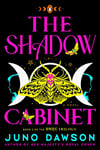 June 20 - The Shadow Cabinet (HMRC Trilogy #2), by Juno Dawson
June 20 - Ode to My First Car, by Robin Gow
June 20 - Garden of the Cursed, by Katy Rose Pool
June 20 - Capture the Sun (Starlight's Shadow #3), by Jessie Mihalik
June 20 - Can't Let Her Go, by Kianna Alexander
June 27 - The Notorious Lord Knightly (Chessmen #2), by Lorraine Heath
June 27 - The Seven Year Slip, by Ashley Poston
June 27 - Will They or Won't They, by Ava Wilder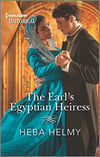 June 27 - The Earl's Egyptian Heiress, by Heba Helmy
June 27 - The Business Between Them, by Mona Shroff
June 27 - Playing for Keeps, by Tristan Crone
June 27 - You've Been Served, by Kristen Alicia
Reminder: all of these books are collected in a list over at Amazon for your convenience.
What June books are you looking forward to reading?
***
If you appreciate our content and wish to support the site, please consider using the affiliate links in this post and below for your shopping needs. As always, you are welcome to leave us a tip on Ko-Fi!
Support Love in Panels