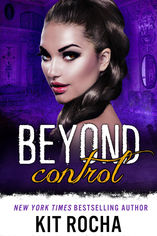 One of the very first ways I connected to Romancelandia was through romance podcasts. I was an avid podcast listener in those days, so it was natural to look for a romance podcast to listen to. I listened to dozens of episodes of Sarah Wendell & Jane Litte's DBSA podcast, when I was a baby romance reader, hearing about new books, learning about publishing and being introduced to romance fandom.
Although I've filled up a lot of free time I used to listen to podcasts with audiobooks since then, my interest in romance podcasts has not diminished. It has been fabulous to see the number of romance related podcasts grow, almost exponentially over the past few years, even if I can't keep up with all them anymore.
I've loved to tracking the excitement for JenReadsRomance and Sarah MacLean's Fated Mates podcast on my timeline. In Fated Mates, Jen and Sarah dive deep into Kresley Cole's Immortals after Dark series. While most romance podcasts I am familiar with have been focused on general romancelandia topics or thematic discussions, it was great to see one focused on a specific books series discussing its themes, characterization and plot points. There are so many fantastic romance series that I would love to see get the same kind of in-depth treatment.
I am a huge Kit Rocha Beyond series fangirl. As a reader I connected to diverse and inclusive community of characters,and I loved the stories because the world-building and sexiness are equally important.
In early January there was a great prompt thread on twitter encouraging folks to name something they wished existed. Kit Rocha wished for Beyond Podcast:
Okay, I have a new bucket list item. Someone do a Beyond podcast! 😍 https://t.co/pkBDEkb4FB

— Kit Rocha (@KitRocha) January 4, 2019
Chelsea Outlaw, another huge Kit Rocha fan immediately quote tweeted looking for a podcast partner and I rushed to volunteer.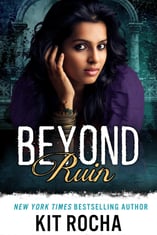 I have very little podcasting experience. I've been interviewed for a podcast and submitted audio snippets to others but I have little hands-on experience with podcasting beyond being a frequent listener and having access to decent microphone. Thankfully Chelsea has plenty of experience, as she co-hosts, the Not Now, I'm Reading podcast with Kay Taylor Rea.
Through DMs, emails and shared google docs, Chelsea and I worked out a plan. We talked out our vision for the podcast, a book by book discussion of the worldbuilding, major themes and favorite characters in each book. We brainstormed podcast names and hashtags and tried to figure out a time where we would both be available to record.
We kept things simple, dividing up start up costs (Podbean subscription & domain registration) and splitting up the major tasks. Chelsea handles the audio mixing and transcript creation and I create graphics, manage the social media, newsletter sign-ups & website. So far the most challenging thing so far was sitting on our hands while we waited on iTunes to approve our podcast.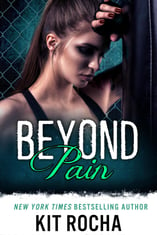 Our typical recording process is straightforward, we set a time and meet in a google hangout. We both record our halves of our conversation using Audacity, a free recording software. We talk over some basics, confirm our general direction and with a big clap get started. Although Chelsea and I are only starting to get to know each other, the conversations have been fun and free-flowing as we share the same passion for the books. We hope that listeners feel the same way, that we can do justice to the books and the themes in the series. I hope readers feel like I did when I first got to know romancelandia via podcast, included in intimate conversation about a shared passion. We have been thrilled by the support and comments from listeners and can't wait to keep talking about the Beyond series!