This post is obviously incredibly late. I'd love to say that the April one will be more timely, but I'm not at all able to promise that.
One positive, however, is that I've been able to catch some of the books with delayed releases. This seems to be increasing again and I encourage you to check your pre-orders for updates.
This post contains affiliate links.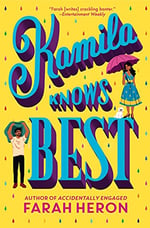 Kamila Knows Best, by Farah Heron - March 8

Jane Austen's Emma goes Bollywoood in this delightful retelling from the highly acclaimed author of Accidentally Engaged, perfect for fans of Abby Jimenez and Jasmine Guillory.
Kamila Hussain's life might not be perfect, but, whew, it's close. She lives a life of comfort, filled with her elaborate Bollywood movie parties, a dog with more Instagram followers than most reality stars, a job she loves, and an endless array of friends who clearly need her help finding love. In fact, Kamila is so busy with her friends' love lives, she's hardly given any thought to her own . . .
Fortunately, Kamila has Rohan Nasser. A longtime friend of the family, he's hugely successful, with the deliciously lean, firm body of a rock climber. Only lately, Kamila's "harmless flirting" with Rohan is making her insides do a little bhangra dance.
But between planning the local shelter's puppy prom, throwing a huge work event, and proving to everyone that she's got it all figured out, Kamila isn't letting herself get distracted—until her secret nemesis returns to town with an eye for Rohan. Suddenly, it seems like the more Kamila tries to plan, the more things are starting to unravel—and her perfectly ordered life is about to be turned upside down.
***
Why I Want to Read It - I read this on audio thanks to Hachette and loved it so much I purchased a print copy to gaze at adoringly on my shelf. Heron took the Clueless approach to Emma and gave it a thoroughly modern Muslim Indian-Canadian update. The Emma character has an Instagram with her dog, loves bright fashion AND she's an accountant. The secondary cast was great, too. Read this book. You'll want biryani nearby.

Buy a copy: Amazon ◊ Barnes & Noble ◊ Bookshop ◊ Kobo
Also out this month (beware, not all are romance!):
All titles in red are links to Amazon. Check out the full list here.


March 1 - Hook, Line, and Sinker, by Tessa Bailey
March 1 - Travelers Along the Way: A Robin Hood Remix, by Aminah Mae Safi
March 1- Mr. Wrong Number, by Lynn Painter
March 1 - By Any Other Name, by Lauren Kate
March 1 - The Astronaut and the Star, by Jen Comfort
March 1 - All My Rage, by Sabaa Tahir
March 1 - Loveless, by Alice Oseman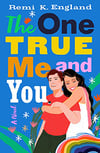 March 1 - Wherever is Your Heart, by Anita Kelly
March 1 - Edgewood, by Kristen Ciccarelli
March 1 - A Brush with Love, by Mazey Eddings
March 1 - The One True Me and You, by Remi K. England
March 8 - And They Lived..., by Steven Salvatore
March 8 - From Dust, a Flame, by Rebecca Podos
March 8 - The Suite Spot, by Trish Doller
March 8 - A Match Made in Lipa, by Carla de Guzman
March 8 - A Far Wilder Magic, by Alison Saft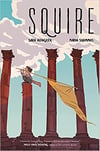 March 8 - Love, Decoded, by Jennifer Yen
March 8 - Squire, by Sara Alfageeh (Graphic Novel)
March 8 - Lakelore, by Anna-Marie McLemore
March 15 - Right Where I Left You, by Julian Winters
March 15 - In a New York Minute, by Kate Spencer
March 15 - Dating Dr. Dil, by Nisha Sharma
March 15 - The League of Gentlewomen Witches, by India Holton
March 15 - Sadie on a Plate, by Amanda Elliot
March 15 - The War of Two Queens, by Jennifer L. Armentrout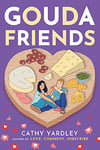 March 15 - Exclusive, by Melissa Brayden
March 15 - Her Duchess to Desire, by Jane Walsh
March 15 - Shenanigans, by Sarina Bowen
March 22 - Gouda Friends, by Cathy Yardley
March 22 - Forward March, by Skye Quinlan
March 22 - Savvy Sheldon Feels Good as Hell, by Taj McCoy
March 22 - A Million Quiet Revolutions, by Robin Gow
March 24 - I'll Come Back for You, by Charish Reid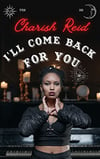 March 25 - Monsters in Love: Lost in the Labyrinth: A Paranormal Monster Romance Anthology
March 29 - A Magic Steeped in Poison, by Judy I. Lin
March 29 - With Love From Rose Bend, by Naima Simone
March 29 - So This is Ever After, by F.T. Lukens
March 29 - A Duke, the Spy, an Artist and a Lie, by Vanessa Riley
March 29 - Wild and Wicked Things, by Francesca May
March 29 - Always Jane, by Jenn Bennett
March 29 - Going Public, by Hudson Lin
Reminder: all of these books are collected in a list over at Amazon for your convenience.
What March books are you looking forward to reading?
***
If you appreciate our content and wish to support the site, please consider using the affiliate links in this post and below for your shopping needs. Even if you don't buy the book in question, we receive a small % of your purchase from the vendor. As always, you are welcome to leave us a tip on Ko-Fi!
Support Love in Panels