Happy May, everyone! I just finished with school for the semester and we're preparing for a big move, so things have been a bit hectic around here. I read a bunch of books out this month, however, so I've written a little about them in this post instead of highlighting my most anticipated picks like I usually do. (Probably back to normal next month.)
It's easy to sink into despair these days, but I'm really glad you're here and that we can still talk about books. It's connection, small moments and the things that bring us joy that'll carry us through. I'm wishing you a rejuvenating spring (season or water source, you choose) and maybe even a picnic with one of these new books!
This post contains affiliate links.
Books out this month that I've already read: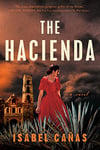 The Hacienda - A gothic set just after the Mexican War of Independence with all the gothic trappings: running from the house screaming in terror, questioning one's sanity, romance that might get you killed, etc. There's an unflinching takedown of colonialism and the casta system, too. A good creepy read, but don't read it as a romance.
Book Lovers - Emily Henry goes meta again, with a romance between an editor and an agent. Henry just can't stay away from the dying and dead parents plots though, so this is once again a book that deals pretty heavily with grief. I recommend the combination of Henry's prose and Julia Whelan's audio narration though!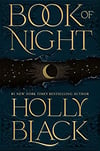 Book of Night - Holly Black's adult debut is an urban fantasy with a magic system built on shadows. Bartender con artist heroine gets dragged into a mess bigger than she could have imagined, and connected to a dark time in her past. There's a romance...sort of. This isn't at all like the Folk of the Air books, so don't read it for that. I'm told this is a duology, so that second book will likely/hopefully have the actual romantic development and resolution.
I Kissed Shara Wheeler - Casey McQuiston wrote a book that I loved, even though I was absolutely furious with Shara Wheeler for the entire thing. Fun if you like treasure hunts, mysteries, end of senior year shenanigans and lots of messy queer characters.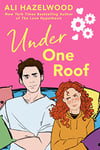 Under One Roof - Ali Hazelwood writes Reylo fic and if you're into the tall/smol, grumpy/sunshine-ish dynamic you get that in triplicate with this series. They're all basically the same couple, but put into different scenarios but Hazelwood's writing voice is so fun I just sort of pretended it wasn't fic with the serial numbers filed off. This one is an environmental engineer inheriting half of a house and moving in with a lawyer working for Big Oil. (Truly, the Empire.) Note that the audio came out for this in February, but ebook is here as of May 3.
From Bad to Cursed - This was a disappointment. The romance is secondary and though there could have been a fun enemies-to-lovers dynamic, that's abandoned within the first hundred pages, leaving the rest of the book to just sort of sit there. But if you like the idea of a Black veterinarian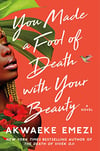 with nature magic working with a white haunted house planner with death magic to solve a near-murder, give it a shot.
You Made a Fool of Death with Your Beauty - This book. My heart. I'm going to write something more substantial, but wow this was so beautiful and messy and queer. Lives up to the hype.
A Lady for a Duke - Would you like Alexis Hall to make you laugh and sob? Because that's this book. Don't worry, you'll like it even as your heart is ripped apart and carefully, lovingly stitched back together.
Also out this month:
All titles in red are links to Amazon. Check out the full list here!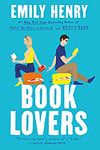 May 3 - Never Been Kissed, by Timothy Janovsky
May 3 - Book Lovers, by Emily Henry
May 3 - The Hacienda, by Isabel Cañas
May 3 - Book of Night, by Holly Black
May 3 - The Stand-In, by Lily Chu (Print and ebook, was Audible first)
May 3 - Chef's Kiss, by TJ Alexander
May 3 - Blame it on the Brontës, by Annie Sereno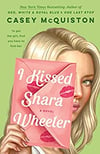 May 3 - I Kissed Shara Wheeler, by Casey McQuiston
May 3 - By the Book, by Jasmine Guillory
May 3 - Under One Roof, by Ali Hazelwood (audio was out in Feb.)
May 10 - Set On You, by Amy Lea
May 10 - Siren Queen, by Nghi Vo
May 10 - Café Con Lychee, by Emery Lee
May 10 - Out of the Ashes, by Jenn Burke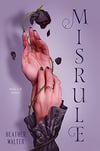 May 10 - Misrule, by Heather Walter
May 10 - Everything for You, by Chloe Liese
May 10 - Starry-Eyed Love, by Helena Hunting
May 13 - The Wicked and the Willing, by Lianyu Tan
May 17 - Something Wilder, by Christina Lauren
May 17 - The Emma Project, by Sonali Dev
May 17 - Melt With You, by Jennifer Dugan
May 17 - The Love Connection, by Denise Williams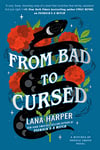 May 17 - Lucky Star, by Susannah Nix
May 17 - From Bad to Cursed, by Lana Harper
May 17 - All Fired Up, by Dylan Newton
May 17 - See You Yesterday, by Rachel Lynn Solomon
May 17 - The Servant and the Gentleman, by Annabelle Greene
May 17 - Twin Crowns, by Catherine Doyle & Katherine Webber
May 24 - Always Practice Safe Hex, by Juliette Cross
May 24 - The Bride Goes Rogue, by Joanna Shupe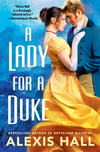 May 24 - A Lady for a Duke, by Alexis Hall
May 24 - Just Your Local Bisexual Disaster, by Andrea Mosqueda
May 24 - History Comics: The Stonewall Riots: Making a Stand for LGBTQ Rights
May 24 - You Made a Fool of Death with Your Beauty, by Akwaeke Emezi
May 24 - Only on the Weekends, by Dean Atta
May 24 - Boyfriend Lessons, by Sophia Singh Sasson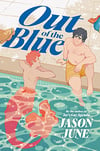 May 24 - Beauty and the Besharam, by Lillie Vale
May 24 - A Cruel and Fated Light, by Ashley Shuttleworth
May 31 - Out of the Blue, by Jason June
May 31 - A Caribbean Heiress in Paris, by Adriana Herrera
May 31 - A Little Bit Country, by Brian D. Kennedy
May 31 - Love Radio, by Ebony LaDelle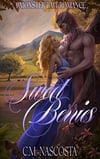 May 31 - My Mechanical Romance, by Alexene Farol Follmuth
May 31 - Sweet Berries, by C.M. Nascosta
May 31 - A Game of Retribution, by Scarlett St. Clair
May 31 - A Rip Through Time, by Kelley Armstrong
May 31 - Improbable Magic for Cynical Witches, by Kate Scelsa
Reminder: all of these books are collected in a list over at Amazon for your convenience.
Which May books are you looking forward to reading?
***
If you appreciate our content and wish to support the site, please consider using the affiliate links in this post and below for your shopping needs. Even if you don't buy the book in question, we receive a small % of your purchase from the vendor. As always, you are welcome to leave us a tip on Ko-Fi!
Support Love in Panels