It's May! May and June are objectively the best months of the year, so let's go outside and touch grass. (Bring a book.)
This post contains affiliate links.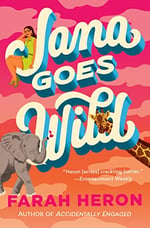 Jana Goes Wild, by Farah Heron - May 2

The highly acclaimed author of Accidentally Engaged delivers a delightful rom-com of one woman trying to shed her perfect image at a destination wedding with hilarious—and moving—results, perfect for fans of Abby Jimenez and Jasmine Guillory.
Jana Suleiman has never really fit in—everyone always sees her as too aloof, too cool, too perfect. The one time she stepped out of her comfort zone she ended up with a broken heart and a baby on the way. Aaaand lesson learned. Now she's a bridesmaid for a destination wedding in Serengeti National Park, and almost everyone she knows will be there. Her five-year-old daughter. Her mom. Her friends. Even her potential new boss. And of course (because who doesn't love surprises!) her gorgeous-but-not-to-be-trusted ex.
Fortunately, Anil Malek is a great dad, even if Jana hasn't quite forgiven him for lying to her all those years ago. Determined to show he has no effect on her whatsoever, she and the bridesmaids concoct a go-wild list to get Jana through the week. Sing karaoke? Sure. Perform their high school dance routine in front of strangers? Okay. But the more she lets down her guard, the less protection she has against her attraction to Anil. And Jana soon realizes it's one thing to walk on the wild side . . . and quite another to fall for her ex all over again.
***
Why I Want to Read It - Farah Heron has become an auto-buy/auto-read author for me. Her humor hits just right and I love the way she builds a romance. Her books are fade to black but there's still crackling tension. Kamila Knows Best is my favorite Emma/Clueless retelling of all time. I could go on and on.

Buy a copy: Amazon ◊ Kobo ◊ Libro.fm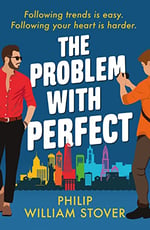 The Problem with Perfect, by William Philip Stover - May 11

When style is everything, will Ethan learn that true beauty is on the inside?
Chase Myles can throw together a swinging dinner party or redecorate an entire townhouse with jaw-dropping elegance. Followers scroll his Insta and see effortless workouts, exotic travel, and an adoring boyfriend. The world believes Chase is a style icon. The world is mistaken.
Ethan Wells is actually the one who knows what to wear, what to eat and how to do it but he's happy staying behind the scenes producing their hit LGBTQ show Myles of Style. When Chase walks off set just before the Pride live TV show that will make or break Ethan's career, Ethan thinks it's just another tantrum… until Chase's Instagram shows him partying hard in Abu Dhabi.
Out of options, Ethan drives up to rural New York to convince Chase's estranged twin, Beau, to pass him off as Chase for a week, but Ethan finds a hairy, rugged mountain man who couldn't be more different from his social butterfly, influencer brother.
Can Ethan transform Beau into the star of the show and fool his bosses and Chase's followers? And when Beau turns out to be kind, romantic and everything that Chase is not, does he really want Chase back, anyway?
A gorgeously uplifting queer romance that is a love letter to NYC, featuring a fake-fake boyfriend, opposites attract and a vintage convertible full of elderly drag queens, don't miss the feelgood read of 2023! Fans of Casey McQuiston, Boyfriend Material and Beth O'Leary will love this.
***
Why I Want to Read It - William Philip Stover's two books with Carina Adores were great. He does a fantastic job of exploring some thorny issues with sensitivity (toxic masculinity in particular) and I love the way he develops his characters. I'm not interested in the "influencer" aspect of this book, but I know Stover will deliver a solid romance with great characters.

Books I've Read Early:
Disclosure: I received copies of these books from the publisher for review.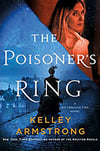 The Poisoner's Ring (A Rip Through Time, #2), by Kelley Armstrong - This is the second in Armstrong's time slip series about a Canadian detective who falls through time to Victorian London and winds up working as an assistant to a coroner who assists the police. There's a bit of a romance building, probably at the speed of Sherry Thomas's Lady Sherlock books. The mystery in this is taut and compelling, with a believable and dastardly villain. I'm really enjoying this series and it's more diverse and inclusive (queer characters and BIPOC, discussion of problems in policing) than a lot of mystery series. Audio is fantastic. Disclosure: I received an early copy of this audiobook from Macmillan.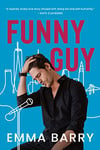 Funny Guy, by Emma Barry - This contemporary friends-to-lovers romance is the counterpart of the Sad Girl genre of fiction (Honey Girl, for example) in which a character who believes themself to be a disaster human actively sabotages their own happiness, but not in a cruel way. Sam is a comedian on a show that's basically Saturday Night Live and Bree is an urban planner. They grew up in bad home situations and have relied on their lifelong friendship to get them through. Bree realizes, however, that their relationship is codependent and that she's been holding herself back because she's loved him her whole life and wants whatever pieces he'll give her. I wanted some more time with the two of them as a happy couple and I think Sam's arc was a little stronger than Bree's, but I genuinely wanted the best for these two doofuses and it's the rare case where I believed in the therapy epilogue. (Sam really needed to work through his crap.)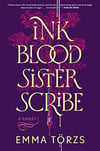 Ink Blood Sister Scribe, by Emma Törzs - Two sisters, separated by a mysterious magical edict from their late father. A sheltered young man who writes magical books with his blood. Generations of secrets and greed. This was a good, creepy time. There's definitely a lot of blood, so if that's a thing you don't want to read, be aware. There are three POVs, but the book wasn't confusing to me at all and the author does a great job weaving threads together so that when the three characters finally meet up, it's seamless. I figured out who the Big Bad was before the characters did, but Törzs kept some mystery up until the very end. Solid contemporary fantasy with a sapphic MC.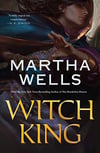 Witch King, by Martha Wells - This took me forever to settle into because it's an epic fantasy told in two different timelines with lots of names and factions. It's not that many, but it felt that way. I ended up reading the first 40% or so in ebook so I could figure things out and finishing up in audio (my preferred format). Kai, the Witch King, is a demon who wakes up after being trapped. He doesn't know how long, why or by whom, but his best friend is nearby and her wife is missing. Wells ties the two timelines together by connecting events in the present with a big war in the past. It's really well done once you figure it out and I look forward to more in this world. The audio narration is great even if the plot was confusing at first. Disclosure: I read an early copy of this book for Shelf Awareness and switched between audio and ebook courtesy of Macmillan.
Also out this month (beware, not all are romance!):
All titles in red are links to Amazon. Check out the full list here.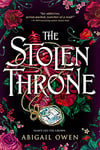 May 2 - The Stolen Throne (Dominions, #2), by Abigail Owen (Kindle Unlimited)
May 2 - Stars Collide, by Rachel Lacey (Kindle Unlimited)
May 2 - Practice Makes Perfect, by Sarah Adams
May 2 - Best Men, by Sidney Karger
May 2 - Jana Goes Wild, by Farah Heron
May 2 - Imogen, Obviously, by Becky Albertalli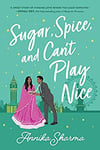 May 2 - Sugar, Spice, and Can't Play Nice, by Annika Sharma
May 9 - The Boyfriend Candidate, by Ashley Winstead
May 11 - The Problem with Perfect, by William Philip Stover
May 16 - Funny Guy, by Emma Barry
May 16 - The Enchanted Hacienda, by J.C. Cervantes
May 16 - Unladylike Lessons in Love (The Marleigh Sisters, Book 1), by Amita Murray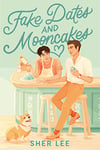 May 16 - Fake Dates and Mooncakes, by Sher Lee
May 16 - Roux for Two, by Aurora Rey
May 16 - The True Love Experiment, by Christina Lauren
May 23 - The Poisoner's Ring (A Rip Through Time, #2), by Kelley Armstrong
May 23 - The Duchess Takes a Husband, by Harper St. George
May 23 - Wild Things, by Laura Kay
May 23 - Love at First Set, by Jennifer Dugan
May 23 - Grand Slam Romance (Grand Slam Romance, Book 1), by Ollie Hicks (Graphic Novel)
May 23 - The Kingmaker (Sourcebooks re-release), by Kennedy Ryan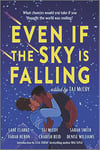 May 30 - Even If the Sky is Falling, by Taj McCoy
May 30 - Ink Blood Sister Scribe, by Emma Törzs
May 30 - Witch King, by Martha Wells
May 30 - An Island Princess Starts a Scandal, by Adriana Herrera
May 30 - That Summer Feeling, by Bridget Morrissey
May 30 - Chef's Choice, by TJ Alexander
Reminder: all of these books are collected in a list over at Amazon for your convenience.
What May books are you looking forward to reading?
***
If you appreciate our content and wish to support the site, please consider using the affiliate links in this post and below for your shopping needs. As always, you are welcome to leave us a tip on Ko-Fi!
Support Love in Panels