Melissa Blue (@mel_the_great) is a geek and a romance writer, which means her books are full of sexy geeks falling in love. She even has a series called #dirtysexygeeks. As is usually the case with interviews, we asked her a bunch of questions and she answered them!
Mel's next book, Dirty Sexy Scot, coming February 27th, is #6 in her contemporary Under the Kilt series. Need to catch up? You can buy the first five books as a bundle here.
On with the interview!
***********
First, a totally self-serving request - Tell us about your Main in World of Warcraft and when we can expect his/her book.
Mainesa is my main in WoW. She's a hunter. Her favorite pet is a wolf named Red Riding and the dragon named There Be.
Her story will never be told, unfortunately. It must remain a secret.
How did the Geek Actually serial come about? Will you be doing something like that again?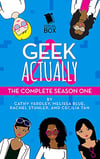 Our original producer Leah from Serial Box really wanted a diverse geek story like Sex and the City. She approached Cathy Yardley. She had read my geek books and was like I know the perfect person to recruit. From there we met in New York, ironed out backstories, arcs and the like and that's how the series was born.
I love my writing cohorts, but time is a huge factor in whether or not I'll do just a mammoth project again. You cannot believe the insane amount of coordinating involved to get four writers with distinctive voices and writing processes to knock out 14 stories.
If a smaller project comes along, most definitely. Writing with friends is life.
LiP Note - You can buy the Geek Actually serial here. Matt says readers should know that they're not romance (no guaranteed HEA) and he can provide content/trigger warnings to anyone who might need them.

You've written geeks, Scots, erotic romance, and now a bar-set series. What's it like writing as two different authors and in several different subgenres? Do you ever feel like you need 8 different pen names and "brands?" (Sandra Yellow, Audra Green...)
I shall add Audra Green to my list of names I may need. Lol
And, yeah, I do not multi-task pen names well. One is more than I can handle, but because Melissa Blue is so vastly different than Dakota Gray, I'll keep those names separate.

But mind you, Dakota Gray was totally an experiment. I had just revamped my Melissa Blue backlist to only include erotic romance, third person and only books that had two or more titles in a series. A first person, clearly erotica title, mostly in the hero's POV and an anti-hero was so outside my brand. But I wanted to see if I could sell the book. Dakota Gray was born. I took every hard lesson I had learned about marketing, branding and promotion to launch PERV.
The book sold, and thankfully, I still have ideas for more first-person, anti-hero utter filth. Win-win.
What's next?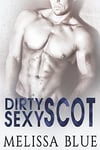 What's coming is Kincaid Cameron. (sorrynotsorry) Dirty Sexy Scot is kind of a crossover between my Scot and geek series. He's a vet, feeling lost in civilian life. Mia is a travel podcaster looking for fun and guarding her heart. They meet at a fan convention. She's Sherlock. He's Watson. They are destined for a fandom HEA.
DSS is the 6th book in my Under the Kilt series and I cannot wait for my fans to read it.
What have you read (and loved) recently?
I just finished When Dimple Met Rishi. OMG this book is so adorable. It's a YA, friends to lovers with geeks. I smiled reading all the way through. See I tend to hate books folks fangirl over. This one they didn't lie. Go get it. Get it into your eyeballs.
**********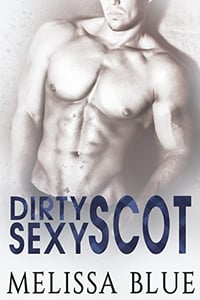 Dirty Sexy Scot
A fangirl's heart is so fickle.
Mia Jones, the ultimate pop culture fangirl, is no exception. For a year she's lived out of a suitcase as a travel podcaster, visiting one tourist trap and fan convention after another. Still healing from her last heartbreak, she's not ready to slow down and really take in the view...until Kincaid Cameron. A Scottish veteran with a panty-melting smile and dark gaze becomes the best view she's had in a while.
A veteran's heart is so ready for a home.
The list of things Kincaid didn't want to do after leaving the service could kill a rain forest if he wrote them down...until Mia. She surprises him when nothing else does. She's dead sexy and appears as adventuress as her travels. As a former SBS member, he knows all too well how the truth can hide underneath the surface. He suspects he could easily become a casualty, another man forgotten as her next destination tempts her away.
Their heated affair begins with seemingly innocent emails, and when being pen pals isn't enough they test their attraction with a face-to-face encounter. Will they survive it, especially when Mia is intent on protecting her heart at all costs?
Pre-Order your copy to have it on release day, 2/27/18: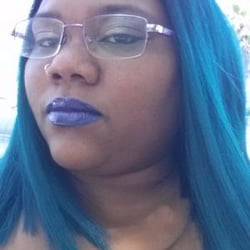 Melissa Blue's writing career started on a typewriter one month after her son was born. This would have been an idyllic situation for a writer if it had been 1985, not 2004. She penned that first contemporary romance, upgraded to a computer and hasn't looked back since.
Outside of writing, Blue works as a mail clerk for the federal government, has a paralegal certificate (that she has more use for as a dust pan) and is a mother of two rambunctious children. She lives in California where the wine is good and, despite popular belief, is not always sunny.