Mini-reviews of American Witch, Grim Shadows, Advanced Physical Chemistry, and Tell Me Something Good, which means an two contemporary romances, one 1920's paranormal, and an urban fantasy romance.
Please note that all of these were read as audiobooks.
Rating refresher! Categories are based on whether or not we recommend them to fellow readers - DNF (Did Not Finish), Pass, YMMV (Your Mileage May Vary), Read it Eventually, Read it Soon.
This post contains affiliate links.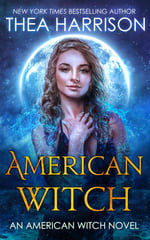 American Witch, by Thea Harrison
Suzanne says: Read it Eventually


Amazon ◊ Barnes & Noble ◊ Kobo ◊ Apple Books

This is first in a spinoff series of the Elder Races books, set in the same world but with witches. Molly's lawyer husband has cheated on her once again and she's done with it. The ensuing fight turns out to be what activates her latent powers and soon she's on the run from Dark Forces AND her shitty husband. Enter Josiah, the District Attorney and a super old witch hunting, well... Rasputin. There's a lot of plot, including something of an enemies?-to-lovers relationship arc. Anyway, it's violent and there's a lot of running away/hiding/danger but also explosive chemistry and found family. A solid read if you like the Elder Races books, urban fantasy, or paranormal romance.


Content warnings: pregnancy, sex, violence, domestic violence, cheating (not MCs), stalking

Suzanne received a digital copy of this book for review but purchased and read an audio copy instead.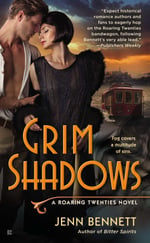 Grim Shadows, by Jenn Bennett
Suzanne says: Read it Eventually


Amazon ◊ Barnes & Noble ◊ Kobo ◊ Apple Books

I'm always on the hunt for historical romance not set in 1810 England, so when I found Jenn Bennett's 1920's San Francisco paranormal historicals on audio on Hoopla, I was very excited. While there are three in the series, all featuring one of the Magnusson siblings, only the first two are on audio. So of course I haven't read the third. That one has a Chinese-American hero and I have no idea how the rep is. The brother in the first book is a bootlegger and his love interest is a spirit medium. (It was fun.) This brother is a treasure hunter/field archaeologist and his love interest is a museum curator/research archaeologist. I believe this book to be quite self-aware in that no one pretends archaeology and the acquisition of cultural relics from Egypt is "good." However, I'm married to an archaeologist and he's told me over and over how terrible the discipline has been since... forever. The romance is part mystery, part enemies-to-lovers, and part messed-up family dynamics. The male MC is definitely guilty of some shady dealings, and the heroine is rightfully pissed at him for much of the book. It was fun.


Content warnings: past: death of a parent, past: cheating, past: death feud, slut-shaming, violence, near-death experience, sex

Suzanne borrowed this audiobook from her library via Hoopla.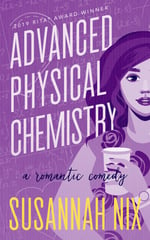 Advanced Physical Chemistry, by Susannah Nix
Suzanne says: Read it Eventually

Amazon ◊ Barnes & Noble ◊ Kobo ◊ Apple Books
Susannah Nix's Chemistry Lessons series has been mixed for me. I didn't care for the male MC in the first one (he is a total prat and I wanted the woman far away from him), but I really enjoyed the second so I figured I'd give this a shot too. Penny is size 16 and it's mentioned that she's decided to focus on eating healthy and exercising rather than on her dress size. Caleb doesn't comment on her body at all except to say how hot/beautiful she is, which was really refreshing. I'm kind of over men saying "I don't care that you're fat, you're beautiful to me" or worse "you're not fat." Sometimes I just want a body to be a body. HOWever, I didn't love the way that Penny and her friends talked/thought about Caleb. They've nicknamed him "hottie barista" and Penny is constantly talking about his abs and stuff. She doesn't want to be just a body but she acts sometimes like he is. And since he's very obviously self-conscious about it, I wanted Penny to respect him more and tell her friends/knitting group to stop.
That said, the book was funny and I liked that the conflict didn't require Penny to move for a man once again. She'd been a doormat in the past and worked hard to change and I'm glad she didn't give anything up to be with him. (Either does he.)
Content Warnings: discussion of fat-shaming and emotional abuse, every previous boyfriend has cheated on Penny, Caleb's father is abusive and controlling
Suzanne read this audiobook via Audible's Escape package.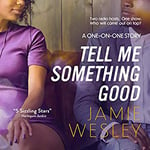 Tell Me Something Good, by Jamie Wesley
Suzanne says: Read it Eventually

Amazon ◊ Barnes & Noble ◊ Kobo ◊ Apple Books
I tweeted a bit about this book when I was reading it, but I'll sum up here as well. This is a soft, lovely book (with great sexual tension) that made me feel something like calm while reading it. Since the two main characters are radio show hosts, their thoughts on relationships are very public even before the two are forced to host together. But this enemies-to-lovers romance isn't ever mean and Wesley did a great job setting up the conflict while still making the characters good people.
I do not know why the ebook cover has a set of handcuffs. We've used the audiobook cover, which I think represents the book better. (There's a purple dress and everything.)
One of the best parts of the book was how Wesley pulled different relationship stories into the radio discussion. Since Tate is a sports guy and Noelle is a psychologist, they talk a lot on their own shows about communication and teamwork, but it's when they're sitting in the booth disagreeing that their relationship gels. Both characters work through some stuff and get to know each other by talking through a variety of conflicts. It was really like listening to a radio show and I feel like I learned something about conflict resolution and communication. It does move a little slow, but I needed that.
Note for audio: I read at 1.5x so I'm never sure if it's me or the narrator, but the narrator's cadence for the non-dialogue parts of the book was a bit sing-songy or put emphasis on certain words in a sentence in odd places. Her dialogue was excellent and I loved how she turned on the "radio voice" for both characters.
Content Warnings: messy parental relationship, past: parental death in car accident, grief

Suzanne read this audiobook via Hoopla. The rest of the series is there as well!

***
If you appreciate our content and wish to support the site, please consider using the affiliate links in this post and below for your shopping needs. Even if you don't buy the book in question, we receive a small % of your purchase from the vendor. As always, you are welcome to leave us a tip on Ko-Fi or join our Patreon!
Support Love in Panels