More mini-reviews! Reviews of Rent a Boyfriend, Call Me Maybe, Witching Moon and Elatsoe. That's an f/m YA contemporary, an f/m contemporary, an f/f fantasy and a YA fantasy.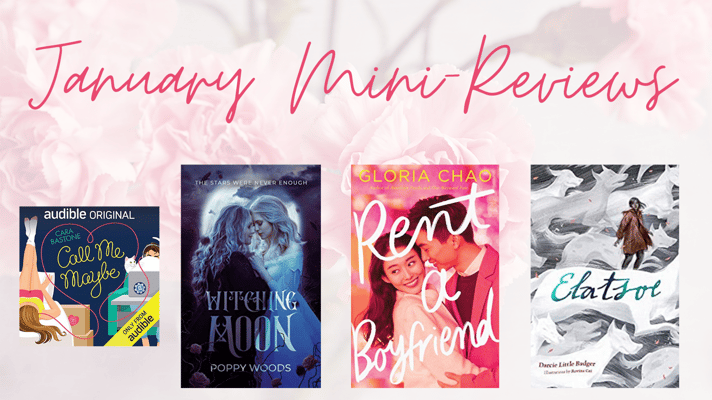 Rating refresher! Categories are based on whether or not I recommend them to fellow readers - DNF (Did Not Finish), Pass, YMMV (Your Mileage May Vary), Read it Eventually, Read it Soon.
This post contains affiliate links.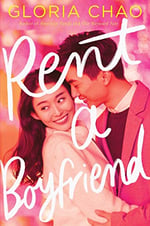 Rent a Boyfriend, by Gloria Chao
My Verdict: Read it Eventually/Soon

Amazon ◊ Barnes & Noble ◊ Bookshop ◊ Kobo
Rent a Boyfriend was the fake-dating romance I hoped it would be, with a lot of depth and the same complicated, messy family and inter-generational dynamics Chao tends to center in her books. Chloe and Drew have great banter and chemistry and I loved the way they got to know each other, even if Drew already had a full, detailed completed questionnaire about Chloe. Chloe hires Drew to pretend to be her boyfriend so she can get out of an engagement to a truly odious young man, but it turns into something else pretty quickly. Then it's all about hiding the lie, escaping her parents' expectations, and Drew finally pursuing his dreams. Some parts are hard to read, but the sweetness and humor makes it all worth it.
Content Warnings: misogyny, strained family relationships, parental illness (cancer)
I borrowed this audiobook from my library.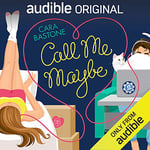 Call Me Maybe, by Cara Bastone
My Verdict: Read it Soon

I love an epistolary romance and though this doesn't quite fit, Call Me Maybe hits the same notes for me. Vera is having trouble with her website shortly before a big event and calls customer support to get some help. Cal answers and they end up spending hours on the phone together. Her car battery dies and he stays on the line as she gets a tow. They have dinner. They talk about all sorts of stuff as he pokes around in the code trying to solve the problem. Then they do it again the next day and add in some texting. They don't meet until the very end, so it's a completely emotional and tentative romantic journey. And it's really funny.
This is an Audible Original, which means it was written with the audiobook format in mind. Production was great. Sound effects, dual narration, muffled voices when a phone is in a pocket... It's audio perfection.
Content Warnings: abandonment issues, mentions of cancer and illness (not the MCs), probably things I'm forgetting because it's Inauguration Day and why am I writing reviews right now?
I borrowed this book as part of my Audible Subscription.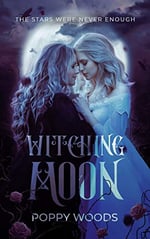 Witching Moon, by Poppy Woods
My verdict: Read It Eventually

Amazon (Kindle Unlimited)
In one sentence: if Stardust was contemporary and sapphic. A witch accidentally summons The Moon during a solstice protection spell and they fall in love while she's trying to send back Luna and save her from evil witches who want to take her power. I've tried many f/f paranormal romances and this one stands out as among the best of them. Is it amazing? No. Is it a quick satisfying read? Definitely.
Content Warnings: abduction, torture, attempted murder, strained family relationship
I borrowed this audiobook on Hoopla thanks to my library.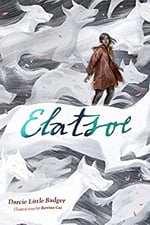 Elatsoe, by Darcie Little Badger
My verdict: Read it Soon

Amazon ◊ Barnes & Noble ◊ Bookshop ◊ Kobo
This isn't a romance, but it's here anyway because it's 1) a good read and 2) queer.
Elatsoe is an asexual Lipan Apache teen girl who can summon ghosts. The novel starts slowly with quite a bit of world-building, but picks up after Elatsoe's cousin is murdered and she needs to uncover the truth.
The world is contemporary but with strong fantasy elements. In addition to the ghosts, there are (non-traditional) vampires and a variety of people with magic. It's decidedly anti-colonialist and reminded me a bit of Rebecca Roanhorse's Trail of Lightning, but a couple of decades earlier and less violent. Magic and injustice abound and climate change is a growing issue, but we're not in The Sixth World yet. There's also a pretty strong Sundown Town vibe that I can't talk about because it's a spoiler, but elements of dehumanization and sanctioned abuse reminded me of Dread Nation.
If you enjoyed either of those books and want something a little less violent with lots of ghost dogs, Elatsoe may be a great book for you.
Audio Note: I didn't love the audio and felt like I was missing out on Rovina Cai's illustrations, so if you have the ability to read it in print, I recommend starting there.
Content Warnings: murder, body-harvesting, possession, racism, mentions of genocide
I borrowed this audiobook from my library.
If you appreciate our content and wish to support the site, please consider using the affiliate links in this post and below for your shopping needs. Even if you don't buy the book in question, we receive a small % of your purchase from the vendor. As always, you are welcome to leave us a tip on Ko-Fi!
Support Love in Panels