Mini-reviews of The Bookworm Crush, Heart & Seoul, The Gravity of Us, and Prince of Air and Darkness, which means two contemporary YA romances (one m/m and one f/m), one adult f/mcontemporary, and one m/m fantasy (urban fantasy?) romance.
Rating refresher! Categories are based on whether or not we recommend them to fellow readers - DNF (Did Not Finish), Pass, YMMV (Your Mileage May Vary), Read it Eventually, Read it Soon.
This post contains affiliate links.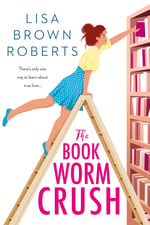 The Bookworm Crush, by Lisa Brown Roberts
Suzanne says: Read it Eventually

Amazon ◊ Barnes & Noble ◊ Kobo ◊ Apple Books
The Bookworm Crush is a super cute (bordering on twee) fake dating romance between a popular surfer/golden boy and a bookish introverted girl. Amy is competing in a set of three social media challenges to win a day with her favorite romance author. She enlists the help of Toff (Christopher) to build up her confidence and learn how to have enough "swagger" to generate the buzz needed for her review site and Instagram to catch the publisher's eye and win the contest. The fake dating isn't that straight-forward as it starts with them pretending to be in his van making out instead of her trying not to get caught by the sheriff for "yarn-bombing" a local bench for the challenge. Then Toff sort of just... keeps it going?
A fluffy read (see CWs below) but I wish it had been shorter. There wasn't enough conflict to drive the plot for 400 pages.
Content Warnings: Past: parental death from cancer, sex, surfing injury
Suzanne received a digital copy of this book for review but read it on audio via Hoopla.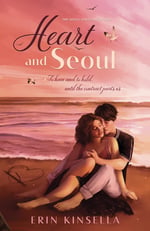 Heart and Seoul, by Erin Kinsella
Release Date: Feb. 4, 2020
Andrea says: Pass (YMMV, but it's a DNF from Andrea)
Amazon ◊ Barnes & Noble ◊ Kobo ◊ Apple Books
I love when a culture is depicted in a way that doesn't water it down to cater to outsiders. I'm not Korean so I can't speak to the representation, but this book uses Korean and K-pop terms with the assumption that you already know that world. I started falling in love with the side characters almost immediately, but I was too uncomfortable to continue reading.
The first time they meet, due to a combination of alcohol and jetlag, Tessa passes out and Eun Gi takes her home with him. She wakes up in his house with the rest of his band members looking on. This is alarming especially with the huge ongoing scandals of legal action against male Kpop stars exposed for taking part in various sex-related crimes. Risky situations like this continue to happen as the story progresses. I was too afraid for Tessa, too many times, to feel ready for a romance to bloom. And anyway, at 40% there still wasn't any romance, just Tessa trying to downplay her being a fan of their band, Eun Gi being super anxious, and a fake marriage arranged by his record label to beat the tabloid pictures.
I also felt unsettled by Eun Gi being Korean and Tessa being half-Korean --both written by an author who is not Korean. It felt a bit like cultural appropriation. The bi/pan demi rep in the book *is* ownvoices, though. The author has mentioned that almost all the characters are queer. I didn't get far enough to discover that.
Content Warnings: dangerous sexual situations, anxiety, PTSD, mentions of child abuse. Eun Gi has nightmares, panic attacks, and possibly anxiety-related eating issues. Tessa has migraines, passes out drunk around strangers.
Andrea received a copy of this book from the author for review.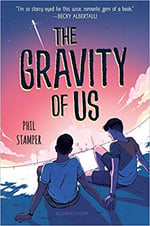 The Gravity of Us, by Phil Stamper
Andrea says: Pass

Amazon ◊ Barnes & Noble ◊ Kobo ◊ Apple Books
Do you know the 'How do you do, fellow kids' meme? Of a grandpa with a skateboard and a backwards cap tryna like... 21 Jump Street life? That's the energy I get from this book. Cal is annoying and egotistical right from the start. I extremely support unlikable characters and want more of them --preferably marginalized women-- but really just... anyone except a privileged white guy. At the start, it seems like he's irritating because he's a popular vlogger, but that's just... him.
The love interest (Leon) has depression and it's handled... awkwardly. Leon (a person of colour) feeling uncertain about what he wants his future to look like turns Cal to full-on 'white saviour' mode. Which he realizes and acknowledges, but continues. Cal abandons his best friend back home, who he connected with over the fact they were hiding from their aggressive (alluding to abusive) parental arguments. I liked the awareness that the space program and the corresponding reality-TV saga (also a nightmare) was propaganda, but even in that aspect, there is a completely unnecessary, horrible plot-twist that felt... lazy, tbh. And Cal's "rescue" of the situation just highlights his entitled self-righteousness in a way that made me cringe.
Content Warnings: Mention of abusive parents, a fatal crash, grief, emotional exploitation and manipulation. Cal and Leon's first kiss is filmed and aired nationally without their consent.
Andrea received a copy of this book from the publisher for review.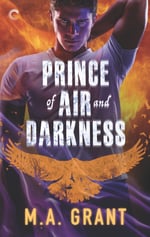 Prince of Air and Darkness, by M.A. Grant
Suzanne says: Read it Eventually

Amazon ◊ Barnes & Noble ◊ Kobo ◊ Apple Books
Enemies-to-lovers with roommates and an intense backstory (see CWs) AND a magic protection spell that will be messed up if the two MCs get together. This is so very much my catnip. The torture and some of the fight scenes are pretty graphic, so if that's not something you're up for, maybe put it on the back-burner for a bit. I waited until I was in a good space and ended up really enjoying the book. This is like peak enemies-to-lovers and the human half of this pairing is a genuine disaster. He's full of ley-line magic and can't control it, so he's literally a hot mess a lot of the time. The fae MC is broody AF and has that whole Authority and Responsiblity I Don't Want thing going. The UST is intense.
Content Warnings: flashbacks to torture (by one MC's mother, Queen Mab), violence, near-death experience

Suzanne read this audiobook via Hoopla.

***
If you appreciate our content and wish to support the site, please consider using the affiliate links in this post and below for your shopping needs. Even if you don't buy the book in question, we receive a small % of your purchase from the vendor. As always, you are welcome to leave us a tip on Ko-Fi or join our Patreon!
Support Love in Panels