This post is all Andrea, all the time! Check out her reviews of A Flick Between Friends, Next Season and Aiming High. These are all available in Kindle Unlimited as of 10/21/20.

Rating refresher! Categories are based on whether or not we recommend them to fellow readers - DNF (Did Not Finish), Pass, YMMV (Your Mileage May Vary), Read it Eventually, Read it Soon.
This post contains affiliate links.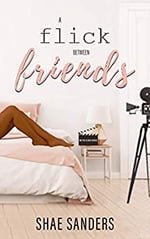 A Flick Between Friends, by Shae Sanders
Andrea says: Read It Soon

This is a friends-to-lovers 'Let's make porn, I need to pay for my grandmother's care' Romance about Lennox and Star: Work best friends, turned co-stars, turned lovers. I loved the dialogue throughout –it's fun and extremely realistic. They're making beautiful, woman-centered, affirming porn featuring two Black people, depicting their sex as love-making. Star is clear about what she wants, and it's all based on market research and clarity of her brand intentions. She's straight-forward no-nonsense, often brash and sometimes insensitive. Lennox can't say no to her, but he's also feeling feelings and the sex is complicating things. There's a blow-job tutorial, Star orgasms faster than she ever has, and multiple times for the first time ever. This was a fun, quick KU read. I really enjoyed it.
Content Warnings: All the sex they have is unprotected, with no mention of condoms in the story at all. Grief and trauma over the loss of her parents, plus [the word for when he wakes up confused and realizes she's in the middle of giving him a blowjob.]
Andrea borrowed this book in Kindle Unlimited.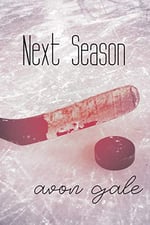 Next Season, by Avon Gale
Andrea says: Read It Soon

This was an awesome little look into what it could be like to have big-shot club hockey players who are out. When
the Nick and Everett are both suddenly transferred to a new hockey team, they're assigned a shared apartment and we are given forced-proximity vibes. Then it turns into a friends with benefits, age-gap attraction, teammates secretly hooking up situation. And finally, gloriously, Nick and Everett's relationship becomes a full-on 'Wow were really gonna move in together for real, huh?' love story.
There's video games and making meals and playing championship hockey and its just so damn fun!
I really enjoyed that Nick's family is so accepting and supportive of both his relationship with Everett, and the nuances that come with being out in the public eye. The story does include some discussion about the pros and cons, and the weight of the responsibility that can be.
Content Warnings: ?
Andrea borrowed this book in Kindle Unlimited.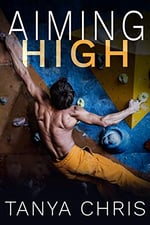 Aiming High, by Tanya Chris
Andrea says: Read It Eventually, YMMV

Just before lockdown, I did an Intro to Bouldering class and fell hardcore in love with it. This book made my heart ache so much with missing it. Tanya Chris is a climber, and you can tell from this book. It's a love story set in a world where the Olympics happened, and Climbing is an Olympic sport! All the technical bits reminded me of Elyse Springer's 'Heels Over Heads', which I adore. --Both books do the fantastic opposites-attract sportsmen thing where the kinda reckless, doing-this-for-fun guy meets the focused, strict-commitment-to-training guy and both their lives turn upside down with love.
Aiming High feels more like a high-school teenage love story than the ages they're at, but I think that can be true for the time when they met a few years ago and the lifestyle they live. I enjoyed reading the two different personalities, and I loved their escapes to explore some special spots in Tokyo. As the story progressed, I felt like I was mostly finishing the book just to complete it. But then, for days after I finished it, I found myself thinking of these boys and missing them. I very-almost grabbed my Kindle to read this two or three more times. It's a really sweet and fun Sunday afternoon/evening read that made me smile long after reading it.
Content Warnings: Casual, continual use of painkillers. Public outing through an article in the media (the person who was outed is extremely chill and unbothered by it, though. He keeps saying he was gonna do it anyway.)
Andrea borrowed this book in Kindle Unlimited.
If you appreciate our content and wish to support the site, please consider using the affiliate links in this post and below for your shopping needs. Even if you don't buy the book in question, we receive a small % of your purchase from the vendor. As always, you are welcome to leave us a tip on Ko-Fi!
Support Love in Panels