It's been a while since we did this! Two months, eeep. Anyway, here are short reviews of Hard Chrome, These Witches Don't Burn, Blitzed, and The Bromance Book Club.

Rating refresher! Categories are based on whether or not we recommend them to fellow readers - DNF (Did Not Finish), Pass, YMMV (Your Mileage May Vary), Read it Eventually, Read it Soon.
This post contains affiliate links.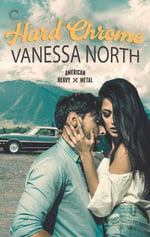 Hard Chrome, by Vanessa North
Suzanne says: Read it Eventually

Amazon ◊ Barnes & Noble ◊ Kobo ◊ Apple Books
This is sort of an insta-lust story that leads to love pretty quickly. In many ways, it feels very much like the first book in a series, with North working hard to establish each of the Ellis siblings while also tell the story of both protagonists in dual POV. While there is definitely some initial tension between the two of them because Tanner's come home to take charge of the family business at which Duke has worked for forever, that's pretty quickly pushed to the back burner so their other issues can take the fore. Lots of complicated family dynamics and I'm sure it won't be for everyone (see CWs) but it was a short steamy read that sets up a series I'm really interested to read more of.

Content Warnings - domestic violence in the past and on page, grief, teen pregnancy, sex

Suzanne received a copy of this book from the publisher for review but ended up reading it on audiobook from her library via Hoopla.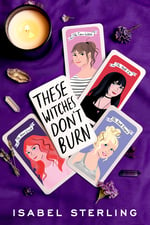 These Witches Don't Burn, by Isabel Sterling
Suzanne says: Read it Soon
Amazon ◊ Barnes & Noble ◊ Kobo ◊ Apple Books
This book had me on the edge of my seat, yelling about the erasure of female sexuality, and crying in DMs "my poor sweet gay baaaabies." Seriously, ask Margrethe. She'll tell you how annoying I was.
These Witches Don't Burn is just everything. I could write a huge essay on all of the ways that Sterling is commenting on homophobia, bigotry, the complicated ways in which queer girls interact, how straight men and boys try to convert us, etc. It's such a good, intense book. There is an HFN! So if you, like me, are yelling at the book as you race through the pages, don't worry.
One thing you might want to know - it's not as cute and fluffy as the cover might lead you to believe. It's tense and there's a lot of violence. I can't talk about the biggest things without spoiling the plot, but if you read it and want my TED Talk, hit me up.
Content Warnings: stalking, multiple house fires, animal mutilation, witch hunters,
Suzanne purchased this book.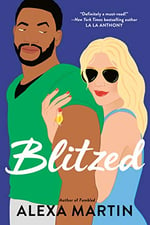 Blitzed, by Alexa Martin - Releases December 3!
Suzanne says: Read it Eventually
Amazon ◊ Barnes & Noble ◊ Kobo ◊ Apple Books
The hero has this uncharacteristic impulsive throw-shit-at-the-liquor-shelves moment at the beginning of the book that had me hating him, but soon I was totally in love with him and his caretaker personality. So if you end up pissed at him in the first chapter, stick it out. The pacing on this one is different from the first two, with more of a slow build that begins with friendship and sexual attraction. Since Brynn has major trust issues, it works really well for their particular relationship. It's also pretty funny. The latest crop of "rom-coms" has been really hit or miss for me on actual laughs, but this one did the trick!
Brynn is a flawed but determined character and Maxwell is smart and soft and clearly respects women. Excepting the twist at the end, I think this was the best of the three in the series and I'm looking forward to Martin's future books.
Content Warnings: hero's shithead half-brother tries to a past sexual assault on the hero that the brother actually committed, parental abandonment, parental heart attack, sex, mentions of pregnancy (other character)
Suzanne received a copy of this book for review consideration at Shelf Awareness. That review will run after publication date and will be completely different content. (Less cussing!)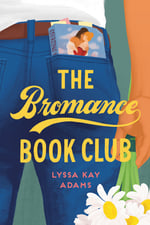 The Bromance Book Club, by Lyssa Kay Adams
Suzanne says: Read it Soon

Amazon ◊ Barnes & Noble ◊ Kobo ◊ Apple Books
First off, this is a super hetero-normative book. And that's the whole point, because it's about the ways that men and women are socialized to conduct themselves in a marriage. While I'm bisexual, I'm a woman married to a man, so this book was intensely relatable. I'm reviewing it from that standpoint, so YMMV.
In a recent piece, the author talked about deconstructing toxic masculinity in romance novels and I suggest you read it. The Bromance Book Club is the first in a series about men who read romance novels and help each other to improve the way they relate to women in order to have better relationships. On the surface, you might think it's gimmicky, but then you look under that and wonder why? Why is the idea of men speaking to each other about their relationships a gimmick? Why is the idea of a man working to become a better partner so unimaginable?
Thea has just asked for a divorce and Gavin has moved out. Their relationship went from 0-60 really fast due to an unplanned pregnancy (with twins, OMG) and then his baseball career took off. Thea's been parenting largely by herself for three years, losing her identity by slow but steady degrees. Most mothers -- especially stay-at-home parents -- I know have deal with this to some extent, but Gavin is oblivious. When he finds out that Thea's been faking orgasms, it's a HUGE DEAL for his ego. (Ugh, men.) But of course Thea's been faking her entire marriage and life for three years, so she's just done. Gavin has to work hard to save his relationship and he messes up a lot. (Thea has some learning to do as well, but the majority of the work is Gavin's.)
This book is funny. I laughed a lot. How rare is that? Pretty dang rare. The book club is funny, but there are also these passages from a regency romance as Gavin reads and then the hero of the story starts calling Gavin these ridiculous insults in Gavin's mind. I really appreciated that Gavin's stutter was never a source of humor, it's just part of who he is.
It's also seriously sexy, but I never got the "after all these years they still wanted to bang all over the house and everywhere all the time" feeling that a lot of epilogues contain.
All in all, I can strongly recommend this one, but I'm sure it will be more relevant to readers who are in a marriage between a man and a woman.
Content Warnings:
parental abandonment, narcissistic parent, sex, unplanned pregnancy in the past, hero was bullied in the past for his stutter
Suzanne received a copy of this book from the publisher in exchange for an honest review.

***
If you appreciate our content and wish to support the site, please consider using the affiliate links in this post and below for your shopping needs. Even if you don't buy the book in question, we receive a small % of your purchase from the vendor. As always, you are welcome to leave us a tip on Ko-Fi or join our Patreon!
Support Love in Panels