More mini-reviews! Within These Wicked Walls, Dirty Plays, If This Gets Out, Smash & Grab, The Belle and the Beard and Uncommonly Verdant. That's a YA f/m fantasy, two f/m contemporaries, a YA m/m contemporary, an m/m paranormal contemp, and whatever you want to call an f/m tree romance.
Rating refresher! Categories are based on whether or not I recommend them to fellow readers - DNF (Did Not Finish), Pass, YMMV (Your Mileage May Vary), Read it Eventually, Read it Soon.
This post contains affiliate links.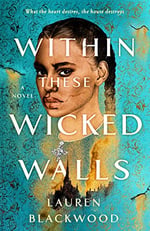 Within These Wicked Walls, by Lauren Blackwood
My Verdict: Read It Eventually (My id gave it 5 stars though)

Amazon ◊ Barnes & Noble ◊ Bookshop ◊ Kobo ◊ Libro.fm
Within These Wicked Walls is exactly the book I hoped it would be. There's some instalove and a couple of plot holes, but between the excellent audio narration, the nuanced, skillful character work (especially the heroine) and plot points I love, I was all in.
I don't think it's quite right to call it a Jane Eyre retelling, but perhaps inspired is the right word. There are notes here and the gothic WTFery is definitely present, but it's something entirely its own. The messy relationship between the main character and the man who raised her is complicated but compelling, even if I still disliked him by the end. The Ethiopian-inspired magic and setting were richly described, almost cinematic in the telling.
This is a story about finding of the self, falling in love with a monster, and seizing freedom on your own terms.
***
Content Warnings: murder, deadly curse, child abuse (past, on page depictions), child was sold by parents, gore, blood, body horror
I received an audio review copy of this book from the publisher.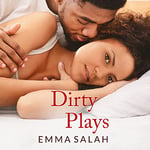 Dirty Plays, by Emma Salah
My Verdict: Read It Eventually

Dirty Plays is a steamy best friend's older brother accidental roommates romance with a side of hockey. Salah does a good job keeping the romance front and center, but she also gives the two main characters their own arcs--challenges they help each other through. I skipped the first in the series as the male protagonist in that is dealing with trauma from an abusive childhood, but this stands alone well. I do want to mention though that Aidan's sister is one of the MCs in the first book. Aidan and Zac were childhood best friends and now hockey teammates. Aidan has quite a bit of guilt for not realizing what was going on with his best friend and helping. Processing that is part of his overall story arc.
Letty is being treated horribly at work, but she drops everything when her family calls. They treat her terribly, demanding money she doesn't have, wrecking her car, you name it. This is her father's "new" family, though, and she's always felt like the unwanted child and like she needs to prove her worth to them. Her arc is satisfying, even though it's hard to watch her get there.
The romance itself is great and I'll definitely read more from Emma Salah.
***
Content Warnings: mentions of past child abuse of secondary character, mentions of racism in hockey, workplace microaggressions (racism and misogyny), toxic family (Letty's)
I received a copy of this ebook from the publisher for review.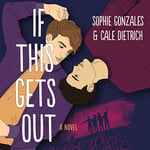 If This Gets Out, by Sophie Gonzales and Cale Dietrich
My Verdict: Read It Eventually

Amazon ◊ Barnes & Noble ◊ Bookshop ◊ Kobo ◊ Libro.fm
Sophie Gonzales could write the phone book and I'd still read it. (Yes, that thing that isn't even delivered anymore.)
Still, fan-girling aside, If This Gets Out is the One Direction fic you thought you wanted but didn't realize you needed. The characters are closeted, with one of them figuring out his sexual orientation along the way and the other being consciously stifled by the record label/his manager the entire time. There are some pieces that are difficult to read, such as a secondary character's drug use and self-harm, but there's a lot of softness and the character work Gonzales is capable of is in evidence here.
The plotting isn't as tight as I'm used to and there were times I wanted more clarity on one of the bandmates' motivation, so I did wonder where Dietrich's influence came in. (His other books haven't worked for me.)
The best-friends-and-bandmates-to-lovers plot was as complicated and as simple as I could have wished for. There's some confused pining, but mostly the two of them are so close already--best friends who are in close proximity 100% of the time as they're on tour--that it's sort of inevitable.
Recommended if you like or can at least tolerate boy band plots and are looking for a new-adult kind of gay romance with quite a bit of angst.

Audio Notes: Ramon de Ocampo's voice is a bit nasally for my preference, but I thought he did a good job narrating for dual POV. Each of the two young men had a distinct voice and it was easy to tell which POV we were in. I recommend listening to the sample to see if you'll like it.
***
Content Warnings: homophobia, drug use/misuse (secondary character), self-harm (secondary character), toxic work environment, toxic parents
I purchased a copy of this book but also received a digital audiobook from the publisher for review.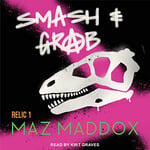 Smash & Grab, by Maz Maddox
My Verdict: Read It Soon

Amazon (KU) ◊ Barnes & Noble ◊ Bookshop ◊ Kobo ◊ Libro.fm

Dinosaur shifter dedicated to preserving his relatives heritage meets archaeologist in a "keep the fossil from the bad guys" adventure romance. This was hilarious and sexy and well, I never thought I'd be interested in dino shifter romance but here you have it.
***
Content Warnings: a lot of the stuff you'd expect with this kind of allegory (Indigenous sacred objects and remains are frequently stolen and sold for public and private collections, it's repugnant and common.)
I borrowed this audiobook on Hoopla.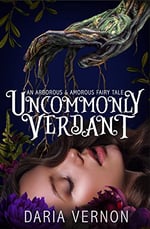 Uncommonly Verdant, by Daria Vernon
My Verdict: Read It Soon

Amazon (KU)
This is a short, weird monster? romance between a human and a plant/tree/green man. A human woman is murdered by cultists who blame her for bad luck in town and is rescued by the keeper of the forest. There's surprisingly hot plant sex and a very satisfying murder of some cultists. Also the heroine gets to grow flowers out of the place where the cultists stabbed her, so that's cool.
Really though, I thought it was beautifully written and I'm interested to see what Daria Vernon does next.
***
Content Warnings: attempted murder, plague/starvation,
I purchased this ebook.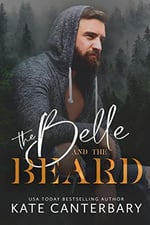 The Belle and the Beard, by Kate Canterbary
My Verdict: Read It Eventually

Amazon (KU)

They're both queer, both stubborn and grumpy, both determined not to have feelings… Kate Canterbary writes excellent books, but this one is the best one. There's neighbor shenanigans (my favorite) plus an arborist and a scathing indictment of the modern political machine. And it's hot. I can't recommend it enough.
***
Content Warnings: public firing/shaming, pressure from a parent to get married and have kids, past death of parent, past parental illness, past emotionally abusive guardians
I purchased this audiobook.
***
If you appreciate our content and wish to support the site, please consider using the affiliate links in this post and below for your shopping needs. Even if you don't buy the book in question, we receive a small % of your purchase from the vendor. As always, we'd love for you to leave us a tip on Ko-Fi!
Support Love in Panels