Mini-reviews of The Aussie Next Door, The Demigod Complex,and All the Stars and Teeth, which means one contemporary m/f romance, one m/f YA fantasy (with romance), and an m/f paranormal.
Rating refresher! Categories are based on whether or not we recommend them to fellow readers - DNF (Did Not Finish), Pass, YMMV (Your Mileage May Vary), Read it Eventually, Read it Soon.
This post contains affiliate links.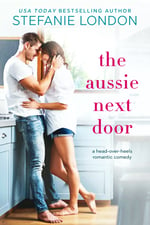 The Aussie Next Door, by Stefanie London
Suzanne says: YMMV

Amazon ◊ Barnes & Noble ◊ Kobo ◊ Apple Books
The Aussie Next Door features a heroine seeking anonymity in a small town in Australia following an abusive childhood in foster care and a child welfare case that was US national news for years. Except she hasn't been working, so her visa is going to expire and she can't renew it. (Why didn't she work, seriously? And why is this a trend in romance?) Since she has a decent chunk of money from the case settlement, she spends her time volunteering at the senior center in town but now she's also trying to find love so she can get married and stay in the country. Turns out, her misanthropic comic-creator neighbor/landlord is just as secretly-in-love with her as she is with him.
It was fun to watch the two of them dance around the fact of her dating the (very few) other men in town and it's always nice when a character without family is adopted into a big loving group. However, I have no idea how well the hero's autism is presented, so autistic readers may want to seek out reviews from other autistic readers. In all, it's a standard white straight contemporary romance with a Tragic Backstory. If that's a thing you're looking for, you'll enjoy it.
Initially lured in by the prospect of a comics-creator hero, I tried to read it in ebook and setting it down until it showed up on Hoopla on audio and I could do something else while listening.
Content Warnings: past: abusive foster care, past: public trial and media scrutiny, suspected PTSD due to dog bite, past: fiancée left hero because of his autism (or so he thinks), white people getting married to dodge the visa system
Suzanne received a digital copy of this book for review but read it on audio via Hoopla.
The Demigod Complex, by Abigail Owen

Suzanne says: Read it Eventually
Amazon ◊ Barnes & Noble ◊ Kobo ◊ Apple Books
I'm trash for all things Greek mythology, have been since I was nine or ten. Between that and the premise of this particular novella - a Demigod and a nymph go on a "business trip" and have to deal with their pants feelings - I was in. It's exactly what you think it will be: a short, hot, sometimes funny paranormal romance with forced proximity and a power imbalance that is only sort of addressed. After all, he's a demigod. I really liked the heroine. (He's fine too.)
Content Warnings: past: punishment for refusing sexual advances, present: evil stalkerish werewolf shows up at the wedding
Suzanne received a copy of this book from the author for review. This book is a re-issue/update of a previously self-published novella.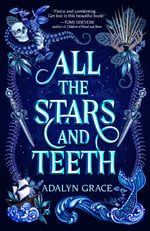 All the Stars and Teeth, by Adalyn Grace
Suzanne says: Read it Soon

Amazon ◊ Barnes & Noble ◊ Kobo ◊ Apple Books
All the Stars and Teeth is what is promised on the tin:
- A cursed monster girl/princess
- A cursed pirate/sailor love interest
- A stowaway who happens to have healing magic and is the princess's arranged fiancé
- A vengeful mermaid
It's bloody and violent and there are big secrets. As part one of a duology, most things aren't resolved by the end and other things are much worse. The main character is absolutely an anti-heroine, but she's motivated by honor and duty, so even when she's slowly murdering a convicted criminal (this is how the book opens), readers will want her to conquer her curse.
Content Warnings: lots of murder, war violence, domestic violence, forced captivity and abuse of the mermaid, crime, cult
Suzanne received a copy of this book from the publisher for review but bought it afterward.
***
If you appreciate our content and wish to support the site, please consider using the affiliate links in this post and below for your shopping needs. Even if you don't buy the book in question, we receive a small % of your purchase from the vendor. As always, you are welcome to leave us a tip on Ko-Fi or join our Patreon!
Support Love in Panels