Read on to hear what we thought of Hired, Salute to the Stud, and Lucky Creek Lady. That's 1 m/f contemporary, 1 m/m contemporary, and 1 m/f historical!

Rating refresher! Categories are based on whether or not we recommend them to fellow readers - DNF (Did Not Finish), Pass, YMMV (Your Mileage May Vary), Read it Eventually, Read it Soon.
Hired, by Zoey Castile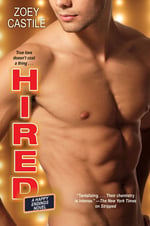 Ana says: DNF
Amazon, Apple Books, Barnes & Noble, Kobo
Adrien's sugar mama has been called away and he is left stranded in a paid-up luxury suite in NOLA, drinking his regrets down with copious hurricanes. Faith has had yet another frustrating confrontation in the waning days of her mother's mayoral campaign. As much as she loves her mother can't wait for it all to be over so she can go back to pursuing her own goals and dreams.
This book had a fabulously hot beginning with it is white-hot flirtation/hookup but when I had to bow out when Adrien kept delaying telling Faith a crucial piece of information, and I lost patience with the sight-seeing around NOLA with that hanging over the couple. Up to that point I had really enjoyed getting to know the characters. Once I put it down, I couldn't motivate myself to try to read it backwards. I might revisit it someday but I just struggle with books where a big secret can lead to humiliation/embarrassment and that truth is withheld and one of the MCs delays/distracts with sex.
Ana received a copy of this book for review via NetGalley.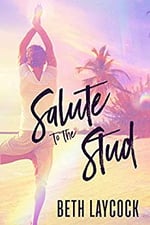 Salute to the Stud, by Beth Laycock
Alex says: YMMV
Amazon (in Kindle Unlimited)
The book starts with accidental sexting, even before we get to know the first main character, Jasper. It's obviously a case of wrong number and while Jasper is intrigued, he doesn't reply. What he does guess is that the author of the text is a yoga instructor which is why he signs up for yoga class.
Honestly, by then I was already quite bored. I couldn't empathise with or care about the character, and I haven't even gotten to Jasper actually meeting the other main character, Tamal. After yoga class, they quickly agree for a private yoga session and then the same evening, the yoga lesson turns to sex.
The sexting part comes back into play the next day, after Jasper has snuck out of Tamal's place and after another message. After seeing the message, Jasper throws a tantrum, leading up to Tamal telling whom he was texting and that it is an internal joke between friends.
After knowing Tamal for three days, Jasper has to leave Hawaii to get back to his life in London. When Tamal doesn't text him for a week, he's imagining all kind of scenarios, and in all of them Tamal has decided to ghost him. What actually prevented Tamal from contacting Jasper was a mobile forgotten at his place and his grandfather dying.
The book failed to actually attract my attention, to make me invested in characters' lives and decisions, or any progress in their relationship. I was also bothered by random drop of illness and death of Tamal's grandfather, and the fact that it was cancer, which seemed totally unnecessary.

Content Warnings: cancer
Alex received a copy of this book from the author for review.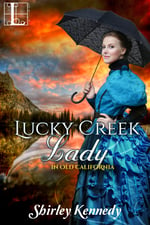 Lucky Creek Lady, by Shirley Kennedy
Margrethe says: DNF/YMMV
Amazon, Apple Books, Barnes & Noble, Kobo
This was a book I could not finish. The writing and characters just never worked for me and I tapped out at 30%. Laurie Sinclair is in California waiting for the day that the man she loves in Philadelphia will commit and finally marry her. When that day finally comes and she is about to leave, her father dies in a mine collapse and her brother is severely injured. And then there's Darcy McKenna, another mine owner, who thinks Laurie is a spoiled brat, but he ends up helping her through work through concerns with her father's mine. Apparently, they fall in love.
My biggest issue was the characterization. At first, Laurie is a spoiled brat and I did want her to just go back to Philadelphia and marry the guy who would rather travel the world collecting moth specimens than settle down and marry her. Then, her father dies and suddenly, she's capable and strong. The rest of her family who seemed to manage just fine before her father's death suddenly turned to pointless mush that could not function. And honestly, I barely remember much about Darcy. I mean, I remember his backstory, but I cannot remember anything about his personality.
Things I did like: the heroine is not a virgin and is not shamed for that; people of color are present in the story to reflect the diversity of California in the 1850s, but I didn't stay with the book long enough to be able to comment on their depictions.
Also, I went and searched the book for details so that I could report on them here. This is a closed-door book, but the sex happens mid-paragraph and mid-scene, which means that the sex is very "blink and you miss it."
There's a chance this book could work for others, but I could never get into it. DNF/YMMV
Margrethe received a copy of this book for review via NetGalley.