Mini-reviews of How to Love Your Elf, Inked With A Kiss, Crave and Witches of Ash and Ruin. So that's a f/m adult fantasy romance, an f/f contemporary, a f/m YA paranormal and an f/f YA paranormal/fantasy/horror.
Rating refresher! Categories are based on whether or not we recommend them to fellow readers - DNF (Did Not Finish), Pass, YMMV (Your Mileage May Vary), Read it Eventually, Read it Soon.
This post contains affiliate links.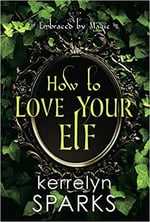 How to Love Your Elf, by Kerrelyn Sparks
Suzanne says: Read it Eventually

Amazon ◊ Barnes & Noble ◊ Kobo ◊ Apple Books ◊ Bookshop
How to Love Your Elf is both fourth in a series and first in a series, which is a little confusing if you don't know that she switched publishers in the middle and while this book is about the fourth of five sisters-by-choice, it stands alone very well. Series readers will recognize the first three couples, but I am new to the series (this is actually my first by Sparks) and I was able to enjoy it. The hero is something of a Robin Hood character with the ability to speak to trees and control wooden objects and the heroine is a princess with control of fire. It's enemies-to-lovers but quickly turns into allies-to-lovers and while I think HTLYE is stronger as a fantasy than as a romance, I enjoyed it a lot. Enough that I plan to circle back and read the first three.
If you're looking for a fantasy romance series with world-building that's both familiar and fresh enough to not be boring, these books are worth checking out.
Content Warnings: violence, kidnapping, past imprisonment, anti-elf racism, mentions of pregnancy
Suzanne received a digital copy of this book for review but listened to it via her Scribd subscription. I also bought a paper copy because I plan to hand it to my spouse to read.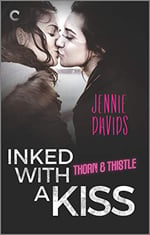 Inked With A Kiss, by Jennie Davids
Andrea says: DNF
Amazon ◊ Barnes & Noble ◊ Kobo ◊ Apple Books

Both women in this age-gap Romance have interesting jobs –a tattoo artist, and caseworker at a crisis center. I liked that Jamie has a teenage daughter and a good relationship with her ex-wife, and I found the portrayal of her parents' alcoholism to be startlingly accurate. But there were more moments that felt 'off' to me than enjoyable ones. Mostly, the way they described each other. The general ogling language made me feel increasingly uncomfortable as their mutual crushes come to reality.
I DNFed at 34% when Jamie picks her daughter up from her ex and breaks their usual routine because she wants to see Sierra (who she has had precisely one only-kind-of date with) and ends up missing an important responsibility at work because of it. She says it's a meeting to organize a fundraiser, but she definitely could have planned around it, and it's clearly really just because she has a crush.
Content Warnings: alcoholic parents, attempted credit fraud, death of a (really cruel, estranged) grandparent
Andrea received a digital copy of this book for review.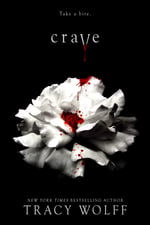 Crave, by Tracy Wolff
Suzanne says: Read it Soon (With a caveat)
Amazon ◊ Barnes & Noble ◊ Kobo ◊ Apple Books ◊ Bookshop
This is exactly what it says on the tin. It reads like a cross between Vampire Academy and Twilight (the cover was a smart choice) and it is a totally derivative and delicious blend. Here are the ingredients:
- brooding vampire boyfriend
- everyone is trying to kill the main character
- over the top villains
- OMG she has a secret ability she doesn't know about
- school for paranormal teens but she never goes to class
I am not going to pretend that this book does anything new or original. Or that I wasn't annoyed by the constant use of "hot AF" or "intimidating AF." ("Hello, fellow kids") BUT. I loved it anyway.
Content Warnings: violence, numerous attempts on MC's life, one character killed their brother in the past, MC's parents died in a car accident just prior to start of book
Suzanne received a digital copy of this book for review.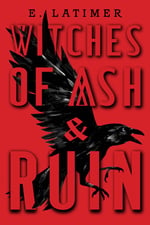 Witches of Ash and Ruin, by E. Latimer
Suzanne says: Read it Eventually or YMMV?

Amazon ◊ Barnes & Noble ◊ Kobo ◊ Apple Books ◊ Bookshop
Witches of Ash and Ruin is the bloody, magical, queer, feminist book I wanted when I read it. It's for every mood and definitely not for every reader. Steeped in Celtic myth and Irish culture, WOAAR follows several teen witches as they battle a villainous trio of undying serial killer brothers, each other, and their feelings. They're all queer and make questionable choices. One has a reverend for a father and he's as homophobic as you'd expect. The book is told in several POVs: three of the teen witches, one of the bad guys, and one of the girls' ex-boyfriends. For this reason, I do not recommend the audio of this book. With three young women of the same age and only one narrator, I had a hell of a time figuring out which POV we were in, especially since the characters have similar names.
Content Warnings: so much violence and blood, stalking, religious homophobia, panic attacks
Suzanne purchased this audiobook.
If you appreciate our content and wish to support the site, please consider using the affiliate links in this post and below for your shopping needs. Even if you don't buy the book in question, we receive a small % of your purchase from the vendor. As always, you are welcome to leave us a tip on Ko-Fi or join our Patreon!
Support Love in Panels