More mini-reviews! Reviews of The Stormbringer, A Dark and Hollow Star, Sweet & Bitter magic, Act Your Age, Eve Brown and Forget About Me. That's two f/f YA fantasy novels, two adult f/m contemporary romances and an adult f/m fantasy romance.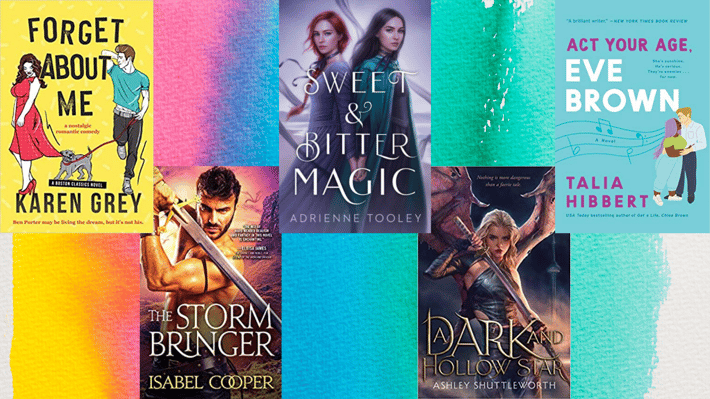 Rating refresher! Categories are based on whether or not I recommend them to fellow readers - DNF (Did Not Finish), Pass, YMMV (Your Mileage May Vary), Read it Eventually, Read it Soon.
This post contains affiliate links.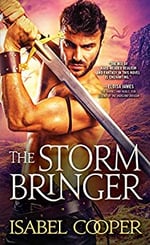 The Stormbringer, by Isabel Cooper
My Verdict: YMMV

Amazon ◊ Barnes & Noble ◊ Bookshop ◊ Kobo
This premise is a lot of fun and I'm always happy to see a bisexual hero and a queernormative world. Unfortunately, the world events overshadowed the romance and the love triangle with the wizard trapped in the sword (yes, that's what you just read) pushed the romance to late in the book, after the MCs got approval from the wizard. I wanted more development there, more evidence that the two MCs were compatible in the long term.
The battle magic was interesting, if gross. Overall it reads like a shorter, less rape-filled version of Milla Vane's books crossed with The Witcher.
***
Content Warnings: graphic war violence and related horrors
I borrowed this audiobook on Hoopla thanks to my library, but I also received an ebook review copy that I didn't end up reading.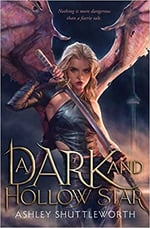 A Dark and Hollow Star, by Ashley Shuttleworth
My Verdict: Read it Soon

Amazon ◊ Barnes & Noble ◊ Bookshop ◊ Kobo

This book was so much (stabby) fun! There's a lesbian fury exiled to the mortal world who, upon seeing that our human heroine is catching feelings, describes herself as "a cactus within a cactus." Prickly on the outside and on the inside. Nausicaä is the stabby lesbian of my heart. The human girl feels a little Bella Swan at times, but not enough to ruin my enjoyment.
This cast is very queer, with an f/f relationship and an m/m relationship (bodyguard/prince!). Queer secondary characters, lots of "we shouldn't" feelings... And a psychopath experimenting on half-fae in order to get a magic stone. That last part is Not So Great, but it was an interesting choice to give us the villain POV.
I frequently struggle with multi-POV fantasy and I assumed I would have the same problem with ADAHS, but the cast of audio narrators and distinct narrative voices made it a much easier read for me than I expected.
***
CWs from the author: anger, arson, blood/gore, body horror (minor), death of a child, depression, disownment, divorce, drug use/addiction, grief/grieving, human trafficking, poverty, psychopathy, stalking, suicide (past, off-page), suicide ideation, toxic relationship/manipulation, trauma/PTSD, racism, violence/gun violence

I received an audio copy of this book from the publisher for review, but I also bought my own copy.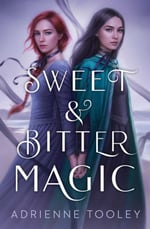 Sweet and Bitter Magic, by Adrienne Tooley
My Verdict: YMMV

Amazon ◊ Barnes & Noble ◊ Bookshop ◊ Kobo
Maybe it's because the audio narration was so aggressively fine, but this book was a disappointment. I was so excited for it and I assume if I hadn't built it up so much I wouldn't have been so let down. In theory I should have loved it: sapphic witches on a quest to save the world, maximum angst and a curse. What I got, however, was some world-building that didn't always make sense and two young women who seemed more like comrades in arms than future lovers. I didn't feel anything for them together and no one convinced me that they did either.
HOWEVER. I've been seriously struggling with romance lately and I can't help but wonder how I would have felt if I hadn't listened rather than reading with my eyeballs. The narrators sounded a lot alike and there wasn't much emotion in their voices, so it could have been the audio narration, my apathy toward romance or both.
***
Content Warnings: dementia, exile, accidental murder (past), magical plague, terminal illness, battle violence
I received an audio copy of this book from the publisher for review but also bought my own copy.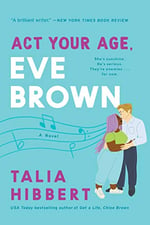 Act Your Age, Eve Brown, by Talia Hibbert
My Verdict: Read It Soon

Amazon ◊ Barnes & Noble ◊ Bookshop ◊ Kobo

The only thing that made me okay with this series ending is knowing that Talia Hibbert is prolific. I still have a couple of her older titles to read and she's going to give us more new stuff soon. Otherwise I would have been crushed to say goodbye to the Brown sisters. I loved all three of these books.
Eve is an adult still trying to figure out who/what she wants to be when she grows up. Jacob owns a B & B and is trying to get to the next level with a local gingerbread festival thing. When Eve hits him with her car and finds out his cook just left, she has to stick around to take care of things while he recuperates. This book is funny, sweet, sexy and generally all the things.
The audio narration was great. Ione Butler captures Hibbert's brand of humor well as well as the moments when Jacob is dealing with family stuff or the two of them are at odds. A great match.
***
Content Warnings: mentions of ableism (directed at character, addressed on page), abandonment issues, character is hit by a car, probably other things but I didn't take notes and now it's been a while
I received an audio copy of this book from the publisher for review.

Forget About Me, by Karen Grey
My Verdict: Read it Eventually

Amazon (KU) ◊ Barnes & Noble (Print) ◊ Bookshop ◊ Kobo (Audio)
Karen Grey (who narrates audio as Karen White) returns to her Boston Classics series with a second chance romance between a vet tech and a model/actor. This series is packed with 80's references and time-appropriate throwbacks like payphones. It's fun to read a book set in a time before cell phones because you get the "you never showed up" conflicts without some really convoluted workaround. In this case, however, the never showing up happens because of a fatal car crash. Years later, both characters are carrying around unwarranted guilt related to the death of her older brother and his best friend.
Ben is back in Boston to take care of his father and act in a couple of Shakespeare in Boston productions, but his father still lives down the street from Lucy's family so they run into each other. She's still mad at him for essentially ghosting her years ago and they have a lot of stuff to work through. It was handled well, however, with neither of them coming off as a jerk. Also! There's a dog and they both get to move forward in their careers. He's the one who moves home and she doesn't have to give anything up.
Audio note: this book is dual-narration to fit the dual-POV and is excellent. It's also one of the last books Brian Pallino narrated and Grey/White has an author's note at the end as a member of the audio narration community. It's a great tragedy to have lost him to suicide. This has been a difficult year and I encourage you to reach out to your friends or a trained professional, even if you don't think you need help "that bad."
***
Content Warnings: on-page homophobic slur (used to communicate that a character is an a-hole), grief, past death of sibling, past loss of parent, mentions of restrictive eating for career
I received an audio copy of this book from the author for review.

***
If you appreciate our content and wish to support the site, please consider using the affiliate links in this post and below for your shopping needs. Even if you don't buy the book in question, we receive a small % of your purchase from the vendor. As always, we'd love for you to leave us a tip on Ko-Fi!
Support Love in Panels