Mini-reviews of Flying Gold, Shift Out of Luck, Time of Our Lives, and House of Salt and Sorrows. So that's an f/m adult contemporary romance, an f/m paranormal, an f/m YA contemporary and an f/m gothic fantasy.
Rating refresher! Categories are based on whether or not we recommend them to fellow readers - DNF (Did Not Finish), Pass, YMMV (Your Mileage May Vary), Read it Eventually, Read it Soon.
This post contains affiliate links.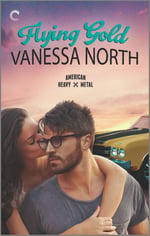 Flying Gold, by Vanessa North
Suzanne says: YMMV

Amazon ◊ Barnes & Noble ◊ Kobo ◊ Apple Books

Continuing the family saga that began in Hard Chrome, Flying Gold is a second-chance romance between Tiffani and her high school boyfriend, Matt. North made several choices that will be either refreshing or frustrating, depending on what you look for in a romance. They broke up because Matt cheated at a party, and it's never hand-waved away. There's no misunderstanding or "we only kissed." Tiffani is both very quick to forgive him after ten years of anger and then suddenly very jealous and unable to forgive him. And then back again quickly. I was confused, but it's nice in a way that it wasn't drawn out.

I think this book, moreso than the first, will appeal more to people who like cars and drag racing. I am not interested in either, so I ignored big parts of the book. I continue to be mad at Tiffani for speeding so much and getting pulled over... then weaseling out of it. Tiffani, if you weren't a white woman you would be in so much trouble/danger.
Anyway, the two of them bond with lots of sex and car talk. If you like lots of sex and car talk, this is the book for you. Personally, I'm looking forward to the queer books next in the series.
Content Warnings: mentions of pregnancy/baby shower, past: cheating by male MC, mentions of animal and child abuse that occurs in first book, reckless driving, grief, recent past: death of parent, director misuses power to hook up with a 16-year-old actress
Suzanne listened to this book on Hoopla via her library.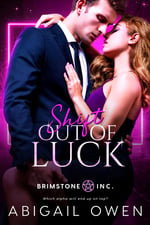 Shift Out of Luck, by Abigail Owen
Suzanne says: Read it Eventually

Amazon ◊ Barnes & Noble ◊ Kobo ◊ Apple Books

Here's what you need to know about Shift Out of Luck, the second book in Abigail Owen's re-released Brimstone, Inc series:
-Enemies to lovers, new marriage in trouble
-Power struggle between two alphas in an arranged alliance mating
-Novella-length
-High heat
I continue to enjoy these as a fun PNR diversion. I recommend you start with
The Demigod Complex
for a little bit of context as to the arranged mating in this one.
Content Warnings: violence, child in peril
Suzanne received a digital copy of this book from the publisher for review.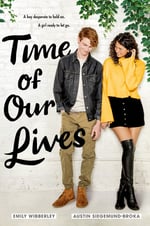 Time of Our Lives, by Emily Wibberley and Austin Siegemund-Broka
Suzanne says: DNF

Amazon ◊ Barnes & Noble ◊ Bookshop ◊ Apple Books ◊ Kobo
I am giving myself credit for finishing it, but TBH I did not. The male MC carries around a dictionary and spouts off words and definitions in his inner POV and to the people he's around. I could manage this if not for the fact that this is so common in recent YA (the MC loves some quirky reading/poetry/old movies/retro music thing) that I'm really sick of it. He's also named after F. Scott Fitzgerald. Sigh.
The female MC is Mexican-American and her family and culture are a really big part of the book. I'd defer to ownvoices reviewers for commentary on how the authors did or did not succeed there. White MC Fitz and his Indian-American brother are adopted, so same re: rep.
Anyway, my big issue is the central romance. It's not until after 50% that Juniper and her long-term boyfriend break up. While they're on a college tour together! And while Juniper is already hanging out and texting with Fitz, whom she just met. Juniper and Matt are supposedly still in love but want different things out of college. They have sex during the book. They're sweet together! I wanted them to work it out.
Or for this whole business with Fitz to happen later. They're holding hands already when she only told him about the breakup a few hours before. I'd be all for this if Matt and Juniper had been on the rocks for months, but that's not how it was presented.
Anyway, life is too short and I don't think I can start liking this book after becoming so annoyed in the first 65%.

Content Warnings: early-onset Alzheimer's, divorce, strained family relationships
Suzanne received a copy of this book for review.
House of Salt and Sorrows, by Erin A. Craig
Suzanne says:YMMV
I'm a sucker for fairy tale retellings and a pretty cover, so of course I picked up a YA billed as a retelling of The Twelve Dancing Princesses with romance. It's more like a gothic romance, with lots of spooky elements and mind-fuckery and a romance that doesn't take much of a role in the plot. It's not that the romance isn't there, it's just not a driving force and the two characters could have kept it platonic and I don't think the story would have suffered.
That said, if you're looking for a gothic retelling with murder, magical dancing, complicated sister bonds and oh-so-many twists? You might dig this one. I still liked it, I just think I would have liked it more if I hadn't been expecting some sort of sweeping romance.
Content Warnings: murder, attempted murder, mental manipulation, dark magic, possible suicide, alcoholic rage

Suzanne purchased this book.

If you appreciate our content and wish to support the site, please consider using the affiliate links in this post and below for your shopping needs. Even if you don't buy the book in question, we receive a small % of your purchase from the vendor. As always, you are welcome to leave us a tip on Ko-Fi or join our Patreon!
Support Love in Panels