More mini-reviews! Reviews of The Soulmate Equation, Second First Impressions, People We Meet on Vacation, Reborn Yesterday, Deal With the Elf King and From Blood and Ash. That's a whole lot of straight white people books, three of them fantasy and three of them contemporary.
I'd like to note here that more than half of these reads were at least in part for reader advisory at the library where I work. I'm now the "romance person" which means I'm choosing what to add to our tiny collection and patrons come to me for recommendations. This is great! But I've got to read buzzy books and sometimes they're aggressively fine. It is what it is.
Rating refresher! Categories are based on whether or not I recommend them to fellow readers - DNF (Did Not Finish), Pass, YMMV (Your Mileage May Vary), Read it Eventually, Read it Soon.
This post contains affiliate links.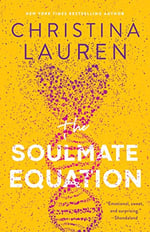 The Soulmate Equation, by Christina Lauren
My Verdict: Read It Eventually/Soon

Amazon ◊ Barnes & Noble ◊ Bookshop ◊ Kobo ◊ Libro.fm

I liked this quite a lot! Grumpy scientist + single mom statistician + unexpected perfect match on a DNA-based dating app = fake dating with a twist. This was the rare romance in which I wasn't annoyed to be reading about parenthood (too close to home) and Jessica's best friend Fizzy is a delight. I wish the authors were still writing series because I really want her book!
I was initially a little worried about the genetic matching, but it was mostly handled with care. There was one part that made me cringe and didn't fit with the rest of the explanations. I listened to it and didn't bookmark (sorry!) so I don't have the exact text, but River at one point is talking about how great his technology is and he mentions the idea of being able to find the right person for a job by looking at their DNA. That is WAY too eugenics-adjacent for me and it isn't (to my recollection) followed up with any talk about education, experience or passion. It's the old nature-vs-nurture debate taken to an alarming level and honestly one of my biggest tech concerns.
Now that I've said this, I want to reiterate that it doesn't fit with the rest of the book. It almost felt like they wrote the book one way and then in revisions changed a lot of the problematic stuff but missed this spot. But it's still in there and I had to do a lot of hand-waving to get past the ick and focus on the parts I loved. The part I liked best is the conflict inherent in being told you're a perfect match and then falling in love. Did they fall in love because they were told they would? Or is it real? What is love anyway?
Audio Notes: Patti Murin is a great narrator and does well with the "I'm a hot mess of a parent what am I even doing" feelings and the reluctant attraction between the main characters. She did the last couple of Christina Lauren books and is in a bunch of tv roles, so you might recognize her voice.
***
Content Warnings: DNA ethics murkiness, bio father of heroine's child is entirely absent, heroine's mother is an addict and at one point Jessica has to go with her daughter to pick up the mom from a drug party then give her a whole bunch of money--that she only has because she's being paid to fake-date River--so she doesn't go to prison (this part of the book references the three-strikes law thathas led to the incarceration of a disproportionately high number of Black people, but doesn't touch on that at all), grandparent rushed to hospital
I received an audio review copy of this book from the publisher.
Second First Impressions, by Sally Thorne
My Verdict: YMMV

Amazon ◊ Barnes & Noble ◊ Bookshop ◊ Kobo ◊ Libro.fm

While 99% Mine was a huge tonal shift from The Hating Game, I liked it a lot. That's not the case with Second First Impressions, a book that I would have DNFed if not for the fact that I was listening to it on audiobook. The heroine is the daughter of an evangelical minister and there's a weird ongoing bonding between the MCs over a show that's obviously a fiction version of "Seventh Heaven." The wealthy tattooed "bad boy who isn't actually a bad boy" hero says at one point that he's into the heroine because she reminds him of the Jessica Biel character on that show and *gag*. Near the end, there's mention of the sexual abuse scandal [CWs apply, proceed through that link with caution] that came out after "Seventh Heaven" and how it ruins the show for them. I just don't know why any of that was necessary and it's super weird for an Australian author to take on the evangelical grossness that exists here.
There are funny moments having to do with tortoises and an elderly couple in the retirement community the heroine runs, but overall it's just very bland and I'm not sure who to recommend this book to. Fans of The Hating Game won't fall in love with it unless they've changed a lot as readers. I'd say temper your expectations and look for a very slow burn and more of a story arc for the heroine figuring herself out and less of a romance arc.
Audio notes: Jennifer Jill Araya does a great job capturing Ruthie's naivety and sweet nature, plus the hijinx of the Parloni "sisters."
Content Warnings: toxic evangelicism (not heroine, but not challenged), theft, parental disownment, threat of eviction of elders (who are wealthy), anxiety and panic attacks. Spoiler: the sisters are not sisters, they're an elderly couple who've been together for decades and found it easier to pretend to be sisters. It's obvious to anyone with a hint of queer radar.
I received an audio review copy of this book from the publisher.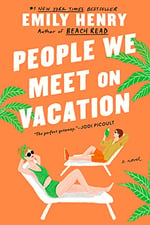 People We Meet on Vacation, by Emily Henry
My Verdict: YMMV

Amazon ◊ Barnes & Noble ◊ Bookshop ◊ Kobo ◊ Libro.fm

Emily Henry's prose carried me through a book that feels like a hundred other contemporary romances. If you've read a book that features two people who've been best friends for a decade but have never managed to be single at the same time and make it work, you've read this. I read it while sewing and I think had I been reading a paper copy, I would have abandoned it. When I mentioned this to a friend, however, her take was "you need to take a break from contemporary romance" and I think she's right. Readers who haven't already read a hundred books in 5 months will probably enjoy it.
Audio Notes: Julia Whelan is a honey-voiced dream of a narrator. She's the only person who makes me cry and then go back for more. Her narration also pulls me through books I wouldn't finish otherwise and makes it nearly impossible for me to objectively evaluate a book. I joked on Instagram that every day should be a Julia Whelan day and I mean it. Her voice acting is responsible for every time I've read a Taylor Jenkins Reid, Emily Henry or Kristin Hannah book.
***
Content Warnings: I've forgotten them all, so I'm going to share Beth's
I received an audio review copy of this book from the publisher and purchased a copy as well.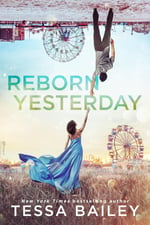 Reborn Yesterday, by Tessa Bailey
My Verdict: Read It Soon, but YMMV

Amazon ◊ Barnes & Noble ◊ Apple Books ◊ Kobo
The plotting of this book is a mess and I didn't even care. Vampire cliches, fated mates... I just enjoyed the ride. It was obvious that Bailey isn't used to writing paranormal romance and I don't agree that these are "rom-coms" but I had fun and that's what matters! If you go in with the understanding that this is a Tessa Bailey book (dirty-talking man, cisnormative language, etc.) you'll have a good time. I wish it had been higher heat, but I clearly embraced this book regardless of flaws.
Audio Notes: I've listened to lots of books narrated by Jason Clarke and Elizabeth Hart, so I was totally comfortable with both of them. They were a good fit, but I don't think I've heard either of them do PNR before so occasionally I thought "oh right, these people are vampires"
***
Content Warnings: violence, more violence, blood play?, standard vampire stuff
I purchased this book.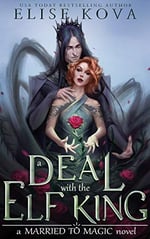 Deal With the Elf King, by Elise Kova
My Verdict: Pass

Amazon (Kindle Unlimited)

My library bought this in print and they rarely buy self-published books, so I actually read it with my eyeballs and hands and wow I regret that choice. Unlike the last book I talked about, this one is a mess and not even a fun one. Derivative, with lots of telling instead of showing, awkward info-dumping and worst of all? Boring. I skimmed the second half, so maybe it got better but whew, I say give this one a pass. Not what I want from my Hades x Persephone plots.
***
Content Warnings: violence, abduction, heroine's magic is unknowingly suppressed by a boy who "loves" her, mentions of famine and death, more things I'm sure
I borrowed this book from my library.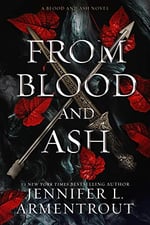 From Blood and Ash, by Jennifer L Armentrout
My Verdict: Read It Eventually

Amazon ◊ Barnes & Noble ◊ Bookshop ◊ Kobo

After 1,000,000 posts on Instagram, I finally tackled the behemoth that is From Blood and Ash. I knew it was new adult fantasy with a central romance and Bookstagram was calling it "steamy" (it's like a normal level of steam for romance readers) but I did not realize there are vampires and werewolves! Gosh this book is all over the place but in a good way. Please check out those content warnings though. There are a couple of things that no one was mentioning and I wish I'd been prepared for.
This is another book that could very easily be described as messy plotting but I didn't care. It's so long and there are now several more that are even longer, but they're fun so I don't mind as much. I just don't think I'll be binging this series, I'll have to space them out.

Audio Notes: This is a long ass book! The narration was solid, however.
***
Content Warnings: on-page scenes in which a sadist who has power over the heroine is "disciplining" her for his pleasure and references to many more in the past. He allows his disgusting best friend to watch and they force her to be topless and remove her arm when she tries to cover her breasts. This best friend (a noble) also corners her at one point and gropes her while threatening worse. (She dismembers him later in the book.) quite a bit of murder, war violence and repeated mention of genocide and torture.
I purchased this book.

***
If you appreciate our content and wish to support the site, please consider using the affiliate links in this post and below for your shopping needs. Even if you don't buy the book in question, we receive a small % of your purchase from the vendor. As always, we'd love for you to leave us a tip on Ko-Fi!
Support Love in Panels