More mini-reviews! Reviews of Phantom Heart, Fables & Other Lies, Too Good to Be Real, Not Your Average Hot Guy and A Touch of Darkness. This is a YA gothic romance, an adult gothic romance, a contemporary romance and two paranormal romances (sort of?).
Rating refresher! Categories are based on whether or not I recommend them to fellow readers - DNF (Did Not Finish), Pass, YMMV (Your Mileage May Vary), Read it Eventually, Read it Soon.
This post contains affiliate links.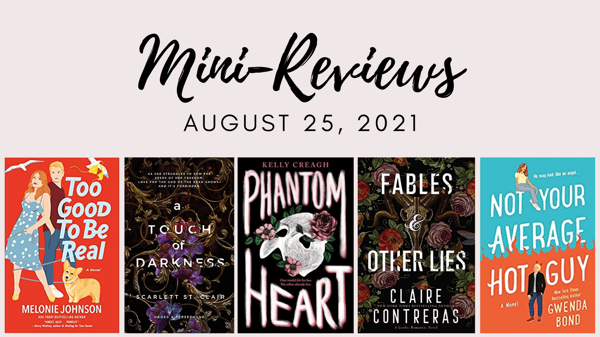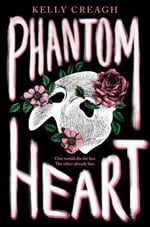 Phantom Heart, by Kelly Creagh
My Verdict: YMMV

Amazon ◊ Barnes & Noble ◊ Bookshop ◊ Kobo ◊ Libro.fm
As you might guess from the cover and title, Phantom Heart is a retelling of The Phantom of the Opera. A teenage girl moves with her father and sister to a cursed manor and things happen. It's something of a love triangle, with the Christine character falling for both an amateur paranormal investigator and the cursed "phantom" who occupies the house. The magic system was interesting but kind of confusing, with different aspects of Erik's personality (madness, valor, etc) existing as "masks" who torment him. He was an entitled rich young man who engaged in a heinous colonizer act: unwrapping of a mummy for party entertainment. He's rightly been in a hell of his own making for decades. However, this is a story for everyone who rooted for The Phantom in the source material. I'm still not sure how I feel about his redemption arc, but this isn't the place for a discussion of accountability and restorative justice. (And how does a ghost achieve this?) Uneven pacing and a lackluster love triangle made this a middling read for me, but my love for the original kept me listening. It's also not steamy, I don't know why the blurb says that other than to get readers.
Audio notes: The audio for this was great! I liked in particular the different voices for the "masks." Madness is described as having three parts and they did an echo-y effect that worked well. This is three POV, three narrators and very successful.
***
Content Warnings: murder, child in peril, past death of family, past desecration of the dead
I received an audio review copy of this book from the publisher.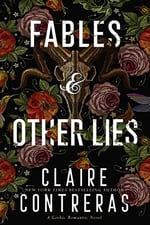 Fables & Other Lies, by Claire Contreras
My Verdict: Read It Soon

Amazon (KU) ◊ Barnes & Noble ◊ Bookshop ◊ Kobo (Audio) ◊ Libro.fm
This is a delicious island-set gothic. It felt a bit like a mindf*ck and yet also not? I really can't describe what happens without giving away some plot points, but it's twisty and vibrant and there's an enemy families backstory... it's everything I want in a gothic romance and it's not set in 1800's England. I loved how Contreras worked the islands into both her setting and the actual [redacted] curse on [redacted]. Someday I'll open the jar and look at why I was so into River Caliban, but today is not that day. Whatever the reason, if you like a gothic with all the scary crap and also a satisfying romance? This is a good pick.
***
Content Warnings: past sexual assault by a family member plus all the gothic danger stuff you might expect
I purchased this audiobook.
Too Good to Be Real, by Melonie Johnson
My Verdict: YMMV

Amazon ◊ Barnes & Noble ◊ Bookshop ◊ Kobo

This was waaay too meta for me. I should have known that a rom-com about two people at a rom-com-themed resort would be too much for me, but I did it anyway. I honestly can't tell you if the pacing was good or if the jokes were funny because I was just so tired of the rom-com references that I'm amazed I finished the book. At first I thought "ooh sequel bait!" about the FMC's two best friends, but one of them ends up in an HEA/HFN at the end of this book so I'm not sure what's happening next in this world or if TGTBR is meant to be a standalone. I vastly prefer Johnson's first trilogy and if you're looking for a book to try, I suggest you start there instead.
***
Content Warnings: probably some stuff?
I purchased a paperback of this book (it has a corgi on it) but read it on audio via Hoopla.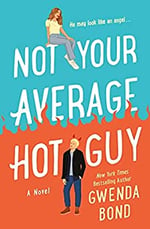 Not Your Average Hot Guy, by Gwenda Bond
My Verdict: Pass

Amazon ◊ Barnes & Noble ◊ Bookshop ◊ Kobo ◊ Libro.fm
A fun premise that unfortunately falls flat. The author seems to be going for Good Omens-style humor and good/evil buddy shenanigans, but it's muddied by a lackluster attempt at romance. It's tricky to balance an End of the World plot with humor and romance and it feels as though the central relationship was the thing that had to give. The result is a novel that is often funny but somewhat hollow.
This is book one in a series that follows the same couple. There are some kisses and one vague off-page orgasm for the FMC, but I'd call this first book pretty low heat. I wish Bond had left the romance out of the book instead of trying to force it. She said in an interview that their relationship develops across the books, but if that's the case, I would have preferred this be a getting to know each other as allies book. This felt like every couple chapters we needed to be reminded that they thought the other was hot. Just real weird.
***
Content Warnings: literal hell, attempted murder, kidnapping, etc
I received a review copy of this book from the publisher.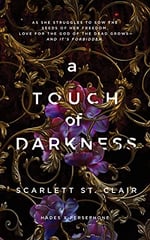 A Touch of Darkness, by Scarlett St. Clair
My Verdict: Read It Eventually

Amazon ◊ Barnes & Noble ◊ Bookshop ◊ Kobo ◊ Libro.fm
When I read Neon Gods, I kept thinking "why isn't there real magic in this?" I'm pleased to say that this Hades & Persephone retelling is another contemporary romance in which Hades owns a nightclub and there's the magic system we expect/hope for in a Greek myth retelling. Persephone turns Minthe into a mint plant and everything.
I am perhaps the last person on the planet to read this book, but my library bought the audio and I figured hey, let's try yet another Hades & Persephone retelling because that's my fave trash can. I liked it a lot. Great physical chemistry between the characters, a bunch of the beats I expected and a few I didn't... But don't think this is going to be revolutionary. It's a contemporary retelling of the story we know. Think Lore Olympus but not pretty or deep and with a lot more banging.
It's apparently first in a three book series following the same couple and since the romance arc felt pretty solidly wrapped up, I'm not sure I'm going to read the next two. I'm not a fan of when authors pull apart established couples just so they have more books to write. I don't know if that's what happens, I'm just remembering the 800 trilogies published around the time of 50 Shades of Grey.
The ebook apparently needs a copyedit (so says The Internet) but I listened to it, so your mileage may vary.
***
Content Warnings: character drugs Persephone and sexually harasses her (Hades saves the day, ofc), character publishes Persephone's work without her consent, lying, near drowning, angry Demeter, angry Minthe...
I borrowed this audiobook from my library.
***
If you appreciate our content and wish to support the site, please consider using the affiliate links in this post and below for your shopping needs. Even if you don't buy the book in question, we receive a small % of your purchase from the vendor. As always, we'd love for you to leave us a tip on Ko-Fi!
Support Love in Panels