Mini-reviews of Forbidden Desire, Hate Crush, The Falling in Love Montage and Daring and the Duke. So that's an f/m sex planet eRom, a steamy f/m contemporary, an f/f YA contemporary and an f/m historical.
Rating refresher! Categories are based on whether or not we recommend them to fellow readers - DNF (Did Not Finish), Pass, YMMV (Your Mileage May Vary), Read it Eventually, Read it Soon.
This post contains affiliate links.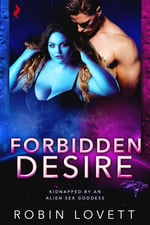 Forbidden Desire, by Robin Lovett
Suzanne says: Read it Eventually

Amazon ◊ Barnes & Noble ◊ Bookshop (first 3 in series) ◊ Apple Books ◊ Kobo
If you've read my earlier reviews of this series (Book 1, Book 2, Book 3), you know that they are absolutely bananas erotic romance and I love them. I'm not reading much ERom at all these days, so for me to be continuing this series says something.
Here are the bananas: sex goddess with a magic vagina (she also has essentially 3 clits and "claws" inside that grip when she comes), she's got a magical gift that allows her to make anyone orgasm with a touch, her love interest was genetically engineered to be super-swole but also unable to sense touch and his emotions are locked up. She fixes him with sex in what is an absolutely delightful twist on the Magic Penis trope. Star-crossed lovers! He's in hiding! She's not allowed to fall in love! All of this happens over the course of four days and it's absolutely ridiculous but *shrug* I am more than happy to roll with it. There's a ton of creative sex furniture and I had fun trying to figure out what it was shaped like. Anyway, please buy and read it so Robin Lovett will write like 15 more.
Content Warnings: violence, parental abuse, kidnapping and torture (briefly), discussion of being forced to have sex with anyone who needs magic sex healing
Suzanne received a digital copy of this book from the publisher in exchange for an honest review.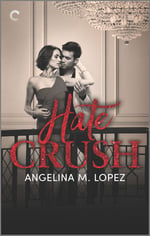 Hate Crush, by Angelina Lopez
Suzanne says: Read it Soon

Amazon ◊ Barnes & Noble ◊ Bookshop ◊ Apple Books ◊ Kobo
This is a Grade A soapy, sexy romance. I knew in advance that this series was sort of over-the-top with secrets and drama and to just roll with it, so I was adequately prepared for this absolute knockout of a ride. If you don't like soap-level villains and angsty wine cellar banging, I'm going to recommend you pass. I'm going to loop back and read Lush Money now because hot damn Lopez can write some absolutely fabulous dirty talk. Move over, Tessa Bailey.
Lopez wrote some complicated characters amid the soap archetypes, however. I loved this heroine, 100%. She's prickly and angry and so so smart. But she also really likes sex and never fell out of love with Aish. Damn feels.
The Big Reveal at the end made me laugh because I saw it coming and it was 100% soap opera/telenovela. Just lean in.
Content Warnings: slut-shaming, bad parents, kidnapping, roofies, miscarriage, manipulation and gaslighting
I received a digital copy of this book from the publisher for review and read it on audio via Hoopla.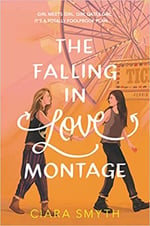 The Falling in Love Montage, by Ciara Smyth
Suzanne says: YMMV

Amazon ◊ Barnes & Noble ◊ Bookshop ◊ Apple Books ◊ Kobo
This review contains a spoiler.
Told entirely from one character's point of view, this reads less like a romance and more like a coming-of-age story. That's fine, but I was told it was a romance. The cover copy says nothing about the fact that Saoirse's mother has early-onset dementia and is in a long-term care facility. Nothing about how Saoirse's parents divorced for financial reasons and that while her father is still heavily involved in her mother's life and care, he's getting remarried and a lot of the plot deals with Saoirse's anger and fear. (She has a good chance of ending up with early-onset dementia as well.)
The cover copy promises a sapphic rom-com with rom-com montage shenanigans and it has all of that! I loved their relationship, in fact. It was funny to read about them getting trapped on a ferris wheel, to steal a swan boat, etc. However, they don't end up together. The book ends with Saoirse off at college, meeting a cute girl for the first time. She and Ruby are not in a relationship and only communicate by sending each other occasional small items in the mail.
I regret my pre-order.
Content Warnings: early-onset dementia, Ruby's brother is undergoing surgery off-page
I received a digital copy of this book for review but purchased it because I make poor choices. This review is based on the audiobook.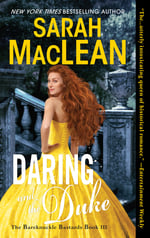 Daring and the Duke, by Sarah MacLean
Suzanne says: Read it Soon
Amazon ◊ Barnes & Noble ◊ Bookshop ◊ Apple Books ◊ Kobo
This trilogy has been excellent from top to bottom. Angsty, beautifully written, so much conflict internally and externally that readers are left wondering how MacLean will pull it off.
Ewan is undeniably an unstable, horrible villain in the first two books and Grace is a badass woman who's established a thriving business and a satisfying life in all ways but one. Their craving for each other over the course of TWENTY YEARS is believable only because of the work MacLean did in the previous two novels to set up this level of drama. I don't know how she does it, but I bought the redemption arc, I bought the reconciliation and I really wanted their happily ever after.
These two people, separated since they first fell in love at the beginning of their teen years and traumatized both before and afterward... The angst, the passion, the inability of this reviewer to form a coherent review...
In short, Sarah MacLean made me love a step-brother romance and I'll never forgive her.
Content Warnings: abuse, child fighting, misogyny, violent raid, recent past: use of explosives which almost killed previous heroine, probably others?
I received a digital copy of this book for review from the publisher but purchased my own as well. This review is based on the audiobook.
If you appreciate our content and wish to support the site, please consider using the affiliate links in this post and below for your shopping needs. Even if you don't buy the book in question, we receive a small % of your purchase from the vendor. As always, you are welcome to leave us a tip on Ko-Fi or join our Patreon!
Support Love in Panels