Mini-reviews of More Than Maybe, Hairpin Curves, I Think I Might Love You and The Fell of Dark. That's an f/m contemporary YA, an f/f contemporary, an f/m contemporary and an m/m YA contemporary fantasy.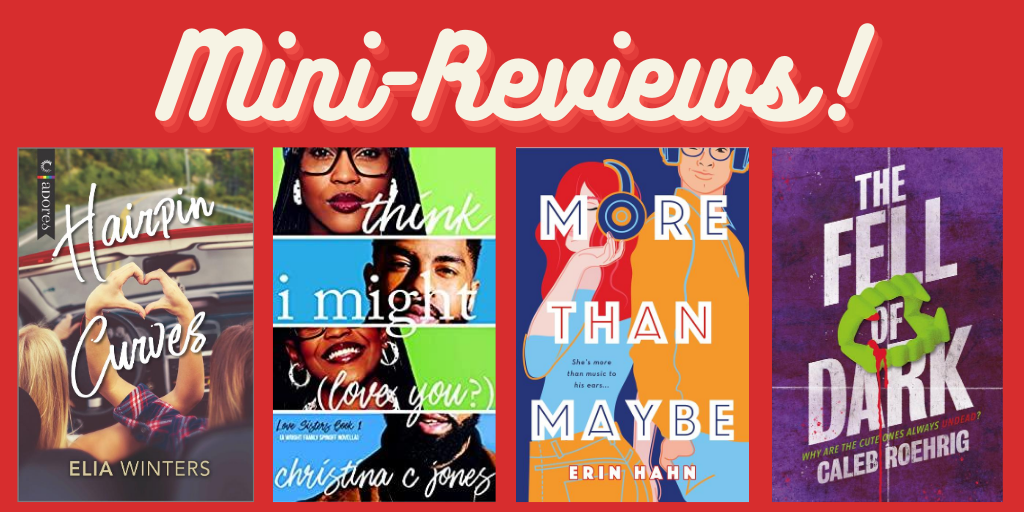 Rating refresher! Categories are based on whether or not we recommend them to fellow readers - DNF (Did Not Finish), Pass, YMMV (Your Mileage May Vary), Read it Eventually, Read it Soon.
This post contains affiliate links.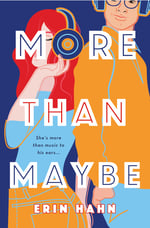 More Than Maybe, by Erin Hahn
Suzanne says: Read it Soon

Amazon ◊ Barnes & Noble ◊ Bookshop ◊ Apple Books ◊ Kobo
Like Hahn's first book, More Than Maybe is a multi-faceted ode to the power of music to bring people together. This one pairs two older teens with one-time rocker dads. Vada is a music blogger who works at her mom's boyfriend's bar/club and Luke is a songwriter trying desperately not to be in the spotlight. (His dad has other ideas.) Hahn's characters are again white and straight, but the supporting cast is diverse and she explores issues like crappy parents and an exploitative industry while allowing her characters to succeed in their own ways. I appreciate how she works to give not just the protagonists but also many secondary characters their happy endings.

This is a must-read if you want to vicariously experience the spine-tingling "eye-closer" feels of a great rock song.
Content Warnings: alcoholism, strained parent relationship bordering on abandonment, character's music is shared without consent and goes viral
Suzanne received a copy of this book from the publisher for review.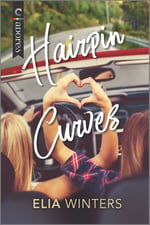 Hairpin Curves, by Elia Winters
Suzanne says: YMMV

Amazon ◊ Apple Books ◊ Barnes & Noble ◊ Bookshop ◊ Kobo
Hairpin Curves didn't feel like Winters' other books. Maybe because of the heat level, but mostly I think it's a lack of conflict in the story. The two main characters were once very good friends and then there was a big betrayal (this turns out fine, you won't hate anyone) and they stopped talking for years. Now they're both going to the same wedding and end up in a car together for two weeks roadtripping from Florida to Quebec City. It was surreal to read about the traveling and when they crossed an international border I was holding my breath. COVID-19 has screwed me up, wow.

Both heroines are bisexual and the sex scenes are not what we usually get to read. Before these two former friends are ready to be together, they engage in multiple instances of mutual masturbation for "stress relief." Then when they are touching each other much later (that first kiss is at like 70%) they're using toys in addition to body parts.
As for the lack of conflict... it's not that I wanted them to be fighting, but they get their stuff sorted out pretty early on and there's no external conflict so there wasn't much to propel the narrative forward. It's a quiet book and the best parts were the parts that scared me most - exploring new places with a good friend. Normally I love a road trip romance, but I was unsettled for much of this one. Winters couldn't have known while writing this that we'd be in the throes of a global pandemic at pub time.
Content Warnings: crappy sibling who negs one MC, references to past homophobia, one MC has a learning disability and was made to feel stupid her entire life
Suzanne received a copy of this book for review but purchased her own.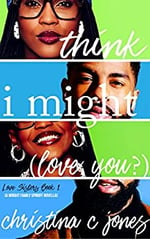 I Think I Might Love You, by Christina C. Jones
Suzanne says: Read it Soon

Amazon (Kindle Unlimited)

Jones writes across a bunch of different contemporary moods and while she's successful at all of them, her comedies are my favorite. Here's my Instagram review:
I don't know how she does it, by Christina C Jones is a master at packing a complete romance into ~150 pages. She writes in different moods, but my faves are the funny ones and when I say there were TEARS... 😂
Immediately went off to start the next in the series because I Think I Might Love You is enemies-to-lovers (sort of?) excellence.
They meet when Jaclyn lets herself into her sister's apartment... which is currently being rented by Kadan. She's drunk and angry b/c her ex is a POS (she just smashed up his car) and so she punches Kadan in the face thinking he's an intruder. Talk about a meet-disaster...
I loved them both and all their banter. Plus Jaclyn owns an ice cream shop and Kadan is a veteran and a veterinarian. (This isn't the first veteran I've read by Jones and she handles them with respect, will always love her for that.)
And if you miss The Wright Brothers there's a cameo!
This felt a little like reading Phyllis Bourne's Feud, in case you want a readalike. I think the audio sort of elevated this, because when you have smartass lines being delivered in a smartass voice? Perfection.

Content Warnings: cheating (not MCs), mentions of hero's military service, heroine has a record and experiences prejudice b/c of it
Suzanne purchased this audiobook.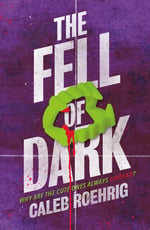 The Fell of Dark, by Caleb Roehrig
Suzanne says: Read it Eventually

Amazon ◊ Barnes & Noble ◊ Bookshop ◊ Apple Books ◊ Kobo
Don't be like me and go into this thinking it's a romance. It's tagged on Edelweiss (a site used by publishers, booksellers, etc) as Young Adult/Romance/Paranormal. It's two of those things. There's a romantic arc between the gay teen protagonist and another character, but there isn't an HEA. It's sort of hinted that they may reunite in the future, but...
The Fell of Dark reads like if Buffy the Vampire Slayer was about a gay kid. Auggie lives in a town outside of Chicago that's a "nexus" (Hellmouth). There are vampires, witches, secret orders and a mysterious being living inside Auggie who's going to take over his body unless someone kills him first. There are kisses and fight scenes and at one point it seems like everyone in Auggie's life has been lying to him about their identities and motives. It's funny and sarcastic and truly, a lot of fun. It was fun to read a YA paranormal that feels modern and fresh even when the tropes are classic.
I read this on audio and really enjoyed the narration. My only complaint is that the book runs a bit long and you have to be in it for the fight scenes and complicated political/magical machinations instead of for the romance.
Content Warnings: murder, violence, lying, secrets, possession, blood sharing, stalking, abduction of loved ones
Suzanne received a digital copy of this book from the publisher but ended up purchasing the audiobook.
If you appreciate our content and wish to support the site, please consider using the affiliate links in this post and below for your shopping needs. Even if you don't buy the book in question, we receive a small % of your purchase from the vendor. As always, you are welcome to leave us a tip on Ko-Fi or join our Patreon!
Support Love in Panels