Time for a YA fantasy round-up! I'm very behind on these reviews, so I hope you're ready for a bunch of magical, murderous teens! Read on for short and sweet reviews of:
This Vicious Grace (The Last Finestra, #1), by Emily Thiede
Belladonna (Belladonna, #1), by Adalyn Grace
A Far Wilder Magic, by Allison Saft
The Liar's Crown (Dominions, #1), by Abigail Owen
Edgewood, by Kristen Ciccarelli
I also want to warn folks that I read most of these before or around release date, so my recollection of the content warnings is kind of fuzzy. I apologize if I've missed some.
Rating refresher! Categories are based on whether or not I recommend them to fellow readers - DNF (Did Not Finish), Pass, YMMV (Your Mileage May Vary), Read it Eventually, Read it Soon.
This post contains affiliate links.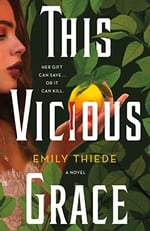 This Vicious Grace (The Last Finestra, #1), by Emily Thiede
My Verdict: Read It Eventually

Amazon ◊ Barnes & Noble ◊ Kobo ◊ Libro.fm ◊ Goodreads

The latest Chosen One (Finestra) is supposed to save her island people from the hordes of demons who invade every few decades. She does this by choosing a partner (romantic or not) to bond with and supercharge their power so they can defend their big city. Except Alessa's power has accidentally killed the last three people she tried to bond with and now she has just a couple of weeks to convince the few remaining candidates to even try. Worse, the council is trying to kill her and there's well... a horde of demons on the way. She hires a sexy maybe-murderer to be her bodyguard and you can guess where the story goes.
The promo for the book was intense and early, so I was curious if it would live up to the hype. Overall, it felt like many of the Murder Princess subgenre I've read before, but the author did diverge in a couple of ways. While I can't tell you what they are for spoiler reasons, I think This Vicious Grace was worth reading. The chemistry between Dante and Alessa, some found family/unexpected friendship and the constant sense of danger propel the plot forward, even if some of it's easy to predict.
***
Content Notes: murder, assassination attempts, crushing loneliness, class and poverty issues, sex
I read this audiobook courtesy of the publisher via Libro.fm.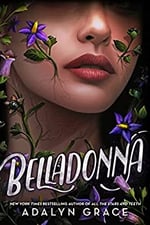 Belladonna (Belladonna, #1), by Adalyn Grace
My Verdict: Read It Soon

Amazon ◊ Barnes & Noble ◊ Kobo ◊ Libro.fm ◊ Goodreads

An orphaned girl who can speak with ghosts and Death himself finally lands in a welcoming home--sort of. After being around to different family members who only take her in because they want access to the fortune she'll one day inherit and then die in a variety of mysterious circumstances, Signa is on her last chance. Unfortunately, this family has been nearly destroyed by the death of her aunt. Signa is intimately familiar with belladonna and its effects on the body since near-death is the liminal space in which she can speak to Death--and sometimes yell at him for messing up her life again. So when her cousin's illness--similar to the one that killed her aunt--manifests the same symptoms as belladonna poisoning, she must hurry to save her cousin and satisfy the ghost of her dead aunt.
Underpinning all of this is, of course, a delicious romance. Adalyn Grace sets up something of a love triangle and while I didn't see it coming, you can head to Goodreads if you want to be spoiled for the twist. During the climactic reveals, I looked back at the foreshadowing and felt rather sheepish for having missed it, but I had more fun being surprised so really... I win. Grace's All the Stars and Teeth worked well for me but the sequel let me down, so while I absolutely loved the romance in this (note - there's on page sex), I'm cautiously optimistic about the follow-up, Foxglove.
I love a gothic romance and Adalyn Grace brought the ghosts, family trauma, spooky house and Death himself to us in Belladonna.
***
Content Notes: murder, murder attempts, poisoning, grief, alcohol abuse, mentions of neglect and abuse, sex

I received a copy of this ebook from the publisher for review and ended up purchasing my own copy. BTW, the physical book is gorgeous.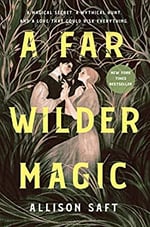 A Far Wilder Magic, by Allison Saft
My Verdict: YMMV

Amazon ◊ Barnes & Noble ◊ Kobo ◊ Libro.fm ◊ Goodreads

The daughter of a famed alchemist teams up with the untrained young man who hopes to become her absent mother's apprentice in a magical fox hunt. Like Down Comes the Night, A Far Wilder Magic is a stand-alone YA fantasy that weaves together a slew of seemingly unrelated elements into something familiar but fresh. The setting is rural in an alternate 1920's US, with the male MC from NYC. Rural poverty vs. urban poverty is a definite theme, as is religious discrimination. Margaret is Jewish and Weston is Irish Catholic, but Saft uses different names. The fox hunt serves two purposes: to prove to Margaret's mother that they're worthy (as a daughter and as an alchemist respectively) and to secure the funds to have a successful future.

While I enjoyed much of the book, most especially the push-pull of the central relationship, I had a very hard time reading about the gun culture and just huge amounts of target practice and magicking of bullets. I read this shortly after the massacre in Uvalde, Texas and I really ought to have put the book away for another time, but instead I sat and cried. I grew up in a rural town with lots of guns for hunting--not magical foxes, but coyotes and deer--but I couldn't separate the rabid white men in this story from the folks on Facebook posing for family Christmas photos with their assault rifles.
Most people in my reading circles who've read this one loved it, so I think this is a case of timing. I enjoyed the rest!
***
Content Warnings: guns, xenophobia, religious and ethnic discrimination, parental abandonment, past death of parent, poverty, giant magical fox who does murder, hunting of an animal sacred in one MC's religion
I received a digital copy of this book from the publisher for review, but purchased the audiobook.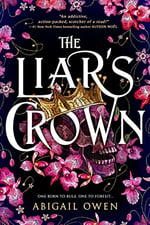 The Liar's Crown (Dominions, #1), by Abigail Owen
My Verdict: Read It Soon

Amazon ◊ Barnes & Noble ◊ Kobo ◊ Libro.fm ◊ Goodreads
Abigail Owen takes the Murder Princess trope and ages it up just enough to give it her usual spark. The queens in Meren's royal line have a set of girl twins, one to be the queen and one to be a body double. Meren has been hidden in the poorer part of the city, living in disguise as a normal girl but tutored in the arts of queendom. Naturally, she learns to steal and stab from her rapscallion friends, too. Crucial Murder Princess skills... especially if you're going to get kidnapped by a shadowy stranger who thinks you're the real queen-to-be.
To those of us who've read deeply in the Murder Princess genre, there's not a lot in this book that's particularly surprising or unique, but Owen's writing carried the book for me. It's a solid story, but if not for the strength of her writing--in particular her morally gray characters and their excellent chemistry--this book might be just another in the pack. That said, the world-building around the male MC's magic is pretty cool and I genuinely wondered how things would turn out with the dark side of it.
In a fairly crowded field of 19 year olds with Big Destinies and a habit of stabbing people, The Liar's Crown is a fun read that has me eager for the second.
***
Content Notes: murder, kidnapping, attempted assassination, possession?, sex
I received a copy of this audiobook from the publisher for review.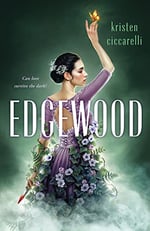 Edgewood, by Kristen Ciccarelli
My Verdict: Read It Eventually

Amazon ◊ Barnes & Noble ◊ Kobo ◊ Libro.fm ◊ Goodreads

Up-and-coming musician Emeline Lark delays joining her first ever tour when her grandfather goes missing, thought to have been tithed to the terrible fae Wood King. Losing her only family is unbearable and Emeline is determined to save him, no matter what. This story has a decidedly gothic feel, with the forest hunting after Emeline for years before the inciting events but amping up the horrors when the book gets going.
What follows is a surprising, romantic, creepy adventure with plants growing where they shouldn't, a mysterious boy and his scary horse, a forgotten past and a possibly deadly destiny. While at times I found some of the flora to be a little much (not quite as bad as Mexican Gothic), the creep factor was just right. Themes of family, found family, sacrifice, humanity vs. the entertainment industry and what we're willing to do for love made this a solid read and the music aspects were unexpected and lovely at times.
Audio note: Caitlin Kelly is still not my favorite narrator, but I enjoyed the story enough to mostly ignore the inflection issues I have.
***
I received a copy of this book from the publisher for review.

***
If you appreciate our content and wish to support the site, please consider using the affiliate links in this post and below for your shopping needs. Even if you don't buy the book in question, we receive a small % of your purchase from the vendor. As always, we'd love for you to leave us a tip on Ko-Fi!
Support Love in Panels