This post could probably be titled something like "Getting Hunted by Monsters in Romancelandia" but we're here to talk about hunting for a good (or joyfully terrible) book, so let's get into it.
The state of the world being what it is, a lot of readers, myself included, have been looking for our HEAs on other planets, in other times, or in a variety of settings with... unusual love interests. This year so far, I've read orcs, dragons, gargoyles, demons, minotaurs, wolfmen (not shifters), a mothman and a lake monster, among others. I also tried out a couple of anthologies, with very mixed results.
Rather than recap them in different posts, I'm collecting several of these monster romances in a single shot and pretending my family will never see it. On to the books!
***
The Dragon's Bride, by Katee Robert
This is first in a series featuring a handful of women who make a deal with a mysterious figure to get married to a monster for a year and have all their human world problems go away (like an abusive husband). The Dragon's Bride is a pretty self-evident title, but here's the gist: the male love interest is a dragon-humanoid king looking for a human mate because the dragon realm is falling apart. Monstery things include chasing, breeding (a bit of a consent question there), two eggplants on one dragon. Robert has a list of CWs on her site. Overall, I felt the book didn't live up to its cover. Mostly enjoyable but not the epic work of monster f*cking I was expecting from Robert.


Deceived by the Gargoyles

, by Lillian Lark

Lark's gargoyle quad, however, was exactly what I wanted it to be. If you ever watched the animated Disney show and thought, I wonder what it would be like to be in a polyam quad with these three gargoyles? This is the delightfully spicy monster romance for you. The deception referenced in the title comes from the youngest of the three gargoyles, who goes to a matchmaker to find who he believes will be the missing piece to make their multigenerational family complete after the death of the household patriarch. He doesn't tell his partners at first nor does he tell our witch heroine, but the deception is short-lived. Deceived by the Gargoyles is in the same world as Lark's bathhouse books and I think it's her best work so far. The three gargoyles have a healthy long-term existing relationship (it's a v-shape) and live with an older couple in one big house. There's a lot of (hot) sex in many configurations, but there's also a suspense/danger plot and an underlying sweetness that balances everything out.

Monstery stuff includes breeding, light D/s play, knotting.


Games with the Orc

(Monster Smash Agency, #1), by Kathryn Moon

Kathryn Moon's upcoming orc romance is available to her Patreon patrons as a serial and available to purchase in January (originally scheduled for July, which is why it's on this list). It features a human woman who hires a sex worker through an agency. Fresh out of a long-term relationship with someone who made her feel weird for her sexual desires, Sunny hires Khell for a week of immersive play. I don't have the words for how much, how varied, or how spicy the sex is, but let's just say Moon gave her patrons what they want. It's funny though, how she manages to build a real bond between her characters even when they're bonking for 80% of the book.

Monstery stuff: chasing/primal play, mate bond, interesting eggplant and I believe special fluid?
The Company of Fiends (Tempting Monsters #2), by Kathryn Moon
On the subject of Kathryn Moon, I mentioned back in July that I was excited for her second Tempting Monsters book. These are MMOW (many men, one woman) books, but there are relationships between the men as well. This one features Hazel, a performer at the theatre Esther visits in the first book. She has sex with monsters on stage as a career, but she's kind of bored and burned out. Everything changes when she gets a new patron (an orc Daddy) and builds something deeper with two of her coworkers, a demon (wings!) and a giant (tail, four arms). She also has a new coworker no one else can work with, a demon who can split into two different beings, one who gives pleasure and one who gives pain. Hazel is half-fae, which gives her a healing ability and some extra stretch... Rounding out her merry band of five/six men is a detective out to solve the trail of murders that seem to be following Hazel. The sweetness, camaraderie and family bonds between Moon's characters takes these books from monster erotica to something romantic and honestly quite special.
Monstery stuff: wings, interesting eggplants, extra arms, special piercings, feats of sex acrobatics, gosh there's just a lot

Sweet Berries, by C. M. Nascosta
For a book about sustainable farming with a farm events planner heroine and a shy crop scientist mothman hero, this was not nearly as suited to me as it should have been. Some of Nascosta's writing of monsters comes off as really othering and this was slow paced, poorly edited and just not good enough otherwise to make me pass over those bits. I really struggled to get through this in a way that I didn't with MGMF. Still, lots of my reading friends liked it, so maybe give it a shot!
Monstery stuff: wings, a weird tongue, a very interesting (and internal) eggplant situation


Found by the Lake Monster

, by Lillian Lark

A lake monster hires a matchmaker (Lark's connected Bathhouse world) to find him a mate for what might be his last heat ever. A human with a strong interest in monster-f*cking stumbles across him while out with a monster-hunting expedition and pretends to be his date for the weekend. (The lie is quickly uncovered.) Then they both agree to a mutually beneficial arrangement and all sorts of shenanigans ensue. This book introduced me to intracervical oviposition and y'all I have found a kink I absolutely cannot read again. I was doing the "get it away from my cervix ow ow ow" dance I do when I recall my IUD insertions. I thought the plot moved very quickly from zero to forever and I wouldn't put this on my list of Lark's best work.

Monstery stuff: scary as hell eggplant, oviposition, special fluid, breeding, heat


The Half-Orc's Maiden Bride

, by Ruby Dixon

Ruby Dixon wrote an orc book! A half-orc, but his orc family plays an important role. The relationship starts out as an arranged marriage in which a human lord basically sells off his oldest daughter who is too tall and strong to be attractive to a half-orc lord nearby, thus allying their realms etc. Jokes on him, because our hero finds his new lady to be the tastiest thing since sliced cake and they of course fall madly in love. The heroine excels at managing a household and I loved that Dixon decided to make her domestic skills into a strength rather than something she should have to hate in order to be a "strong female character." Also a tall, stacked woman who gets to be feminine, an excellent hostess and get ravished in front of everyone as part of an extended wedding ritual? Sold.

Monstery stuff: extended wedding rituals, including a chasing/kidnapping bit for orc tradition, orc things


Luxuria

, by Colette Rhodes

Luxuria falls into the category of new or original world-building. The monsters here are Shades, beings that are not corporeal in the human realm and feed off of human fear. They usually live in their own shadow realm, but have to come to the human world to feed. The heroine is from (and shunned by) a society of Hunters, who live in the human world and hunt and kill Shades. She's always been attracted to shades, however, and was kicked out of Hunter society for it. Except now there's a truce and she's wed to the king of Shades to seal it. In addition to being quite spicy, there are funny bits, like how he assumes her delicious scent is fear and not the lust it actually is, or when he discovers her very explicit drawings and realizes they could have been banging the whole time.

Monstery stuff: knotting, clothes made of shadows, everyone can smell your lust, mating bite

I read two anthologies and I'm going to talk a little about each, but they're both out of print now and I recommend following the authors you like so you can pick up their stories when they inevitably release them as stand-alones.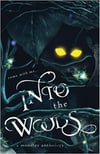 Into the Woods - This collection featured stories around a central trope or theme of getting lost in or traveling through the woods. Lots of chasing, some portal fantasy, dark smexy things happening in the forest. I was unhappy with several of the stories in this anthology because they were essentially prologues for books the authors had already written or books they were publishing soon. Ending a story with "Want more of Sid and Nancy? Check out their story in Name of Book, coming soon!" is a fantastic way to end up on my Do Not Read list. If you sign up for samples, excerpts or teasers, that's to be expected. But this anthology was a mix of complete original stories and that other nonsense, so every time I reached the end of one and got to the cliffhanger I was irritated. Lillian Lark's story was good though!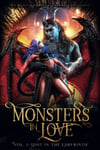 Monsters in Love: Lost in the Labyrinth - This collection was much better. It's a really long book if you read all of the stories, but there are so many to choose from that you're likely to find at least a few you like. The issues I had with Into the Woods were mostly nonexistent and the labyrinth theme was fun. As you might expect, there were several minotaur stories, but some authors were really creative and surprised me. I have the next one Lost in the Dark pre-ordered for release September 29 and there's a third, Lost in the Forest, coming in March.
***
And that's enough monster romances for now! I have a backlog of "normal" reviews for you, but don't worry, we will return to the monsters eventually.