Amy, who is Sri Lankan-American, is reading Nisha Sharma's new romance, The Takeover Effect, for Love in Panels and Nisha was gracious enough to answer her questions for us!
Read on for their discussion about writing across age ranges, weddings, and the Indian-American experience.
***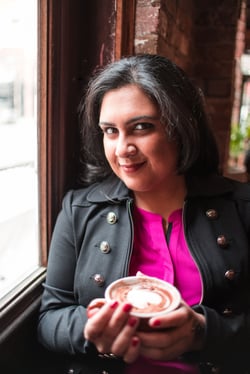 Nisha Sharma is the author of the YA novel My So-Called Bollywood Life, and the adult contemporary romance The Takeover Effect.
Her writing has been praised in NPR, Cosmopolitan, Teen Vogue, Buzzfeed, Hypable and more.
Nisha credits her father for her multiple graduate degrees, and her mother for her love of Shah Rukh Khan and Jane Austen. She lives in New Jersey with her Alaskan husband, her cat Lizzie Bennett and her dog Nancey Drew. You can find her online at nisha-sharma.com or on Twitter and Instagram at @nishawrites.
***
Before The Takeover Effect you wrote My So Called Bollywood life, another great Indian-American romance! Are there any differences between the writing process for YA Romance and Adult Romance?
First of all, thank you so much for having me, and for the MSCBL love!
My career actually started in the adult romance space, so when I switched from My So-Called Bollywood Life to writing The Takeover Effect, it felt like coming home. I was so excited to create characters with experiences that are still so fresh for me. Writing My So-Called Bollywood Life was a bit more difficult in terms of creating the authentic experience of a teenager today. I had to really focus on the voice, and reminding myself that things are different now then they were in the nineties.
I have to say though, the editing process was very similar. My YA and my adult romance editors both made me tone down some super sexiness and cut out a bunch of F words. They are just no fun.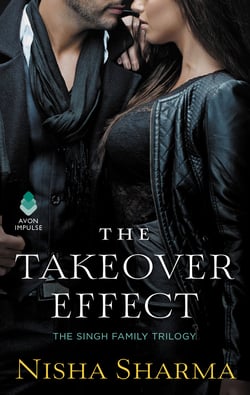 The Takeover Effect is a terrific representation of Indian and Punjabi families living in America. How did you blend traditional Indian relationships with American ones for this romance novel?
I've gotten this question before, and I am still not sure how to answer it. I think it's because I'm both Indian and American and I've experienced an Indian American relationship that I was able to tackle a love story that felt real.
I also think it's important to remember many people who come from immigrant families don't consciously blend tradition and culture with an "American" lifestyle. They just live their life and create a balance between their identities. Most importantly, culture is not monolithic. We all have different traditions, cultures, backgrounds, experiences, etc. which means that we're going to translate our stories differently, and create different relationships on the page.
The key thing to remember is that relationships all have certain elements that transcend differences: intense joy, love, heartbreak, disappointment, compromise. Those are what readers can really connect with while reading about a different reality.
The food descriptions in this book made me so hungry. How many of the places you wrote about are real? What is your favorite dish that you wrote about?
Funny enough, they are alllll real. Seriously! Mogul Express exists in Edison, NJ and I go there once every two weeks with my best friend or my husband. The gastropub exists in NY as well, but with a different name.
What can I say? I'm a foodie. I love cooking, I love eating, and I love the experience. I think my favorite dish that I mentioned in the books are paranthas. They come up again throughout the series, because it's not only the most popular of the Punjabi foods, but it's also the most identifiable and accessible for breakfast. Go get some! They're delicious.
Your blog about your big Indian wedding is a dream (congrats by the way!) When is your fabulous experience going to appear in a book?! Or your equally fabulous experience of eloping?
Haha, omg I don't know if I've recovered as of yet to put it all in a book!
So yes, my husband and I met on Shaadi.com after our mothers put us on the site in hopes of finding a suitable match. We ended up connecting, and then when it was time to get married, we eloped. Hubby and I texted a bunch of friends to meet us in Central Park last June. We bought off-the-rack sales clothes from Macys and had a small ceremony in Shakespeare's Garden. Then we went out for tacos! However, when it came time to telling our parents what we did, the repercussions that followed were not what we wanted.
Hubby and I had to go through the whole wedding song and dance routine again, except this time in a converted palace in Udaipur, Rajasthan India. It was a multi-day affair, and I feel like I spent more time in a makeup chair and posing for pictures than actually enjoying myself. Luckily, I made friends with the staff and they would sneak me chai and food. God bless them.
I hope to incorporate a big Indian wedding in one of my books, but I think I need a little time to heal from my own experiences before I get there.
[Check out the blog post here, which has tons of stunning photos!]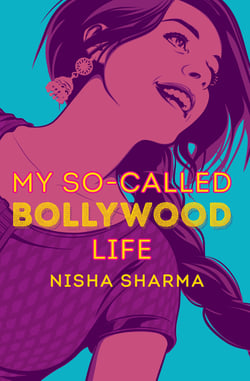 One thing that draws me to your work is your dialogue about Indian relationships in America. It's not something we see in romance novels much, and public perception of Indian love is skewed by notions of arranged marriage and things we see on TV (which aren't all that great). How do you strive to show your experience being Indian in America in your work?
I've always been told that the Indian story falls into two buckets: the first is the "authentic" story in India, and the second is the story of immigrants moving to the United States. Both are incredibly important, but what about stories like mine? What about the Indian Americans that were born and raised in small towns in Pennsylvania? Or the Indian Americans that only had white friends because of their community demographics? What about the Indians that connect with their culture in college? There are so many perspectives that have yet to be told. I plan to keep writing them until people don't have to ask the question any more.
What are you working on next?
I am finishing up edits on my second YA novel which is a companion book to My So-Called Bollywood Life. I'm also working on book 2 in the Singh Trilogy which features Raj and Ajay as the main characters. I'm super excited for you all to read about the twists in that story.
What have you read and loved lately?
I've been devouring Kristen Proby's Big Sky Series, and I'm such a huge fan of Meghan March right now. I am also reading a few cookbooks because I'm focusing on edits for my next YA book which is about a character who re-connects with her father through cooking. I'm almost through Salt, Fat, Acid Heat by Samin Nosrat which is AMAZING.
***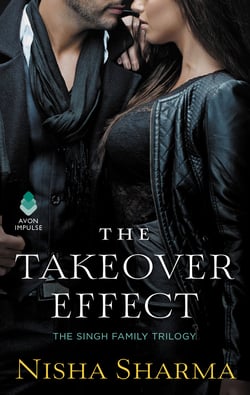 Want more?
The Takeover Effect is out on April 2, 2019. Pick up a copy at your favorite retailer:
Amazon, Barnes & Noble, Apple Books, Kobo
Hemdeep Singh knows exactly what he wants. With his intelligence and determination, he has what it takes to build his own legacy away from Bharat, Inc. and the empire his father created. But when his brother calls him home, Hem puts his dreams on hold once again to help save the company he walked away from. That's when he encounters the devastating Mina Kohli in the Bharat boardroom, and he realizes he's in for more than he had bargained.
Mina will do whatever it takes to recover control of her mother's law firm, even if it means agreeing to an arranged marriage. Her newest case assignment is to assist Bharat in the midst of a potential takeover. It could be the key to finally achieving her goal while preventing her marriage to a man she doesn't love—as long as her explosive attraction to Hem doesn't get in the way.
As Mina and Hem work to save Bharat, they not only uncover secrets that could threaten the existence of the company, but they also learn that in a winner-takes-all game, love always comes out on top.