After being buried under an overwhelming pile of new books in September, we're taking a bit of a breather in October.
As we hurtle toward a life-changing election here in the States, I hope you're able to find some time to recharge between actions. I know we all hate phone calls, but consider what you might be able to do to get out the vote, to support candidates who aren't authoritarian toadies and to help protestors who are risking their lives to fight for justice. One of my neighbors makes a lot of lasagna these days.
If you are sick and terrified and exhausted, you're not alone. But please, if something good happens to or for you? Take a minute to celebrate. You deserve to enjoy that promotion, to dance around the kitchen with your just-published book, to eat birthday cake.
Now, before I go off and write more postcards, here's a list of our October anticipated new releases (and a bunch more you might be interested in).
*
This post contains affiliate links.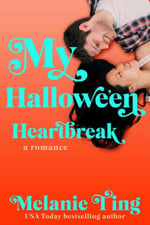 My Hallowe'en Heartbreak, by Melanie Ting - October 1

It's officially the worst Hallowe'en ever.
First, Sophia Ando gets a demotion at her big law firm. Then she discovers her boyfriend making out with another woman at a Hallowe'en party. The cherry on top of her disastrous evening is that her rideshare home is driven by Henry MacDonald—her childhood friend and secret crush. Dejected and dressed as a goofy anime character was not the look she wanted when she saw Henry again.
Henry MacDonald isn't thrilled to see Sophia either. He's just quit the indie rock band he spent the last decade with. He's turning thirty, has zero career prospects, and worst of all—he's lost the spark that inspired his music. Being her chauffeur won't impress the most accomplished person he knows—even if she is dressed as a rain-soaked Pikachu.
As a distraction from her disastrous life, Sophia decides to make Henry her next project: helping him find work, a recreational hockey team, and even a girlfriend. The only problem is that Henry prefers the matchmaker to the matches.
My Hallowe'en Heartbreak is the second book in the Holiday Hat Trick trilogy, but can be read alone. The first book is My Viral Valentine. These romcoms feature three close girlfriends, crazy hijinks in the pursuit of love, and beer league hockey—all set in the wintry capital city of Ottawa. Each story is set around a holiday.
Suzanne - I don't remember where I heard about this, but give me alllll the Halloween romance. I have pre-ordered this because: matchmaker, rain-soaked Pikachu, friends!, childhood friends to lovers, romantic comedy!

Buy a copy: Amazon ◊ Barnes & Noble ◊ Kobo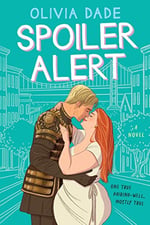 Spoiler Alert, by Olivia Dade - October 6

Olivia Dade bursts onto the scene in this delightfully fun romantic comedy set in the world of fanfiction, in which a devoted fan goes on an unexpected date with her celebrity crush, who's secretly posting fanfiction of his own.
Marcus Caster-Rupp has a secret. The world may know him as Aeneas, star of the biggest show on television, but fanfiction readers call him something else: Book!AeneasWouldNever. Marcus gets out his frustrations with the show through anonymous stories about the internet's favorite couple, Aeneas and Lavinia. But if anyone discovered his online persona, he'd be finished in Hollywood.
April Whittier has secrets of her own. A hardcore Lavinia fan, she's long hidden her fanfic and cosplay hobbies from her "real life"—but not anymore. When she dares to post her latest costume creation on Twitter, her plus-size take goes viral. And when Marcus asks her out to spite her internet critics, truth officially becomes stranger than fanfiction.
On their date, Marcus quickly realizes he wants more from April than a one-time publicity stunt. But when he discovers she's Unapologetic Lavinia Stan, his closest fandom friend, he has one more huge secret to keep from her.
With love and Marcus's career on the line, can the two of them stop hiding once and for all, or will a match made in fandom end up prematurely cancelled?
***
Melanie - I actually had a chance to read a review copy of this and I have to say, I am so excited for readers to discover this gem of a book. It's an ode to fan-fiction I love the trope of a famous person falling for a non-famous person and this really delivers on that trope.

Buy a copy: Amazon ◊ Barnes & Noble ◊ Bookshop ◊ Kobo
The Invisible Life of Addie LaRue, by V.E. Schwab - October 6

In the vein of The Time Traveler's Wife and Life After Life, The Invisible Life of Addie LaRue is New York Times bestselling author V. E. Schwab's genre-defying tour de force.
A Life No One Will Remember. A Story You Will Never Forget.
France, 1714: in a moment of desperation, a young woman makes a Faustian bargain to live forever—and is cursed to be forgotten by everyone she meets.
Thus begins the extraordinary life of Addie LaRue, and a dazzling adventure that will play out across centuries and continents, across history and art, as a young woman learns how far she will go to leave her mark on the world.
But everything changes when, after nearly 300 years, Addie stumbles across a young man in a hidden bookstore and he remembers her name.
***
Suzanne - Schwab described this as the book of her heart, the one that has been simmering in the back of her mind for years and I'm really excited to read it. Not just because it starts out in 1700's France...

Buy a copy: Amazon ◊ Barnes & Noble (Exclusive w/extra story) ◊ Bookshop ◊ Kobo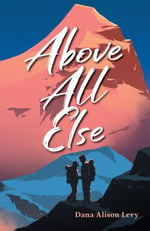 Above All Else
, by Dana Alison Levy - October 13

In a novel as riveting, irresistible, and heartbreaking as Into Thin Air, teen climbing prodigies Rose and Tate attempt to summit--and survive--Mount Everest.
Rose Keller and Tate Russo have been climbing for years, training in harsh weather and traveling all over the world. The goal that kept them going? Summiting Mount Everest, the highest point on earth. Accompanied by Tate's dad, the two will finally make the ultimate climb at the end of their senior year. But neither Rose nor Tate are fully in the game--not only is there a simmering romance between them, but Rose can't get her mind off her mother's illness, while Tate constantly fails to live up to his ambitious father's standards.
Everyone on their expedition has something to prove, it seems. And not everyone is making the best decisions while short on oxygen and exhausted, body and mind. The farther up the mountain they go, the more their climbing plans unravel and the more isolated each team member becomes. Rose and Tate will have to dig deep within themselves to determine what--or who--they value above all else.
***
Andrea - In this time of constantly feeling like I'm achieving nothing and not summiting even the tiniest metaphorical mountains, I think it's going to feel really satisfying to join these two kids on their epic journey.

Buy a copy: Amazon ◊ Barnes & Noble ◊ Bookshop ◊ Kobo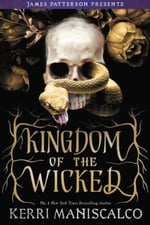 The Kingdom of the Wicked, by Kerri Manisculo - October 27

Two sisters.
One brutal murder.
A quest for vengeance that will unleash Hell itself...
And an intoxicating romance.
Emilia and her twin sister Vittoria are streghe - witches who live secretly among humans, avoiding notice and persecution. One night, Vittoria misses dinner service at the family's renowned Sicilian restaurant. Emilia soon finds the body of her beloved twin...desecrated beyond belief. Devastated, Emilia sets out to find her sister's killer and to seek vengeance at any cost-even if it means using dark magic that's been long forbidden.
Then Emilia meets Wrath, one of the Wicked-princes of Hell she has been warned against in tales since she was a child. Wrath claims to be on Emilia's side, tasked by his master with solving the series of women's murders on the island. But when it comes to the Wicked, nothing is at is seems...
***
Suzanne - Witches witches witches

Buy a copy: Amazon ◊ Barnes & Noble (Exclusive w/ Jacket) ◊ Bookshop ◊ Kobo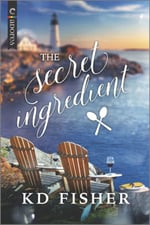 The Secret Ingredient, by KD Fisher - October 27

Two amazing chefs. Two very different restaurants. One recipe for love.
For single mom Adah Campbell, the executive chef job at a posh restaurant in quaint South Bay, Maine is a dream come true—and the perfect opportunity to start over, far away from a home that's never felt entirely hers. But fitting in has never been easy, and between a new town, a new boss, and the unexpectedly attractive owner of a rival café, things get off to a rocky start.
Never did free-spirited Beth Summers think she'd still be in Maine. Travel the world gathering delicious recipes and finding friends and lovers? Absolutely. Step in to run her family's small-town café? Not so much. However, once Beth commits to something, that's it. Soon, The Yellow House is the hottest spot in town, but Beth's out of energy—and out of ideas for moving forward.
Until Adah Campbell walks into her life. As sparks fly, both chefs have to decide if they are willing to make sacrifices...or if it's really too many cooks in the kitchen.
***
Suzanne - Foodie f/f! Fisher is (sort of) local to me, so I expect that this will be full of comforting regional references.

Buy a copy: Amazon ◊ Barnes & Noble ◊ Bookshop ◊ Kobo
Suzanne - I also want to make everyone aware of this group of Black Romance Halloween books, dropping at the end of the month. I don't have any links yet, but I'll be picking them up!
Also out this month:
(All titles in red are links to Amazon)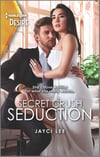 October 1 - Secret Crush Seduction, by Jayci Lee
October 1- After Hours Redemption, by Kianna Alexander
October 6 - In a Holidaze, by Christina Lauren
October 6 - Murder on Cold Street, by Sherry Thomas
October 6 - Mistletoe and Mr. Right, by Sarah Morgenthaler
October 6 - The Code for Love and Heartbreak, by Jillian Cantor
October 6 - A Cuban Girl's Guide to Tea and Tomorrow, by Laura Namey Taylor
October 12 - The Vicar and the Rake, by Annabelle Greene
October 13 - Simmer Down, by Sarah Smith
October 13 - The Once and Future Witches, by Alix E. Harrow
October 13 - Black Sun, by Rebecca Roanhorse
October 13 - Storm the Earth, by Rebecca Kim Wells (second in series)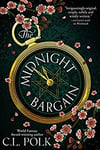 October 13 - The Midnight Bargain, by C.L. Polk
October 13 - Daughters of Jubilation, by Kara Lee Corthron
October 13 - White Trash Warlock, by David R. Slayton
October 13 - Twice Shy, by Aurora Rey
October 13 - The Twelve Dates of Christmas, by Jenny Bayliss
October 13 - Beyond the Ruby Veil, by Mara Fitzgerald
October 13 - Any Rogue Will Do, by Bethany Bennett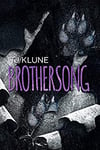 October 13 - The Raven Lady, by Sharon Lynn Fisher
October 13 - Brothersong, by T.J. Klune
October 13 - A Princess for Christmas, by Jenny Holiday
October 13 -
A Golden Fury
, by Samantha Cohoe
October 20 - Together, Apart - YA Anthology
October 20 - Plain Bad Heroines, by Emily M. Danforth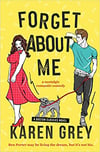 October 22 - Forget About Me, by Karen Grey
October 27 - Crazy Stupid Bromance, by Lyssa Kay Adams
October 27 - Jane in Love, by Rachel Givney
October 27 - Blacklisted, by Jay Crownover
October 27 - The Sacrifice of Darkness, by Roxane Gay and Tracy Lynne Oliver (graphic novel)
October 27 - Tall, Duke, and Dangerous, by Megan Frampton
October 27 - If the Boot Fits, by Rebekah Weatherspoon
October 27 - The Duke Effect, by Sophie Jordan
Want to support us and indie bookstores at the same time? All print books on this list have been collected in a list over at Bookshop, too!
Reminder!
LGBTQ Reads keeps a list of new releases that includes queer fiction of every genre.
WoC in Romance publishes new release lists roughly weekly.
Girl Have You Read does the same.
What books are you looking forward to this month?
***
If you appreciate our content and wish to support the site, please consider using the affiliate links in this post and below for your shopping needs. Even if you don't buy the book in question, we receive a small % of your purchase from the vendor. As always, you are welcome to leave us a tip on Ko-Fi!
Support Love in Panels