We are officially in the Spooky Season! Hocus Pocus 2 is on Disney + starting September 30, so I'm not sure why you're even reading this instead of watching the Sanderson sisters rise again. But...
If you haven't already, check out these two fun reading bingo challenges:
But Do They Bang: Bang in the Night 2: The Monster Smash - This is not all about monsters, but is really quite flexible and spooky/spoopy. Runs September 19-October 31.
Fall In Love Bingo - General fall theme, runs September 1-November 30. These are quarterly, so if you miss it you can expect one for winter afterward. (Please, I hope Jen and Aarya continue!)
My birthday is this month, so I'm probably going to be up to some nonsense (and maybe yelling about the Supreme Court, sorry) over on Instagram where I'm @loveinpanels.
I also want to mention that October is when the majority of Christmas romances are released. Those aren't my thing, so I didn't include many on this list. They're everywhere though, so enjoy!
Happy October!
This post contains affiliate links.
Books I've Read Early:
Disclosure: I received copies of these books from the publisher for review.
Built to Last, by Erin Hahn - Former teen TV stars are reunited for a home renovation show in this estranged-friends to lovers romance. Built to Last reads a bit like Birds of California and made me wonder if we're getting a new micro-genre: the Britney Spears/Lindsay Lohan redemption romance. These books feature heroines who were famous as young teens, then went off the metaphorical rails in full view of an intrusive, exploitative media and public. Now they've been out of the spotlight for years and have worked to rebuild their lives and recover from trauma, only to be roped back into it when someone else wants a reboot. This is Hahn's adult debut, so if you've liked her YA and want a more adult vibe (complete with open door sex scenes) this might work for you.
The Orc From the Office, by Kate Prior - Reviewed here. Workplace monster romance between a human HR employee and an orc who works in IT.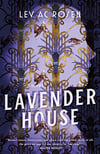 Lavender House, by Lev A.C. Rosen - I reviewed this for Shelf Awareness and I really liked it! It's a queer Knives Out, with found family, a soap empire and a maybe-murder at the center. Readers should be aware though that there is a detailed on-page gay bashing that was hard to read and that the main character is a disgraced cop, kicked off the force when he was caught in a raid on a gay club.
The Story of the Hundred Promises, by Neil Cochrane - Whatever you hear, this is not a retelling of Beauty & the Beast. I was lured in by the premise of trans Beauty & the Beast and that was a lie. However, if you go into it knowing that this is a weird fantasy novel with one part road trip, one part nonbinary enchanter (the Wicked Witch in all the stories), one part trans sailor trying to save someone and one part strained family relationships, you'll be on the right track. This is very queer and I had a good time, but it is absolutely not a BatB retelling, loose or otherwise.
Also out this month (not all are romance):
All titles in red are links to Amazon. Check out the full list here.
October 1 - The Orc From the Office, by Kate Prior (Reviewed here)
October 4 - When Life Gives You Vampires, by Gloria Duke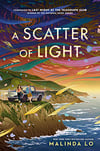 October 4 - You're a Mean One, Matthew Prince, by Timothy Janovsky
October 4 - Blackmail and Bibingka, by Mia P. Manansala
October 4 - A Scatter of Light, by Malinda Lo
October 4 - Hallows End, by Kristen Proby
October 4 - So This is Christmas, by Jenny Holiday
October 4 - Extra Witchy, by Ann Aguirre
October 4 - Just Like Magic, by Sarah Hogle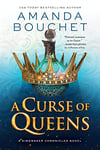 October 4 - A Curse of Queens, by Amanda Bouchet
October 4 - A Little Too Late, by Sarina Bowen
October 4 - Peculiar Tastes series (6 books, ebook versions following Kickstarter with Bonkers Romance)
October 4 - Bad Bishop, by Layla Reyne
October 4 - The Story of the Hundred Promises, by Neil Cochrane
October 4 - Anne of Greenville (Graphic Novel), by Mariko Tamaki
October 4 - Hollow (Graphic Novel), by Shannon Watters, Branden Boyer-White and Berenice Nelle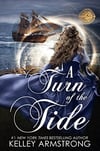 October 4 - A Turn of the Tide, by Kelley Armstrong
October 6 - Quarantined Alien Prisoner, by Robin Lovett
October 7 - Bound by the Monster: A Monster Erotica Anthology
October 11 - The Belle of Belgrave Square, by Mimi Matthews
October 11 - Season of Love, by Helena Greer
October 11 - Mistakes Were Made, by Meryl Wilsner
October 11 - The Kraken's Sacrifice, by Katee Robert

October 11 - Lore Olympus Vol. 3, by Rachel Smythe
October 11 - On the Hustle, by Adriana Herrera
October 11 - Mirka Andolfo's Sweet Paprika, Vol. 2 (Graphic novel)
October 11 - The Player Next Door, by Elizabeth Davis
October 11 - Princess of Souls, by Alexandra Christo
October 11 - Hard Pressed, by Aurora Rey
October 18 - What Moves the Dead, by T. Kingfisher
October 18 - Own Me, by Lily X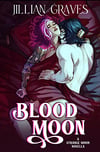 October 18 - Blood Moon, by Jillian Graves
October 18 - Lavender House, by Lev A.C. Rosen
October 18 - Partners in Crime, by Alisha Rai
October 18 - Built to Last, by Erin Hahn
October 18 - A Cosmic Kind of Love, by Samantha Young
October 18 - Love From Mecca to Medina, by S.K. Ali - chcek date
October 18 - Nothing Sung and Nothing Spoken, by Nita Tyndall
October 21 - Sabbatical, by Katrina Jackson
October 25 - Into the Riverlands, by Nghi Vo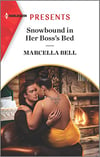 October 25 - Snowbound in Her Boss's Bed (a Hanukkah holiday romance), by Marcella Bell
October 25 - Imperfect Angel, by Christi Barth
October 25 - The Stand-Up Groomsman, by Jackie Lau
October 25 - Archangel's Resurrection (Guild Hunter #15), by Nalini Singh
October 25 - Enchanted by Her, by Chelsea M. Cameron
October 25 - A Touch of Moonlight, by Yaffia S. Santos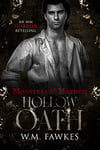 October 28 - Hollow Oath, by W.M. Fawkes (Part of a multi-author m/m horror series)
October 31 - Resting Witch Face, by Juliette Cross
October 31 - Faith & the Dead End Devils, by Kathryn Moon
Reminder: all of these books are collected in a list over at Amazon for your convenience.
What October books are you looking forward to reading?
***
If you appreciate our content and wish to support the site, please consider using the affiliate links in this post and below for your shopping needs. As always, you are welcome to leave us a tip on Ko-Fi!
Support Love in Panels