It's with great excitement that today we get to help The Ripped Bodice launch a new venture: a subscription box!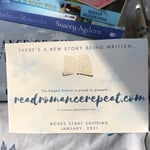 Read, Romance, Repeat is a new monthly romance subscription box that will contain two new print romance novels and a special extra just for fun. (All of this box is for fun.) From The Ripped Bodice: "Each box contains two adult romance novels and a gift/tchotchke such as a notebook, candle or socks."
The site for the subscription box is different from the main store site for logistical reasons, so you may want to bookmark both.
Before we dive into some amateur photos and description, a disclosure: I received the December 2020 box from The Ripped Bodice for review purposes. I am not receiving a commission or discount on RRR or any other products mentioned in this post.
On to the fun!
The December 2020 box includes If the Boot Fits by Rebekah Weatherspoon, Miracles and Menorahs, by Stacey Agdern, and a Christmassy candle from Wilderess Candles, a small company in Long Beach, CA. The first box ships in January 2021, so I think this one is just to launch the service. But you can definitely order these books through their regular site.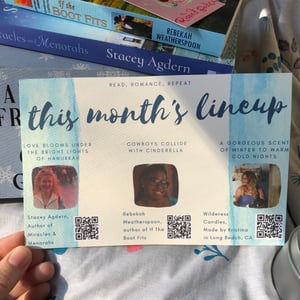 PS: I shared an unboxing video on Instagram in case you want to hear me ramble.
What makes this box different from others:
- If you choose to, you can see ahead of time which books will be in the boxes. As co-owner Leah Koch says, "It's important to give people that choice," says Koch. "I personally love
being surprised, but so many romance readers are prolific pre-orderers and we want to
give them the option to be able to see what's coming up in the next box so they don't
double-order." January and February book spoilers are posted on the site now.
- Content warnings! To offer spoilers and content warnings, but put them behind a link so readers are able to make a choice, shows consideration of all readers.
- Shipping and subscription options are straightforward. RRR is $40 with shipping included, but the math works out to roughly the same as other boxes once you add in their shipping. Plus, readers can subscribe to the 6 or 12 month plans and prepay for a 10% discount. Only downside there is that you can't choose to skip a month like you can with the monthly version.
- It's about the books. Your mileage may vary on this, but I end up using maybe 1-2 items from the boxes that feature one book and many little items. Bae Crate, for example, is $29/month plus shipping and includes one trade paperback OR two mass market paperbacks plus 4-5 extras. Then you add in the shipping and it's almost the same price as RRR, so to me it comes down to whether you want to pay for an extra book or extra items. That said, the candle and the bookmark in this box are excellent.
- So far, there aren't special editions of books or things like character art, but I maybe as the service matures (assuming it's as successful as I hope!) we'll get fun things like variant covers, sprayed edges and some of the fun things that make those YA book boxes so fun.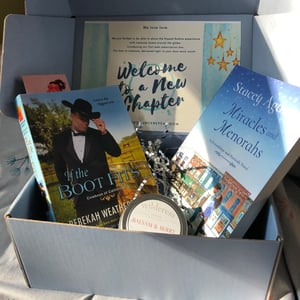 ***
For more information or to subscribe, head on over to https://readromancerepeat.com.
If you'd like to read the entire press release about this new venture, I've shared it below.
***
November 9 - As the pandemic continues to fuel our collective need for escapism and
"happily ever afters," Los Angeles-based bookstore The Ripped Bodice announced
today the launch of a new subscription box called Read, Romance, Repeat. Co-owner
Leah Koch says that the new service will be a vital move in order for the store to remain
viable in a world that has been turned upside-down by COVID-19. In compliance with
California health and safety orders, The Ripped Bodice closed to in-person shopping in
mid-March and reopened to the public, with strict safety protocols, in late June. Koch
spent the closure alone in the stock room, filling hundreds of online orders a
week--many for the store's pandemic-inspired care package service--and making daily
trips to the post office. She struggles to find words to describe those months: "I was so
focused on finding a way to keep the business afloat and making sure our staff could be
paid while they stayed home and safe. I was spending 8-10 hours each day alone at the
store; it was a grind and it was pretty lonely." While they have now been open for
in-store browsing for several months, foot traffic remains sluggish. "People are reading
more, which does help with our online sales, but the in-person experience and
community was a major part of why we decided to open a brick-and-mortar store, and
that just vanished overnight."
It has been difficult for Koch to keep a positive outlook over the past few months.
An independent bookstore has closed every single week since the pandemic started. Koch says her heart breaks every time she reads of another store closing, but
will leave no stone unturned in her effort to make sure that The Ripped Bodice is able to
retain their staff and remain open. One of the new avenues Koch is exploring is their
new subscription service Read, Romance Repeat. The idea of a subscription box is not
new. "Customers have been asking for it for years, I just kept saying I didn't have the
time to devote to it. Well, I finally found the time!" Koch reports.
Each box features two adult romance novels chosen by the Koch sisters and
their team of booksellers. They take a wide ranging approach, making sure to look
across all subgenres of romance and at a wide array of authors. "I am really excited to
get to introduce people to new authors through the box!" says Koch. "Of course, we're
not going to neglect all the wonderful romance favorites, but both the January and
February boxes include an adult romance debut." While they won't spoil the secret for
customers who want to be surprised, there is an option on the website to view the
upcoming titles. "It's important to give people that choice," says Koch. "I personally love
being surprised, but so many romance readers are prolific pre-orderers and we want to
give them the option to be able to see what's coming up in the next box so they don't
double-order."
Each month's box also includes an additional gift item, or as Koch is fond of
referring to them as, tchotkes. Koch says her favorite part of the process thus far is
choosing these gift items to accompany the books. "It's a wonderful chance to get to
work with small makers, many of whom we've been working with and selling at the store
for years. The pandemic has impacted their businesses, too, so it feels great to be able
to support each other through these times." In terms of what customers can expect, "I
love candles, so it will be a struggle not to put them in every box! But we have all kinds
of cool things planned: tote bags, greeting cards, and we're really focusing on the
self-care everyone needs so desperately right now."
Heading into a holiday season that typically accounts for as much as 30% of The
Ripped Bodice's yearly revenue, Koch is cautiously optimistic. "Our customers have
been absolutely fantastic throughout this time," she says. "Practically every day we get
an email saying 'what can we do? How can we support you?' and we really hope our
community is as excited for this new chapter as we are."