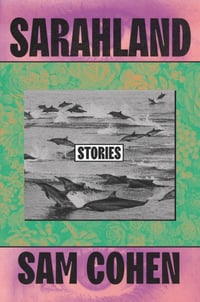 Though it's not romance, I thought a lot of you might be interested in Sarahland, a queer, kinda weird collection of stories about many different Sarahs.
It releases this week on March 9th and we're giving away two print copies courtesy of the publisher, Grand Central! More about the book and a link to the giveaway down at the bottom of the post.
You can also pick up a copy of your own and support Love in Panels with one of these links: Amazon, Barnes & Noble, Bookshop, Kobo, Libro.fm
About the Book

"Queer, dirty, insightful, and so funny" (Andrea Lawlor), this coyly revolutionary debut story collection imagines new origins and futures for its cast of unforgettable protagonists—almost all of whom are named Sarah.
In Sarahland, Sam Cohen brilliantly and often hilariously explores the ways in which traditional stories have failed us, both demanding and thrillingly providing for its cast of Sarahs new origin stories, new ways to love the planet and those inhabiting it, and new possibilities for life itself. In one story, a Jewish college Sarah passively consents to a form-life in pursuit of an MRS degree and is swept into a culture of normalized sexual violence. Another reveals a version of Sarah finding pleasure—and a new set of problems—by playing dead for a wealthy necrophiliac. A Buffy-loving Sarah uses fan fiction to work through romantic obsession. As the collection progresses, Cohen explodes this search for self, insisting that we have more to resist and repair than our own personal narratives. Readers witness as the ever-evolving "Sarah" gets recast: as a bible-era trans woman, an aging lesbian literally growing roots, a being who transcends the earth as we know it. While Cohen presents a world that will clearly someday end, "Sarah" will continue.
In each Sarah's refusal to adhere to a single narrative, she potentially builds a better home for us all, a place to live that demands no fixity of self, no plague of consumerism, no bodily compromise, a place called Sarahland.
About the Author

Sam Cohen was born and raised in suburban Detroit. Her fiction is published in Fence, Bomb, Diagram, and Gulf Coast, among others. The recipient of a MacDowell fellowship and a PhD fellow at the University of Southern California, Cohen lives in Los Angeles.
Find Sam on Instagram: @sammiterrestrial
About the Giveaway
- Grand Central Pub is giving away two hardcover copies of Sarahland! These will be sent directly by the publisher and winners will give their mailing address to Grand Central for shipping.
- This giveaway is open to residents of the US and Canada only. Must be 18 or older to enter.
- You can enter in multiple ways, but stick to one email address. No giveaway accounts.
- Giveaway runs from 3/8/21 - 3/10/21. Winners will be notified on 3/11/21.
On to the giveaway and good luck!
a Rafflecopter giveaway