This is the second in a series of LGBTQ+ romance lists Sarah has written just for you! Sarah runs a couple of queer book clubs, including Rainbow Readers of Massachusetts, which you can find on Facebook. Find her on Twitter @queer_reader. Her first list was about m/m romance series featuring the same couple for multiple books.
***
For those who enjoy things on the kinkier side of the scale here are 10 of my favorite kinky romances.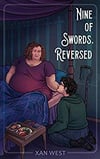 Nine of Swords Reversed, by Xan West
Non-sexualized service kink novelette with gender-fluid characters navigating chronic pain, depression and communicating their desires. Also ghosts and magic!
Possibilities, by Nicole Field
Genderfluid court jester and the king who falls for them. Contains non-sexualized service kink.
Gumroad (Direct from Author)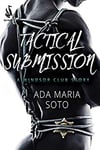 Tactical Submission, by Ada Maria Soto
Slow building BDSM D/s romance between a swat officer and medical examiner that is incredibly loving and tender. Beautifully written and also a well done depiction of polyamory.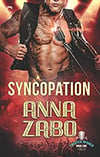 Syncopation, by Anna Zabo
Lead singer with anxiety and a drummer from his past joins the band and sparks fly... D/s
To Seek and to Find, by Tamryn Eradani
Slice of life BDSM D/s story with classic contract relationship that navigates a new relationship with roleplay and trying new things out. Quirky and fun.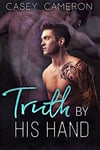 Truth by His Hand, by Casey Cameron
River is trying to get into kink and is having trouble navigating his wants and desires. Enter Ellison who helps him navigate his desires even when River gets so deep in his own head. Queer found family, vagina paintings, kick ass side characters and the most realistic portrayal of navigating kink as newbie.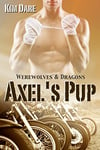 Axel's Pup, by Kim Dare
Kinky werewolves and human biker gang. 600 page behemoth that is amazing on every page. A very straight forward D/s relationship but in a world where werewolves exist and Brayden just desperately wants a pack to live with and Axel will help him along that path.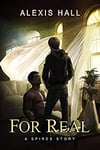 For Real, by Alexis Hall
Cranky jaded older sub, newbie Dom who is doing is best. Age gap romance with a heavy dose of D/s dynamic.
Subs Club Series, by JA Rock
From domestic discipline to knife play to fashion paraphilia, and from family drama to new jobs to first loves, the members of the Subs Club explore life's kinks inside and outside of the bedroom as they attempt to let go of the past and move forward
Amazon (5 book series)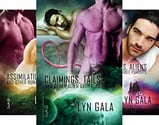 Claimings, by Lyn Gala
Linguist Liam is on the planet Rownt learning about its people as he communicates while working as market trader and escaping his own past. Ondry may not understand human culture but he recognizes a kindred spirit in Liam. Navigation of culture, space, kink, and slightly incompatible genitalia Liam and Ondry navigate and build their relationship.
Amazon (audio is on Hoopla now!)