Veronica Scott is back to recommend four April sci-fi romance titles for your enjoyment!
***
I have a variety of scifi romance novels for you this month.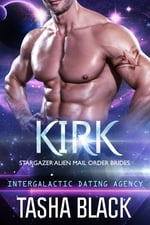 Kirk: Stargazer Alien Mail Order Brides #10, by Tasha Black
First up is Kirk: Stargazer Alien Mail Order Brides #10 (Intergalactic Dating Agency) by USA Today Best Selling author Tasha Black. This story was fun from its beginning at a comic convention to the Happy Ever After ending. Heroine Kate Henderson is an actress stuck in the plight of having played a much beloved teenager aboard a fictional spaceship in an old scifi TV show, whose fans want her to remain that character forever. No one else will cast her because she's so identified with being 'Katie Bly'. Her catchphrase: "Be yourself and worlds will follow."
I enjoyed the comic con scene and Kate's interactions with her fans were wonderful – she's able to see the encounters from both sides, i.e. her own utter weariness with being Katie and the fan's joy at meeting her and sharing their story of what Katie meant to them. The author sprinkles just enough anecdotes and vignettes from behind the scenes of the fictional show to make us wish for more.
Kirk and his two brothers are aliens from the planet Aerie, who've been placed into drop dead handsome human male bodies and sent by their leaders to find human women with whom to 'click' as lifelong mates and become permanently human. Author Black gives us just enough backstory and worldbuilding as we go to explain the overall series construct but her story stays front and center. The book is fine as a standalone. It was especially amusing to watch Kirk navigate the convention, with no idea about cosplayers or much of anything else about the utter unreality of the things he's seeing. Yet he's the real alien in their midst. A mutual friend has sent Kirk to find Kate, in hopes she can protect the trio while they search for the right mates.
Kate missed that email and thinks he's a human bodyguard sent to protect her from a former co-star stalker.
Usually mistaken identity plots drive me crazy but Ms. Black handles it all with deft humor and soon enough Kate and Kirk arrive at the truth of the situation, but there are many twists and turns yet to go before the HEA. The fact that Kirk basically has a superpower and Kate is a minor celebrity enables them to outwit the bad guy, while working through their feelings toward each other.
I have a feeling the next books in the series will focus on Kirk's two brothers (remember them?) and the two girlfriends Kate was sharing her comic con hotel suite with. Stay tuned!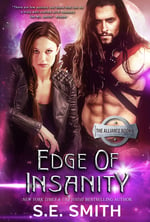 Edge of Insanity: The Alliance, Book 6, by S. E. Smith
New York Times and USA Today Best Selling author S. E. Smith delivers an action packed story in her Edge of Insanity: The Alliance Book 6. The hero is Edge, a Trivator warrior held captive and tortured by enemy aliens on a huge space station deep in the other species' territory. The heroine is Lina Daniels, a human woman far from Earth, previously abducted by yet another group of aliens. She's been hiding out in the depths of the same space station for a long time, with a few others, waiting and hoping for a chance to find the right man to pilot a derelict ship. When she finds Edge, he's near death and at first thinks she's his Goddess and "very bossy" as she orders him not to die on her. He soon realizes she's actually his amate, the "one thing a warrior craved above all," a woman to love and protect.
Of course there are a lot of obstacles between Edge and the happy ending, not least of which is Lina's hatred for Trivators in general and him in particular, dating back to early days on Earth. "She thought she had finally closed and locked the door on that part of her life…"
Since we're six books in on the Alliance series, there's obviously been a lot of worldbuilding and backstory. This book works fine as a standalone, but if you've read the earlier novels, you'll enjoy seeing a few of the characters reappear and the many alien races, and interstellar politics will be more familiar.
That said, I loved all the skulking the women did in the depths of the space station and how they outwitted the evil aliens at every turn. It was clever and amusing at times. There were several really exciting action sequences, beginning with the incredibly difficult rescue operation to free Edge. It was enjoyable to watch the suspicious women change their minds slowly about Edge, and how he had to change his own preconceived ideas. The battle of wits between him and Lina makes a good centerpiece, with enough uncertainty to keep me turning the pages to see how the obstacles would be surmounted.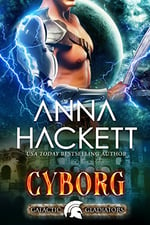 Cyborg: A Scifi Alien Romance (Galactic Gladiators, Book 10), by Anna Hackett
Buy It: Amazon
USA Today Best Selling author Anna Hackett is back with Cyborg: A Scifi Alien Romance (Galactic Gladiators Book 10), another tale set on her wild and dangerous planet of Carthago, featuring the efforts of a group of gladiators and their allies to find and rescue all the human women kidnapped from a research station. There's no question of any return to Earth, but at least the women will be safe within the various gladiatorial houses and affiliated establishments. I thoroughly enjoy these books and the newest one features scientist Ever Haynes, who has become pregnant with a cyborg's baby during her captivity. She was rescued in a previous book by Magnus, the cyborg in question and head of the House of Rone.
Several problems – he doesn't remember their encounter when both were prisoners of the slavers, he doesn't have emotions (except oh of course he does where Ever is concerned), she's very stubborn…have I listed enough challenges for them yet? When he gives up his man cave game room so she can have a lab, we know he's a goner. He's a very good guy, never doubts her story, totally prepared to take care of her and the baby, kill anyone who threatens her, and help rescue the last remaining human woman if anyone can find her. I think I'm kind of in love with Magnus myself here.
Ever thinks "It was mind bogglingly strange that she went from a practical, Army-trained scientist to a victim of alien slavers and then in the blink of an eye, she was now pregnant with a cyborg's baby and living on a far-flung desert world." She's got all her memories of how kind Magnus was to her in the awful place and she's determined to help him unbend, find his emotions and fall in love with her. Magnus continually fights his 'emotional dampers' but realizes "this woman cuts through [them] like an electroblade through metal." He realizes "It was far easier to save lives and run a gladiatorial house on a dangerous planet without emotions interfering."
Easier maybe but not nearly as satisfying as having Ever in his life.
I read this one in a single sitting and can't wait for the next book.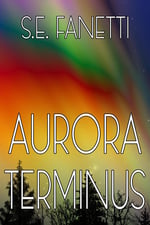 Aurora Terminus, by S. E. Fanetti
Something totally different, if you're a fan of gritty post-apocalyptic scifi stories is Aurora Terminus by S. E. Fanetti. I've been raving about this one. Caveat: it's not a romance although there's a very satisfying romance in the book and a Happy for Now ending. No zombies but many other grim occurrences, as there would be after the End of the World As We Know It. Including one or two that really upset me, realistic though they were. So be forewarned. But I could not put the book down because I was riveted by the indomitable, clever heroine who used to create kickass electronic video games before the EOTWAWKI. There's also a really wonderful group of survivors (a rather ingenious twist by author Fanetti that I hadn't seen before)…but I don't do spoilers – sorry!
What new SFR titles have you been enjoying?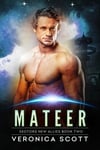 USA Today Best Selling Author Veronica Scott is a seven-time recipient of the SFR Galaxy Award, and has written a number of science-fiction and fantasy romances. Her latest release is Mateer (A Badari Warriors SciFi Romance Novel). You can find out more about her and her books at veronicascott.wordpress.com