Time to serve up some scifi romance Best Bets mini reviews for your end of summer reading pleasure!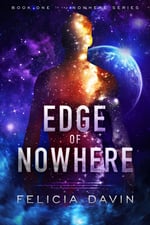 Edge of Nowhere, by Felicia Davin
Buy It: Amazon, iBooks, Kobo, Barnes & Noble
At first glance the plot of Edge of Nowhere by Felicia Davin reminded me a little of the movie 'Transporter' (which I enjoyed), only with a M/M romance and science fiction elements. I'm here to tell you the plots are not similar and I thoroughly enjoyed the clever, twisty events unfolding in the novel. Hero Kit Jackson has the power to teleport himself through the mysterious Nowhere, and to carry people or packages with him. He's living on the fringes of life, crashing in an apartment above a restaurant, making enough to live and support his recycled clothing fashion addiction. Kit's also very discreet. As he says, "… just a courier, but he had enough money to do what he wanted and he was nobody's lab rat."
I want to visit the restaurant and be friends with former pop star Zinnia Jackson and her wife Louann who run the place because not only was the food as described fabulous, the couple are loyal to Kit no matter what happens. The world building was wonderful in the book, full of lived-in details that make the reader feel they could step right into the scene and feel at home.
And of course plenty happens. Fellow runners are disappearing. Kit gets an offer from Quint Services to do a job that pays 'buy-yourself-a-personal-spaceship' kind of money. All paid under the table of course, because that's Kit's shadowy world. Against his better judgment he shows up to do the job and finds out a blindfolded, sedated out of his mind, hunky security officer by the name of Emil Singh is the item to be transported. Kit quells his qualms and they head off to the co-ordinates for an asteroid space base… but they never arrive. The usually empty Nowhere suddenly has occupants of unknown origin, one of which knocks Kit and his passenger violently off their path and onto a desert planet somewhere.
In the beginning Emil seems much more uptight and conservative than Kit, making them an odd match, but as the events unfold, we learn a lot more about both of them. Emil's first view of Kit is "short and slender, purple-haired, tan-skinned…didn't look like anyone else who worked at Quint Services…" Kit's fashion choices are a bit off the wall as well, at least compared to the uniforms Emil's used to.
Suffice it to say there's a lot of traveling – back to Kit's room at the restaurant, to the asteroid, to a secret locked room, in and out of the Nowhere – there are underhanded schemes going on and some people who aren't what they seem, while others are much more than they seem. There are even cats involved. It's a solid science fiction tale and the romance is wonderfully satisfying. In the beginning I couldn't see how these two disparate souls would ever find enough common ground to be together, although each has yearnings for the other…but the author does a smooth job of showing the relationship develop and deepen. There's a Happy for Now ending and a forthcoming sequel, which I'm impatiently awaiting. The ending is not a cliffhanger, just leaves more to be discovered in later books.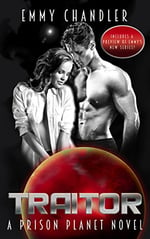 Traitor, Prison Planet Book 6, by Emmy Chandler
Buy It: Amazon
Emmy Chandler's Prison Planet series is dark, hot and violent and a lot of unpleasant things happen. As you would expect on a remote prison planet where inmates are made to fight to the death for the viewing enjoyment of spectators galaxywide. Not my normal scifi romance fare BUT she writes the stories so well and makes the characters so compelling I can't stop caring about them and I can't stop reading. In Traitor, the sixth and final book of the series, the heroine Mallory Landrum has had a very hard life, culminating in being framed and sentenced to Rhodon, the prison planet. She escapes in the crash of the rich sponsor party blimp which also set events in motion in the fifth book, Hostage. Mallory's stronger than she realizes, but not enough to survive as a woman alone in the murderous Zone Three, where all the past Arena champions have been sent, along with other equally unsavory lowlifes.
Barrett Oliver is one of the champions of yore, huge, fast, deadly, with a past as dark as any other resident of the planet, but he has a soft spot for Mallory. He can't speak due to an old injury and has terrible blackouts during which he gets violent beyond belief…but he resolves to take care of her.
She can't read or write but she's very skillful at intuiting what Barrett is trying to tell her.
I enjoyed watching these two injured souls fall in love and work to survive the horrors of Rhodon life. And yes, there were many steamy scenes, which author Chandler writes well. Hanging over the pair of lovers is something else they share, much more than Mallory understands – past servitude to Varian Roys, a sadistic Mafioso-like warlord who is now also sentenced to life on Rhodon. He'd give anything to find them and Barrett would give almost anything to kill Varian. But will he sacrifice Mallory?
I'm sure you can guess the answer to that if you've ever read an angsty romance novel. A satisfying Happy For Now ending is definitely reached, with help from some old friends readers will recognize. I love getting a chance to revisit favorite characters from past books and seeing how they're doing.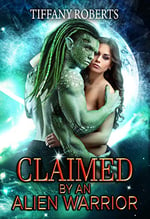 Claimed by An Alien Warrior: BBW Alien Romance, by Tiffany Roberts
Buy It: Amazon
Claimed by An Alien Warrior: BBW Alien Romance by the husband and wife writing duo that is Tiffany Roberts, is just newly released and wow, what a roller coaster ride. Heroine Zoey loses her job, her apartment and her worthless two-timing, confidence-sapping boyfriend in the same day and packs her car to leave town and make a cross country trip home.
Four-armed, four-eyed, green-but-sexy-as-all-get-out warrior Rendash has been held in captivity and tortured for years by a shadowy government agency. All his alien companions died and only he is left, full of rage and determined to escape. So when the transport van he's being moved in breaks down and he gets his chance because someone forgot to shoot him up with tranquilizers, guess whose car he eventually sneaks into to make good his escape?
Right.
Zoey finds him scary but fascinating right from the start of their adventure together. "His skin was green, though its precise hue was impossible to determine in the poor light…he had only three fingers and a thumb…covered in scales…" and as we learn later in the book, he's massively endowed with the right equipment to make an Earth woman very happy. She feels sympathy for him, which grows into a much deeper emotion as their journey continues. He finds her "…as bizarre looking as any human he'd seen, and somehow infinitely more appealing…there was a softness to her appearance to which he was wholly unaccustomed…" but which he can't resist. The attraction is off the charts and when the slow burn romance moves into high gear, the bedroom scenes are hot.
These two have a modern day Bonnie and Clyde thing going, not that she wants to be a criminal but he's an alien warrior who has been tortured, regards himself as being at war with the humans and will do literally anything to reach his ship and go home. At first some of the law breaking they do bothered me but none of it was particularly gratuitous, given the circumstances established up front by the authors, or unnecessary to the mission of evading the evil government forces and getting to his ship. Eventually I got to the same point Zoey reaches – Rendash has to be saved and she'll take any action needed to get him there. Fortunately he has some near superpowers to draw upon, thanks to handy nano-type machines in his body.
The narrative gets intense toward the end, when the government is closing in on the couple and the reader really has to wonder if the Happy Ever After ending can be achieved. You won't want to put the book down, trust me. But in the nick of time the authors answer the questions, solve the dilemmas (no spoilers from me) and the story is done.
I very much enjoyed this book!
A quick mention of a pair of connected SFR novellas by Ruby Dixon, Alien Assassin's Convenient Wife: An 'In the Stars Romance Novella', and Michele Mills, The Alien Assassin's Stolen Bride: In the Stars Romance. These are fast paced, steamy tales of a pair of alien assassin brothers, here on Earth for only a brief time, tracking down their targets, and the human women who unexpectedly win their hearts. And complicate their missions to kill.
Happy reading!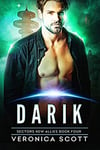 USA Today Best Selling Author Veronica Scott is a seven-time recipient of the SFR Galaxy Award, and has written a number of science-fiction and fantasy romances. Her latest release is Darik (A Badari Warriors SciFi Romance Novel). You can find out more about her and her books at veronicascott.wordpress.com