The month of the Valentine brings more sci-fi romance novels to enjoy!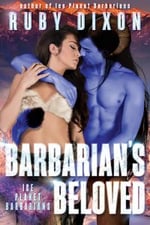 Barbarian's Beloved, by Ruby Dixon
Buy It: Amazon
Ruby Dixon has done it again with her Ice Planet Barbarian series, telling the story of Ariana and Zolaya in Barbarian's Beloved. Most of the book is a flashback to the human woman's early days on the planet and focuses on the tremendous difficulties Ariana had in adapting to life there. She has an extra challenge because she suffers from anxiety. Not the garden variety worries anyone might have after arriving in such a strange place, but genuine anxiety disorder, which can be crippling. And there's no prescription medication available on the ice world.
Anxiety runs in my family so I understood this character and admired Author Dixon's handling of the symptoms and the situation. She did an amazing job of depicting how Ariana would "catastrophize" about the slightest thing, without being able to stop her racing mind. Actually, about the point where Ariana's anxiety was making me so anxious I was about to put the book down in self-defense, Ms. Dixon made a skillful pivot and the book began to show how our heroine was able to develop coping mechanisms and pull through. It helps that Ariana now has the implanted parasite, the khui (or 'cootie' as the human women refer to them) which will help her survive the harsh planet and find a mate to 'resonate' with. But it's her mate, Zolaya, who helps the most. No, there's no magic cure, but he has infinite patience and genuinely cares for her. He also has an incident in his past and a phobia that gives him something of an understanding of how she feels. "Unburden your heart to me if it hurts," he says.
He's also gorgeous. I'm fanning myself, can you tell?
Zolaya doesn't let Airee, as he calls her, sink into despair or give up. He tells her she has 'mind avalanches' (one thought can set off a cascade of anxiety, much the way a pebble can set off a mountain avalanche) and they team up to talk and breathe while he comforts her through her attacks. This guy is one heckuva of wonderful mate, let me tell you.
Ariana is anthropology major so she finds much to fascinate her on the planet. She has other skills as well and I appreciated that she was not defined solely by her anxiety. She's also somewhat more experienced than Zolaya is when it comes to what goes on between the furs in those cozy caves and as always Ms. Dixon builds the sexual tension and attraction through the book – lots of steam – until the mating is fully consummated. The bookend opening and closing passages for the story are set eight years or so after the women arrive and Ariana is about to have her second child.
I never get tired of this series.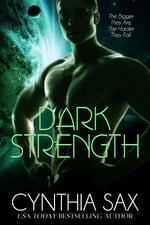 Dark Strength, by Cynthia Sax
Cynthia Sax is another scifi romance author I truly enjoy, usually with her sizzling cyborgs, but also in her fascinating Refuge series, where genetically engineered beings literally take refuge from the evil Human Alliance (HA) that created them. The Refuge is ruled with an iron hand by Kralj who was "...all knowing and all powerful but he wasn't all easy going." Take that as an understatement. Dude is scary but compelling. (His story was told in book one of the series.) The latest book is Dark Strength and the story belongs to Balvan, the Refuge's massive gatekeeper, and Elyce, a human refugee who's been held captive and tortured by a particularly sadistic HA commander before escaping to the sanctuary. The two discover they are fated mates and it's really a beautiful love story taking place in the midst of skull crushing and other violence. The Refuge is not a civilized place, trust me.
But Elyce knows instinctively Balvan can and will keep her safe.
He "…wanted her to love him, to see past his size, his bald head, green skin, menacing features." Balvan, who routinely rescues abused puffkers – tiny purring fluffballs – from people who think tormenting them is a fun idea, has a soft corner in his big warrior heart. Even in her abused and terrified state, Elyce instinctively responds to that. "Balvan was the exception to everything…"
He just falls deeper and deeper in love. "No one had ever called any part of him beautiful, no one excerpt her."
Ms. Sax writes dark books, lots of blood and guts and violence, as well as steamy sex, and the Refuge series is no exception. Action and plot twists and turns. What really draws me in, however, are the characters she creates to live in her galaxy – their motivations and back stories, and most of all their journeys toward the HEA ending they deserve. I was thoroughly happy with the tale of Balvan and Elyce and read it in one sitting.
I do have a question for Author Sax, though. When is the kickass female medic in charge of the Refuge's clinic going to get her story told? She clearly deserves one of your dark-dangerous-but-loving warriors!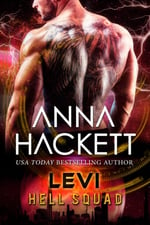 Levi, by Anna Hackett
Buy It: Amazon
Anna Hackett's Levi is book 15 in her post-apocalyptic, 'Mad Max' type Hell Squad series set down under after an alien invasion has pretty much destroyed civilization. Of course a ragtag group of humans is fighting back and Levi is a member of the Berserkers, a former motorcycle club who now delight in taking the fight to the dinosaurlike enemy. After fifteen books, author Hackett manages to keep the plots fresh and introduce new wrinkles in the war. I wish I could share some of the terrific twists in this book but I don't do spoilers. Suffice it to say I was grinning at several points in the book, admiring Ms. Hackett's creativity.
The plot centers around bad boy Levi King, leader of the Iron Kings club before the war and Chrissy Hagan, an American tourist caught in Australia when the aliens arrived. She was their captive for months but now she's one of the top mechanics in the resistance's motor pool. Chrissy keeps the Berserkers' combat vehicles running and she thinks Levi is cocky but oh so tempting. "He was like a magnet or a whirlpool…like a vortex she couldn't escape."
Levi has it bad for Chrissy but "…love and beauty …didn't hang around for him long."
So the attraction and tension sizzles but each of them had a complicated, not very happy life when they were growing up, and so they're each highly self-protective. Even in the middle of what could be the End of Humanity. "Fighting aliens, babe. It isn't a Sunday drive."
These two circle each other while at the same time doing their part in the war and it's a nicely done dance of want and need and steamy moments. "What Chrissy didn't need was a broken heart on top of trying to survive a damn alien apocalypse."
Levi had no intention of breaking her heart of course, but he has his challenges proving that fact to her. The book is fast paced and chock full of action against the aliens as well as the quieter moments with teammates and characters from the earlier novels (always nice to catch up with them).
Another thoroughly satisfying entry in the series.
And that's my January report. What new scifi romances have you enjoyed?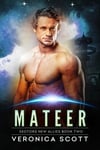 USA Today Best Selling Author Veronica Scott is a seven-time recipient of the SFR Galaxy Award, and has written a number of science-fiction and fantasy romances. Her latest release is Mateer (A Badari Warriors SciFi Romance Novel). You can find out more about her and her books at veronicascott.wordpress.com