Veronica Scott shares her top picks for January, with four books to help you start your reading year off right.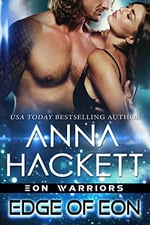 Edge of Eon, by Anna Hackett
Buy It: Amazon (Also in Kindle Unlimited)
Sometimes a book hits that sweet spot exactly right, with the romance, the adventure and the scifi all in perfect balance and I just sit back and read to the exclusion of all else. USA Today Best Selling author Anna Hackett's Edge of Eon, the first book in her new Warriors of Eon series, was one of those tales. I liked the kick ass heroine Sub-Captain Eve Traynor of Earth, who undertakes a desperate mission with aplomb and determination. Well, actually she's pretty much blackmailed into doing the job. "So I'm to abduct the war commander and then further enrage him by neutralizing his symbiont." Yup, just sneak in and steal him right off his big bad space battleship.
Easy peasy. Not.
I really liked War Commander Davion Thann-Eon, who is the ultimate smart and sexy soldier. Together the couple strikes wonderful sparks. "You're an infuriating woman," he says as she's kidnapping him. "I get that a lot," she answers. Their banter throughout the book was fun to listen in on. He says she talks too much when she fights (there are a lot of battles in the book, between the two of them, the two of them against the buggy bad guy villains, the two of them versus various animate and inanimate hazards on the planet where they end up…) and she isn't having any of his various gallant attempts to sacrifice himself later in the book to save her.
The world building backdrop is good, utilizing some tried and true scifi romance tropes (the hero has a symbiont which can make him weapons and a black bodysuit of armor, there are fated mates in this universe…) but written with Ms. Hackett's style and flare. The planet where much of the action takes place did contain many surprises and has the feel of a video game but well integrated into the story. Eve catches on fast. "Don't touch any pretty plants, everything is out to kill you, lesson learned."
"There was no caution or hesitation in this woman. She barreled into any situation with a confidence he admired." The way to Davion's heart is to be as much of a warrior as he is.
I hated to see the book end, but lucky for me (and you) the second book in the series, Touch of Eon, was just released.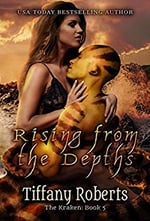 Rising from the Depths, by Tiffany Roberts
Buy It: Amazon (Also in Kindle Unlimited)
I'm not a fan of tentacles on a hero…unless the book is written by USA Today Best Selling author Tiffany Roberts and features the Kraken. Then I'm all in and on the edge of my chair, reading. I've been waiting for Kronus to have his story told, so Rising From the Depths (The Kraken Book 5) was an autobuy for me. The books take place on a long lost human colony planet, much of it covered in ocean, and the kraken were created by the original colonists to mine undersea minerals. Over the centuries much has been forgotten, although a surprising amount of information and technology still exists. In the earlier books in the series the land-based humans and the Kraken have gradually become allies but there were a lot of hard times and outright battles along the way.
Not to give too much series backstory, Kronus was a bad guy and one of the Kraken who thought it was wrong for humans and his people to mate. He eventually saw the error of his ways and was forgiven by both sides. Now he lives at The Watch, a village of fisherpeople and Kraken, who partner to harvest the seas. The Kraken provide security for the fishers, because the ocean harbors some really terrifying predators. He's still an angry loner, unable to forgive himself, although humans and Kraken in general are willing to let bygones be bygones.
When I heard this book was coming, I wondered what type of heroine would be a good fit for Kronus. (He was really a misguided bad guy in the previous books.) When he rescues Eva as she's being attacked in the ocean by a razorback (like a shark, a barracuda and an eel, combined and on steroids) he feels responsible for her. She was living a good life prior to that day but is left crippled by the accident and the rest of her world falls apart, plus she's battered by survivor's guilt because other people died in the incident. Kronus appoints himself to help her recover for reasons not even he fully understands at first, although he's powerfully attracted to her as a person. He's not exactly a sweet and kindly spoken male but his tough love and practicality turn out to be exactly what Eva needs most. In turn, as they become closer, she helps him work through his own guilt over his past deeds, and build bridges to the Kraken and people who are his community.
I loved this book. I thought the details of both Kronus's personality and Eva's journey through despair were handled extremely well and I really enjoyed watching their relationship blossom. The development of the romance was realistic, if one can use such a term for a totally science fiction situation. By that I mean, he didn't become a happy-go-lucky guy and she doesn't fall for him because he's the only one who understands her anguish – they come across as two people who find each other and fit each other. Yes, there are hot and descriptive steamy scenes, because these two cannot keep their hands and tentacles off each other after a certain point in the story.
Now I can't wait for the next book in the series!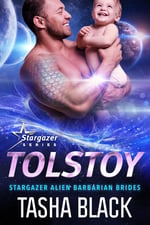 Tolstoy: Stargazer Alien Barbarian Brides #1, by Tasha Black
Buy It: Amazon, Apple Books, Barnes & Noble
Tolstoy: Stargazer Alien Barbarian Brides #1 by USA Today Best Selling Author Tasha Black is a fun ride where you have to hang on and go with the flow. The heroine, Anna Nilsson, has a complicated backstory but let's just sum it up to say for various reasons, although the book is set in the far future, she's actually from a time several hundred years in their past. Now she's working her first gig as a scavenger and has been dropped off by her boss on an abandoned luxury cruise ship to tag everything worth salvaging.
So far so good. The details of the ship are fascinating and Anna's tiny robot companion is fun. I have to say that Anna is a whole lot more casual and relaxed in the situation than I would have been. We're not talking 'Aliens' here, however. She's pretty much down for whatever happens and almost happy go lucky in her attitude. Not unlikably so but "laid back" is definitely her vibe. For being an abandoned ship, there's a lot happening, including a nightmarish creature intent on …well, we don't know for sure what it's intent on doing to her but the general indication tends toward evil. Then there's Leo, the gorgeous guy as depicted on the cover, who was apparently in stasis sleep on the ship, and doesn't remember why he was on board but thinks he was a bodyguard. His past is complicated AND he's hiding secrets, some of which do get revealed.
There's a fated mate situation, and some very steamy moments, and there's the baby, also happily asleep in its tiny stasis chamber. Apparently he's thought to be a clone of the author Leo Tolstoy (hence the book's title). Remember I said to let go of too much deep thought here, put yourself in author Black's capable hands and enjoy the ride?
It was a fun, fast read and I'll be curious to learn more about this wild future Anna is living in!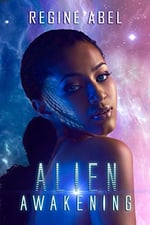 Alien Awakening, by Regine Abel
Buy It: Amazon (Also in Kindle Unlimited)
Alien Awakening (Sikarian Novella) by Regine Abel is a short read but smooth and I hope it's going to be the start of a series. The underlying premise is global warming has set prehistoric viruses loose upon the world and some people are affected much more than others. Malaika, the heroine, is unfortunately one of the really susceptible and the novella deals with her transformation into…something else. She's not the only one either, so she ends up in a special facility built by the CDC to isolate the sick. There she meets the mysterious and sexy Zayek, assigned to help her through each stage of the change and to explain things to her, and to us. I have to say Malaika was a LOT more calm than I would have been in the situation, even with him to hold her hand and 'thrum' as he puts it. This couple strike serious sparks. I felt like I floated through this story, which is very well written and full of descriptive detail. I enjoyed it, I wanted to know more about what was going to happen next and I can't do spoilers but there's not much action per se, other than her progress through the mutations but was quite engrossing.
I hope your New Year is progressing well and rest assured there will be many more great scifi romance reads!
USA Today Best Selling Author Veronica Scott is a seven-time recipient of the SFR Galaxy Award, and has written a number of science-fiction and fantasy romances. Her latest release is Gabe (A Badari Warriors SciFi Romance Novel). You can find out more about her and her books at veronicascott.wordpress.com