Veronica Scott gives us five, yes FIVE, top Sci-Fi Romance reads for June!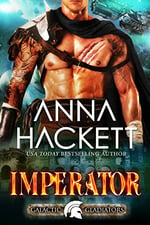 Imperator, by Anna Hackett
Buy It: Amazon
Anna Hackett has finally told the tale of Galen in the Galactic Gladiators series with Imperator, book eleven in the set. The man who runs the House of Galen and takes care of everyone else gets his own story. "He'd fight. He'd keep fighting. And he'd never give up." I'd say that sums up the Imperator who started life as a royal bodyguard pretty well. The book begins in the floating arena city of Zaabha and as prisoners he and human Samantha Santos, Champion of Zaabha battle a constant stream of aliens to stay alive. The combat is well described and fast moving and the reader wonders how they will emerge in one piece, much less have time to fall in love.
Galen has the power to sense the essence of a person and he sees Sam as "…like a warm breeze: strong, steadfast and threaded with steel." A woman who's a warrior is just the partner he can't resist.
No spoilers from me but they do eventually escape Zaabha (you knew they would, right?) and have a series of adventures getting back to the city and his House. The attraction these two have for each other is off the charts but he's your classic 'I have a secret in my past and I don't deserve happiness but I'll take care of you until you die' tortured, strong hero. Lucky for him, Sam is equally strong, not afraid to challenge his assumptions and his decrees, which practically no one else in his orbit will do. But even so she has a hard time getting through his shell and convincing him he just might actually deserve some happiness.
She's got her own sorrows to deal with, finding out there's no return to Earth possible and the most contact she'll ever have with her loving, large, needy and demanding family is via the communications bubbles. Sam is also a very good cook and introduces Galen to the pleasures of homemade Mexican food, albeit concocted with alien ingredients.
There are plots, counterplots, setbacks, appearances by literally all the other characters in the series (and each couple gets a nice moment in the spotlight at the very end). "Yes, everything was pretty darn perfect," as Sam says. I enjoyed the book and am very happy to know that author Hackett plans to switch the series now to focus on the House of Rone, which means many cyborg gladiators. Can't wait!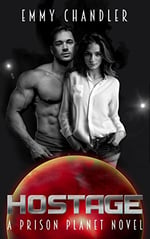 Hostage, Prison Planet Book 5, by Emmy Chandler
Buy It: Amazon
In Emmy Chandler's Prison Planet series, a reality TV show where convicted killers fight each other to death in an arena to amuse paying audiences across the galaxy is just one of the many terrible things occurring on Rhodon. In Hostage, book five of the series, Kaya Johnston is a medium level cog in the reality show wheel, the person who manages some of the fighters during the season. She obtains sponsorships for them, gets them weapons and other special treatment if they're doing well enough, and shepherds them through filming before and after the fight (if they survive). She also takes the winners to the sponsor party later, under tight guard. "An inmate gladiator makes for tantalizing party entertainment…"
We met hero Sebastian Wolfe when he deliberately got himself sentenced to Rhodon in book three Champion, hoping to help his sister survive and 'win' her season in the arena, thus earning herself a life sentence on the planet rather than execution. Kaya was her handler and now this season she's Sebastian's. "I don't trust anyone else to get you what you need out of your sponsors." Did I mention they've gotten a little too fond of each other over time? But no physical interaction except maybe a stolen kiss because anything more would get Kaya fired. Talk about frustration.
Sebastian crashes the craft carrying the sponsor afterparty in a dramatic sequence and ends up taking Kaya with him, ostensibly as his hostage. His plan is to find his sister, use Kaya as leverage to obtain passage off Rhodon for his sibling and himself, and disappear in the interstellar wilds.
Are we surprised the plan doesn't go well right from the first? For one thing, the area where they crashed is full of violent, dangerous killers. Some of them were men Kaya also handled previously during their time on the show and some she worked against, and all of them have it in for her one way or another. Being a woman on Rhodon usually equals a short life of utter misery, except in a few all female enclaves. Luckily Sebastian was a top fighter in civilian life before committing his crime and can protect her. As these two travel across Rhodon, encountering all sorts of mayhem along the way, their relationship works itself out. I really liked these two. And the somewhat naïve Kaya blossoms under Sebastian's skillful tutelage in the bedroom. Not that they get anything as nice as an actual bedroom for their steamy scenes, which were hot. Rhodon isn't much for amenities but our hero and his heroine are so wrapped up in each other when the action moves to the intimate side, they can block out the ugly surroundings.
The finale of the book had me on the edge of my seat and there were a few twists I hadn't seen coming… and now I can't wait for the next Prison Planet adventure. A very satisfying read.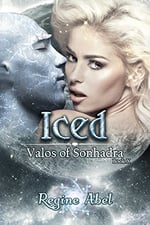 Iced, Valos of Sonhadra Book 10, by Regine Abel
Buy It: Amazon
Iced (Valos of Sonhadra Book 10) by Regine Abel is an interesting new entry in the shared world of Sonhadra, built by a group of scifi romance authors to 'play in'. I've enjoyed a number of the adventures and this one was no exception. The concept was that a prison spaceship where terrible experiments were carried out on human prisoners crashes into an alien planet and the few scattered survivors meet the various types of 'valos'. Centuries before, a powerful alien race had taken over the planet and changed all the inhabitants into 'valos', or unemotional beings with various super abilities. The aliens left one day with no explanation and the 'valos', while unable to revert to their previous unaltered state, were able to regain their emotions. And now the humans have arrived in tiny numbers.
OK, enough backstory. As a prisoner Kira was genetically modified to be able to withstand and even to prefer freezing cold. She's hoping to find a new home in the frozen north of Sonhadra with the valos who live there. I thoroughly enjoyed this story and its twists and turns. Kira was a fairly complicated person, her relationship with the Northern Valos had challenges (rather than the "welcome, human, move right in and be our friend" trope) and her growing mutual attraction to local builder and good guy 'Duke' was handled well. And despite Kira and Duke being basically creatures of ice in one way or another, they had steamy encounters, with author Abel using Duke's icy attributes in interesting ways in those intimate moments.
I really worried about these two characters in some of the adventures that befell them, especially late in the book, so you can see how invested I became! If you haven't dipped into the tales of Sonhadra, you're missing out on well done and fun scifi romance.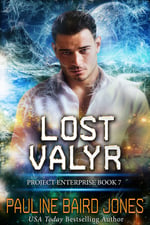 Lost Valyr: Project Enterprise 7, by Pauline Baird Jones
Buy It: Amazon, iBooks, Barnes & Noble, Kobo
I want to quickly mention Lost Valyr: Project Enterprise 7 by Pauline Baird Jones. Although this can be read as a standalone title, some aspects of the plot and the previous characters who pop up, especially in the early going, will make more sense if the reader has a familiarity with the series. That said, when I read one of author Jones's books, I always find myself drawn slowly into the middle of the vortex, as each page reveals new angles on what I knew before in this world she's created. So I keep turning those pages! The author adds complexities and nifty insights.
One of the primary activities of Dr. Rachel Grant, the heroine of Lost Valyr, is unraveling mysteries left behind by a long vanished interstellar civilization. This is a plot trope I particularly love. Rachel has also been assigned to work with Sir Rupert the Parrot, who's actually an alien ambassador with a whole lot of secrets. (Do Not Offer The Alien Parrot a Cracker. Just sayin'.) There are revelations, robots, combat, Marines, time for falling in love, sentient space stations and a whole lot more. If you have arachnophobia, this book needs a trigger warning because Xaddek the villain – a crazy crafty and evil giant spider - will give you nightmares. The author's imagination is endless and I'm ready for the next book, please.
And an even quicker mention of Eve Langlais's The Cyborg's Stowaway: In the Stars Romance (Gypsy Moth Book 2) because how can I have a month of Best Bets with no cyborgs at all? Not possible!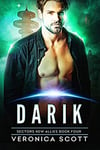 USA Today Best Selling Author Veronica Scott is a seven-time recipient of the SFR Galaxy Award, and has written a number of science-fiction and fantasy romances. Her latest release is Darik (A Badari Warriors SciFi Romance Novel). You can find out more about her and her books at veronicascott.wordpress.com