Veronica Scott gives us five, yes FIVE, top Sci-Fi Romance reads for June!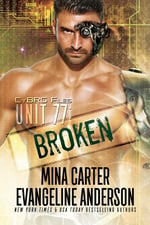 Unit 77: Broken, by Mina Carter and Evangeline Anderson
Buy It: Amazon, iBooks, Barnes & Noble
Scifi romance powerhouse authors Mina Carter and Evangeline Anderson have gotten together to write the CyBRG Files series and I absolutely LOVED the first book, Unit 77: Broken. It has all the feels. Formerly brave and handsome Captain Andrew 'Drew' Fischer is now a mindless cyborg, fighting a war on an alien planet…
Dr. Claudia Chambers was forced by the military command to turn Drew and his squad of elite Space Corps Marines into cyborgs after they were supposedly blown up in combat and left brain dead. Compelled to repair the machinelike cyborgs and treat the wounds to their still flesh-and-blood bodies as they suffer new combat injuries, she dreams longingly of the captain and the few times he showed much more than a friendly interest in her, before the catastrophe that took his human life.
Unit 77 (Drew) finds stray, unauthorized thoughts running through his cybernetics more and more often, many of them memories connected to Claudia. His ruthless programming can't seem to eradicate the mental pictures.
And then…well, no spoilers from me but a strong recommendation to read this book if you enjoy tales of cyborgs and the women who love them. I can't wait for the next one!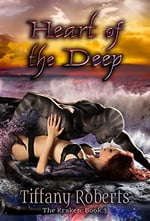 Heart of the Deep (The Kraken Book 3), by Tiffany Roberts
Buy It: Amazon
Changing tropes, I'm just not a tentacles girl but every time I read a new Kraken novel by the husband and wife writing duo Tiffany Roberts, I get so wrapped up in the compelling characters and the situation that I forget my usual aversions. Heart of the Deep (The Kraken Book 3) is no exception. It helps that the Kraken are incredibly good looking men from the waist up. I also love the setting on a cutoff colony world, where the humans still remember their ancestors were colonists, although they've forgotten some things and the technology is wearing out.
The Kraken are also descended from the same human stock but modified to take on many attributes of the octopus and live under the planet's ocean. May I just say I'd like a boyfriend with bioluminescence like these guys have? So cool!
In the previous two books the Kraken and the land-based humans have become aware of each other and conflicts have arisen. Dracchus, the hero here, and Larkin, the human Hunter, first meet as sworn enemies and discover common cause as the book proceeds. Dracchus has his moments where he wonders if all the efforts to live at peace with the humans are worth it, but then he looks at the loving Kraken-human couples that have come to be and his heart melts. Larkin wrongly believes that Kraken have killed her brother so it's quite a struggle for her to accept her growing attraction to Dracchus, once he's been captured and tortured by the other Hunters, including her not-quite-sane father.
Of course the hero and heroine end up stranded together. She may call him a 'krullheaded kraken' but she likes what she sees. He admires her skills as a fighter. "Your strength is to be admired," he says, "But it is made into something amazing when paired with your compassion." True love triumphs in the end but not before we've been under the sea for a close look at the well-developed Kraken habitat and culture. The worldbuilding is exceptional in this series. The authors have said there'll be more books to come and I'm happy to hear the news.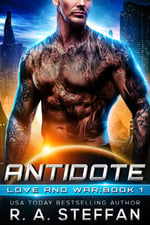 Antidote: Love and War Book 1, by R. A. Steffan
Buy It: Amazon, iBooks, Barnes & Noble
It's always fun when I start reading the first book in a new series and have the feeling that I've stepped into an already familiar place because the world and the characters are so well drawn. Antidote: Love and War Book 1 by R. A. Steffan was one of those books for me. The situation is dire, with heroine Skye Chantrell on the run, carrying the antidote to a deadly bioweapon the bad guys of the Regime plan to deploy against humans. She crash lands her rickety old ship and is rescued by somewhat cranky Hunter Tarthasian, the leader of a ragtag but highly skilled band of Vithii rebels fighting the Regime. His first thoughts upon seeing the unconscious and mortally injured Chantrell are a mix of gut churning memories from a tragedy in his past "…swirling together with Vithii male protective instincts in a muddle of distracting urges."
Of course Hunter and his team rescue Chantrell, heal her injuries and revive her, whereupon she's horrified to find herself in the grasp of "the most feared and hated criminal in the whole of the Seven Systems." Seems she's heard of Hunter before and the news was all bad. She fears the worst possible treatment at his hands, which makes their early conversations rather tense.
His reputation as an unprincipled bad guy is completely untrue. Regime propaganda through and through, seeking to blacken his name because he and his team are a tough, clever and effective rebel force.
I enjoyed the fact that Chantrell and Hunter (and his group) didn't immediately become friends. She had to work past her incorrect information about him and decide to trust her new companions. Once she does, they sign on to distribute the cure she's carrying but are still grumpy about her presence in their tight knit group, and her effect on Hunter. There's a lot of elaborate planning required to convert the antidote to usable form and carry out the operation against the Regime. I don't want to give spoilers but things get tense and sexy and I thoroughly enjoyed all of it.
Note: This novel appeared previously as part of The Other Worlds box set.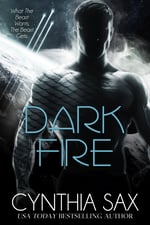 Dark Fire (Refuge, Book 4), by Cynthia Sax
Buy It: Amazon, iBooks, Barnes & Noble
Cynthia Sax is back with Dark Fire, book 4 in her Refuge series. Although the world of the Refuge dwellers is dark and violent, with the evil Human Alliance always lurking close by, I enjoy the characters and the adventures. As the book begins, Dare, a silver-scaled Dracheon warrior, is faced with unique challenges, beginning with the fact he's having a hard time controlling his inner dragon. He longs to meet his mate, who he instinctively knows is on the planet somewhere…but then there's the small problem that his inner beast might kill her while they make love the first time. "His female had a better chance of remaining alive if they didn't meet."
When we first meet Dare, he has a bed rock core of things he knows with absolute certainty. It was most amusing to watch pretty much every one of his cherished beliefs – who his mate would be, how she'd look, where they'd live and so forth – get demolished as the book progressed. Fortunately Dare adapts fast and the reality turns out better than he could have imagined.
Faylee's a short, small, thin, ragged, dirty young human woman pretending to be a boy. She makes her living as a thief and loves shiny things, which is handy since Dare's scales are shiny. "But she had the most beautiful big brown eyes he'd ever seen. He could stare into them forever, the mixture of innocence and world-weariness enchanting him." I very much liked Faylee and her sense of honor, plus her amazing pickpocket skills.
The sex is, as always from author Sax, frequent, creative and hot. No, I mean literally hot, since Dare is an alien dragon shifter type male. I enjoyed the interesting twists that his nature and endowments provided for the story telling, in the bedroom and in battle.
We get to see favorite Refuge dwellers from the earlier books in the series, which is always fun!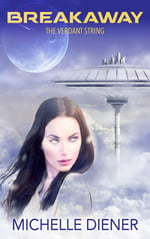 Breakaway (Verdant String Book 1), by Michelle Diener
Buy It: Amazon, iBooks, Barnes & Noble
Michelle Diener gives us Breakaway (Verdant String Book 1) this month. Her novels are a change of pace, with intricately detailed worldbuilding and a substantial dose of interstellar politics motivating the plot. Her characters are immediately compelling and likable and the complicated motives and actions undertaken by the people on the downtrodden planet of Garmen kept me turning the pages.
The action centers around Felicitos, a tethered way station that marks the divide between the haves and the have nots of the planet. Extending from the surface into the upper atmosphere, Felicitos dominates the city and the plot.
Heroine Sophie hides many secrets which I can't go into without doing spoilers, but I can't tell you how many times during this book I wished I was her because of the things she knows! And does – the woman is fearless and capable. She falls in love with Leo Gaudier, a mysterious crime lord who moves with ease in every circle from the mines to the slums to the top of Felicitos. He's equally taken by her but wants to keep her safe from his enemies by keeping his distance…you can guess how effective that strategy is – not very! Leo and Sophie are a terrific couple, with some rough spots along the way as they work out personal issues and try to solve various puzzles both political and real world.
I hope your summer plans leave you time for reading hot scifi romance!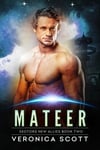 USA Today Best Selling Author Veronica Scott is a seven-time recipient of the SFR Galaxy Award, and has written a number of science-fiction and fantasy romances. Her latest release is Mateer (A Badari Warriors SciFi Romance Novel). You can find out more about her and her books at veronicascott.wordpress.com