Time to share a few best bets among the galaxy of new scifi romances recently released!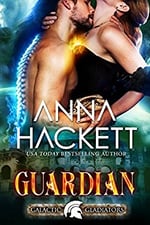 Guardian, by Anna Hackett
Buy It: Amazon
Anna Hackett is always on my list of autobuys and Guardian, the ninth book in her Galactic Gladiators series, was a fast moving, action packed read. Author Hackett is good at changing things up during new installments of her various long running series, so that each book is emphatically not a cookie cutter version of the stories she's told before. I appreciate that aspect of her plotting.
The new wrinkle this time is that the human woman at the center of the book, Dayna Caplan, is a tough former homicide detective. As there are a number of murders to solve, she gets to use her old skills to good effect on the freewheeling, lawless world of Carthago. Dayna also has an implanted alien symbiont to get used to, which was another complication. I vividly related to her emotions and self-disgust as she grappled with that fact of her new life. Symbionts need to be fed and she's resisting that urge, to a dangerous tipping point.
But close at hand, charged with helping her and guarding her is Rillion, the mysterious owner of casinos, wineries, restaurants and more. As Dayna says more than once, he's a "gazillionaire". He believes the past is "always best left in the past" and of course he came from hardscrabble origins and rose above that dark start…but he can't quite escape the past. And Dayna challenges his iron self-control. He has a symbiont as well, of an especially deadly variety, so he's the perfect guy to help her, in more ways than one. As he describes himself at one point, "When you came from nothing, worse than nothing, then all you dreamed about was holding the world in your palm." Until he meets Dayna and discovers a few new dreams.
Rillion thinks Dayna is "strong, competent and courageous." She thinks she's pitiful and broken in various ways, as well as a monster due to the symbiont (which was forced upon her by a now deceased witch). She wonders when and how her life became so complicated. "Abduction, captivity, torture, host to an alien symbiont, and lusting after a dangerous, powerful and complex alien man who just admitted he could be a killer." Quite the mix of challenges but she handles the situation well.
The overall Galactic Gladiator series plot arc also continues in Guardian, focusing on the efforts being made by various allies to find and retrieve several other human women still being held in captivity somewhere on Carthago by the evil aliens, the Thrax. We get glimpses of the gladiators from the House of Galen we've met before, as well as their human wives and mates, which is always enjoyable. There's a lot of action, passion and mystery in this book, and the author also clearly sets up the next installment for us, which I can't wait to read.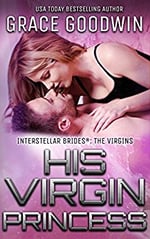 His Virgin Princess, by Grace Goodwin
Grace Goodwin writes steamy scifi romance and His Virgin Princess (Interstellar Brides: the Virgins Book 3) is no exception. I liked her heroine, Danielle, who was sassy and determined, and whose late SEAL father taught her everything she needed to know about hunting, tracking and being tough. Gage, the Everis Hunter she came to marry, tries and fails to keep her out of danger by refusing to even meet her. Unfortunately for his gallant instincts towards her, one thing you can't do is keep a Marked Mate from the man she's destined to marry. And especially when the guy in question needs rescuing.
Gage and Danielle have a hot dream sharing session once she arrives on the planet, and that makes her even more determined to find him and save him. "I was done playing little Miss Nice Girl. I had no idea who he was, or what his role was on this world. Criminal or saint. Scarred and ugly, or an Adonis. And I didn't care. He was mine." Yes, ma'am! But she has the skills to back up her vow.
"This was obsession. Devotion. Need clawing its way through my body…"
Never even try to deny the Marked Mate relationship is my advice.
There's danger, royal intrigue, family complications (on his side), a traitor to be found…and oh yes, the 'three virginities' Gage has to resolve before the couple is finally mated. Throw in some good friends from the earlier books in the series and you have a fast, hot read.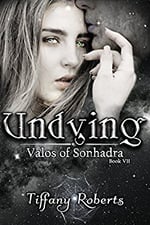 Undying, by Tiffany Roberts
Buy It: Amazon
Recently nine authors got together to write SFR novels all set in the same universe – the Valos of Sonhadra. Here's an author's note on the series: "The Valos of Sonhadra series is the shared vision of nine sci-fi and fantasy romance authors. Each book is a standalone, containing its own Happy Ever After, and can be read in any order. "
I've only read one so far, Undying by Tiffany Roberts. I've really enjoyed her previous novels, not set in this shared world, so I picked her book as my entry into the set. In Undying, Earthwoman Quinn Dalton is a convicted murderer and has been in prison and then sentenced to become an unwilling subject of terrible experiments on the Concord space station. When the station is suddenly destroyed, she falls to the surface of an alien world, miraculously unhurt. "I fell from the sky. I should be dead." But since she's not, and she's brave, determined and practical, she explores her surroundings and stumbles upon an ancient, abandoned city.
Which is as irresistible to me as catnip is to Jake, my cat. I LOVE this trope. I want to know all the alien secrets.
"The wind moaned through the empty streets, sighed through the seemingly abandoned buildings."
Quinn meets Orishok, the only being remaining in the city, whose mere touch is instant death to any living thing. He had "…patrolled this city and kept out the living, keeping vigil over his fallen brethren…" But there's something about Quinn that he finds himself unable to resist. "Logic told him this place was…too dangerous, insisted he send her away; he knew he would not." I think it's more a case of him being totally unable to deny himself her company after all those years of solitude.
The way these two become friends and then much much more to each other over time was absolutely riveting. Both are carrying secrets and have lost so much in their previous existences but together they find harmony and understanding. Sometimes the memories bring a lot of pain but Quinn and Orishok push through it. We do learn a great deal about the city and its past along the way. Author Roberts (a husband and wife duo writing together under the pen name) sets up this seemingly impossible situation and then resolves it, keeping the tension ratcheted up until all seems lost – but then, yes, the HEA. Just wow.
Now I can't wait to delve into the other eight Sonhadra books and see what each of those talented authors did with the bare bones of the "crashed space station/mistreated prisoners set free" situation.
And that's my March report – what new scifi romances have you been enjoying?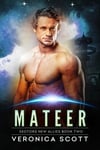 USA Today Best Selling Author Veronica Scott is a seven-time recipient of the SFR Galaxy Award, and has written a number of science-fiction and fantasy romances. Her latest release is Mateer (A Badari Warriors SciFi Romance Novel). You can find out more about her and her books at veronicascott.wordpress.com