Time for more Sci-Fi Romance Best Bets!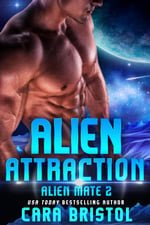 Alien Attraction, Alien Mate #2, by Cara Bristol
If you enjoy reality shows, then Alien Attraction (Alien Mate Book 2) by Cara Bristol is for you! Her heroine Sunny Weathers has been through the gamut of zany stunts and disgusting job experiences on Earth for her 'Excellent Adventures' show and now the production company wants to send her to the planet Dakon. There she'll marry an alien and record her experiences for the avid audience sitting safely on the edge of their seats back home. Of course the poor handsome alien male in question, Darq, won't know it's all a sham – he'll think he won the bride lottery and is going to live happily ever after with his mate. Someone should tell him there's no such thing in reality TV!
Sunny has a lot of misgivings and qualms, because she's basically a good person, but there's a compelling reason why she needs the big bonus money for the stunt and so she agrees. The producers promise she can come back to Earth after the year is over. And a Dakon marriage isn't legal on Earth.
In the first book of the series, the author established that Dakon once had an advanced civilization of its own, which was destroyed by some cosmic disaster. They also are rich in illuvium, which Earth needs for a power source. So a bargain was struck – women (alien planets always seem to be in need of the ladies from our planet, don't they?) for rocks. For the first round of brides, Earth sent convicts but now the program is open to any woman. The author takes a somewhat tongue in cheek approach to the "icy barbarian world needs women" trope and has also planted quite a few veiled references to modern day reality shows in the book, which are fun to find while following the plot twists.
Accompanying Sunny are a flock of cambots, which resemble oversized insects. I thoroughly enjoyed her travails with the omnipresent cameras and the way in which she outwitted them at key moments. Darq helpfully 'kills' one fairly early on, thinking they're genuine insects that hitched a ride on the ship from Earth. Sunny is forbidden to tell him the truth and not allowed to stop the filming, which leads to some sneaky shenanigans.
But wait – she's not the only one engaging in deception here. Darq has committed his own less-than-above-board deed to win the woman with the 'mud colored hair' (which he regards as the height of beauty). Even the name of the ship carrying Sunny and the other women to Dakon is The Deception. Author Bristol handles all the many complications and reveals adroitly and does indeed bring the reader and the characters to a happy ever after ending, on Dakon.
(An ARC of this book was provided in exchange for an honest review.)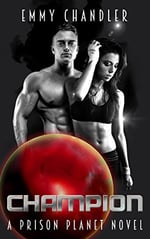 Champion, Prison Planet #3, by Emmy Chandler
Buy It: Amazon (Also on KU)
For a reality show of a completely different and much darker character, try Emmy Chandler's Champion (Prison Planet Book 3). I'm not usually a big fan of the prison planet trope but once I cracked open book one in this series, I was hooked and binge read all three novels. The stories are standalone so you can dive in with this third book but be prepared for a really grim world, many brutal fights and harsh deaths…but the main characters are so compelling, I kept reading despite the mounting body count.
I think I have a crush on Graham Anderson, the convict hero in Champion. He's ready to do anything to help heroine Sylvie Wolfe, who requested a chance to fight for her life in the arena on Rhodon, versus dying by lethal injection. She has strong combat skills but was unprepared for the brutal reality of the planet, where the inmates literally have nothing to lose and anything goes. The dangers for the women inmates in particular are grim. "This is life in the bullpen. You need to see the reality. You need to be the reality," Graham says during one particularly gory fight. She has to be as tough as the toughest inmates if she's to survive...to risk dying in the arena.
Graham and Sylvie are unbeatable together and the behind the scenes machinations of the reality show surrounding these games were well thought out and fascinating. The comparison between life in the prison and the pampering the convict 'stars' get in special dressing rooms right before combat was stunning and at times heart breaking.
Only one person can win the season and have their death sentence commuted to life in a less hostile area on Rhodon. Will it be Graham or Sylvie? Will they even survive to reach that final round?
The author keeps the suspense up throughout the book and I literally couldn't put it down.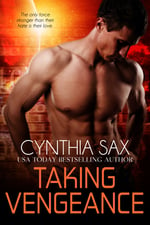 Taking Vengeance, Cyborg Sizzle #12, by Cynthia Sax
Taking Vengeance is book twelve in Cynthia Sax's Cyborg Sizzle series and the story is like her cyborgs – rough, tough, brutal at times, steamy, sexy and with love bringing a happy ever after ending that fits the hero and heroine. Her cyborgs have discovered over time that each may have a genetically matching human woman out there. Vengeance, an older Model C cyborg, doesn't believe in this bond, or that mated human women should be allowed on the Homeland planet. Cyborgs were created by the Humanoid Alliance (HA) to fight and die, and were treated by their masters in terrible ways until they finally rebelled and escaped. He wants to protect his fellow cyborgs from any new threat.
But his hardline stance on this issue as a member of the cyborg ruling council jeopardizes the happiness of the existing couples, and the future chances for happiness of others. When he's informed his own genetic match has been located, he says he'll find the female and kill her to prove the genetic bond isn't real. Uh oh.
Astrid the Buoir Beserker is a scarred, ferocious human warrior, whose entire race has been exterminated by cyborgs under the command of the HA. In the past she's killed hundreds of cyborgs in combat. She lives alone on her world now, finding and properly burying her dead compatriots so their spirits can achieve peace in the afterlife. She also fiercely nurtures her hatred of cyborgs.
A match made in heaven?
Their relationship begins with an exchange of air to air missiles as he approaches her planet and grows more personal from there. Taunting each other as they battle, Vengeance is determined to capture her and she's equally set on killing him. After she blows up his ship, they tangle hand to hand. Soon enough "Awareness, need and desire energized the air between them. They were enemies, hated each other. His yearning to kiss her was wrong. He had to fight it." Next thing they're declaring regular truces to swim, conduct very steamy physical relations, hunt a deadly predator, locate more graves…but each continues to deny that they have a true bond. (His nanocybotics flow into her and speed up her healing during romantic encounters after battle.)
I loved the way these two total enemies began to respect each other and moved from there to falling in love. Each had to abandon strongly held beliefs about the other, and forgive past atrocities. Vengeance makes the mistakes you'd expect from a hard headed Model C but Astrid is a pretty cool customer and figures out how to bring him along to the truth of what they share. She definitely holds her own.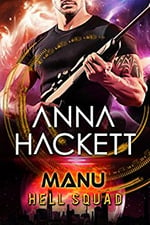 Manu (Hell Squad Book 16)
Buy It: Amazon
One more quick mention – Manu (Hell Squad Book 16) has arrived from Anna Hackett, and this latest entry in the post-apocalyptic series is full of dramatic action, alien attacks and a hot romance. Manu Rahia, the head of the Enclave's firing range and armory, lost a leg in combat and misses being able to go fight with his team. Security chief Kate Scott says of herself; "Dependable. Steady. She didn't go off half-cocked and especially not because of a man." Well, except when she does lose her cool because of her attraction to Manu. "…he'd known Kate was hiding a whole lot of heat, and she'd left him singed. He couldn't wait to get burned again." Clearly a couple made for each other. There are some really tense scenes with the Gizzida aliens, who of course are up to new and deadly tricks. I like Manu, I like Kate and the romance is hot and happy – another satisfying read in the Hell Squad saga.
Have you got any SFR Best Bets to recommend to us this month?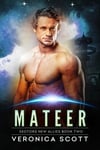 USA Today Best Selling Author Veronica Scott is a seven-time recipient of the SFR Galaxy Award, and has written a number of science-fiction and fantasy romances. Her latest release is Mateer (A Badari Warriors SciFi Romance Novel). You can find out more about her and her books at veronicascott.wordpress.com